---
CARROT BARS
Make and share this Carrot Bars recipe from Food.com.
Recipe From food.com
Provided by loof751
Time 40m
Yield 16 bars, 16 serving(s)
Steps:
Cream sugar and oil. Add 1 teaspoon vanilla and eggs and beat well.
Add flour, cinnamon, baking soda, and salt and mix well. Fold in carrots and nuts.
Pour batter in a greased 9x13 inch baking pan. Bake at 350 degrees for 25 minutes. Cool completely.
Beat margarine, cream cheese, vanilla, and confectioners sugar until creamy. Spread on cooled bars.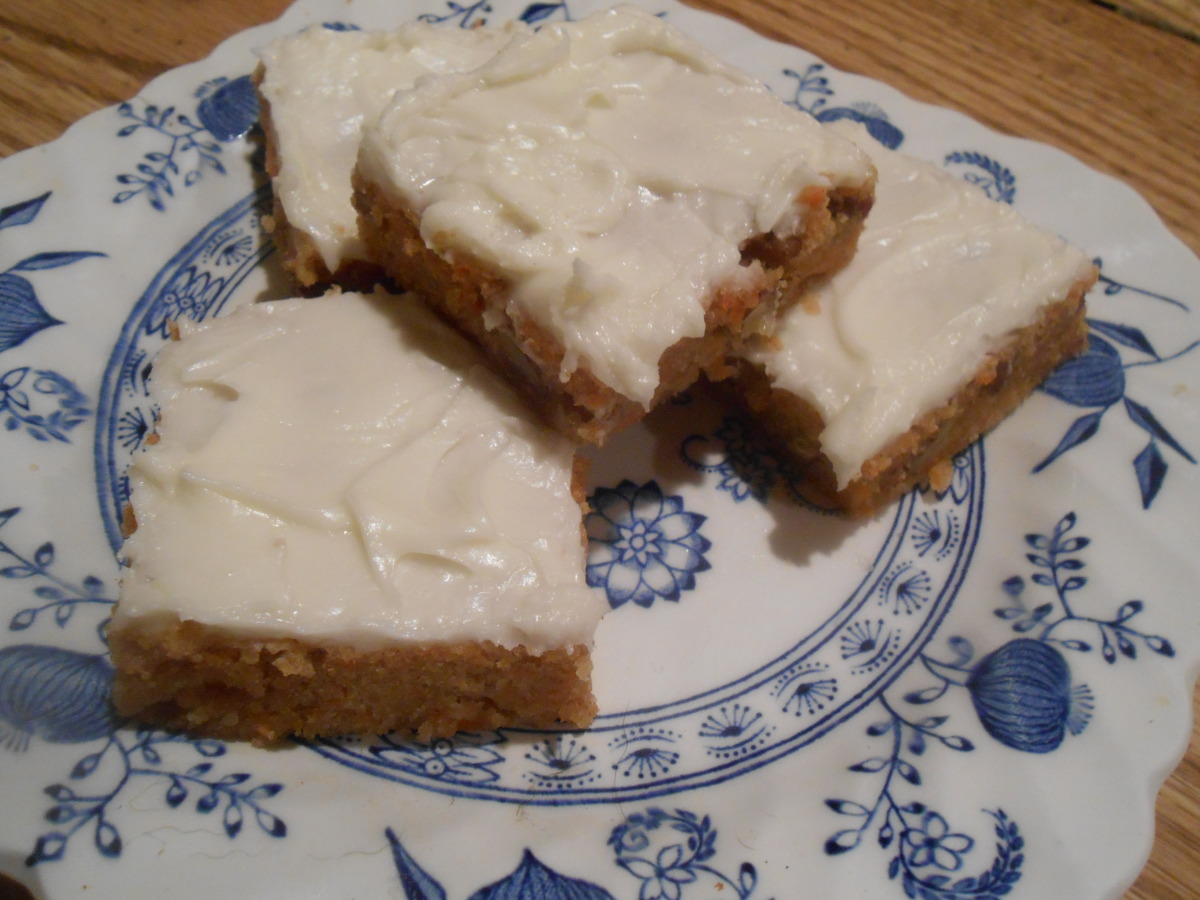 Number Of Ingredients: 14
Ingredients:
1 cup sugar
3/4 cup oil
1 teaspoon vanilla
2 eggs
1 cup flour
1 teaspoon cinnamon
1/2 teaspoon baking soda
1/2 teaspoon salt
1 cup grated carrot
1/2 cup chopped pecans
1/2 cup margarine
3 ounces cream cheese
1 teaspoon vanilla
2 cups confectioners' sugar
---
GRAMMY'S CARROT CAKE BARS
My sister, Morgan, prefers carrot cake bars to a traditional layer cake. She wants each and every bite to have an equal ratio of cake to frosting, and after trying it, I agree. However, we differ on our opinion of nuts. She is a no nuts in carrot cake girl, whereas I love the texture and toasted flavor and think they balance out the sweetness. I decided to take the nuts out of the batter and add them to the top of the frosting, so that we can both be satisfied. Sprinkled nuts also camouflage a multitude of frosting imperfections and add simple decoration to the top. I double the walnuts on one half and leave them off of the other, making this one recipe perfect for both of us.
Recipe From foodnetwork.com
Provided by Damaris Phillips
Time 2h10m
Yield 12 servings
Steps:
Make the cake: Preheat the oven to 350 degrees F (175 degree C). Spray a 9-by-13-inch (23-by-33-centimeter) baking dish with cooking spray.
In a large bowl, whisk together the flour, cinnamon, baking powder, and salt. Set aside. In the bowl of a stand mixer fitted with a paddle attachment, cream the oil and sugar until light and fluffy, about 4 minutes. Add the eggs one at a time and continue to beat until thick and creamy. Add the carrots and mix to combine. Remove the bowl from the mixer and stir in the flour mixture by hand, making sure not to overmix. Pour the batter into the prepared baking dish and bake until the edges pull away from the sides of the pan and a toothpick inserted in the center comes out clean, about 35 to 40 minutes. Let cool completely in the baking dish.
Meanwhile, make the frosting: (If you are extra fancy and have two stand mixers, then you are all set to get started, but if you are like me and just have the one, then you have to wash the bowl and paddle attachment now.) In the bowl of a stand mixer fitted with the whisk attachment, whip the cream cheese and butter until well combined, about 2 minutes. Add the confectioners' sugar 1/2 cup (65 g) at a time and whip on medium-low until homogenous, thick, light, and fluffy. Stir in the vanilla. Using an offset spatula, spread the frosting evenly onto the top of the cooled cake. Sprinkle the top with the walnuts. Cut the cake into thirds lengthwise and then quarters vertically to make 12 bars. Remove the cake with an offset spatula to a platter.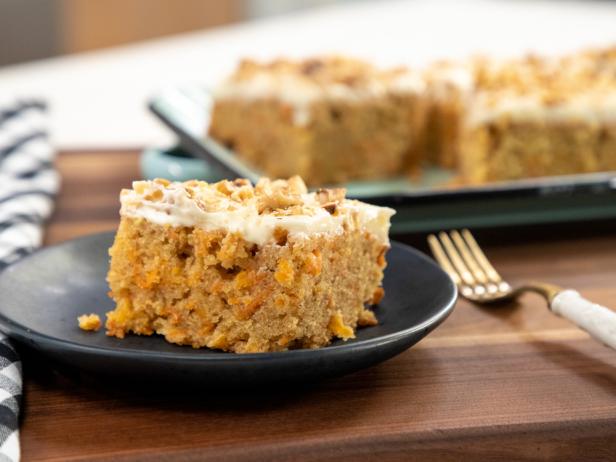 Number Of Ingredients: 14
Ingredients:
Cooking spray, for the baking dish
2 cups (250 g) all-purpose flour
2 teaspoons ground cinnamon
2 teaspoons baking powder
1 teaspoon kosher salt
1 1/2 cups (360 ml) vegetable oil
2 cups (400 g) sugar
4 large eggs
12 ounces (340 g) carrots, peeled and grated (about 3 cups)
8 ounces (225 g) cream cheese, at room temperature
1/2 cup (1 stick/115 g) unsalted butter, at room temperature
2 cups (250 g) confectioners' sugar, sifted
1 teaspoon vanilla extract
1 cup (95 g) walnuts, toasted and chopped
---
CARROT BARS
This recipe came from my beloved Grandmother. It is one of my most requested dessert recipes from friends. It is so simple to prepare and tastes so good. I hope you will enjoy them as much as my family does.
Recipe From food.com
Provided by Michelle S.
Time 45m
Yield 24 serving(s)
Steps:
Cream eggs, sugar, oil and baby food.
Add remaining ingredients, and mix well.
Grease and flour a 13x9 pan.
Pour bar mixture into pan.
Bake at 325 degrees for 30-35 minutes.
Cool.
When bars are cool, cream the butter and cream cheese together until fluffy.
Beat in powdered sugar, add vanilla to taste.
Frost bars.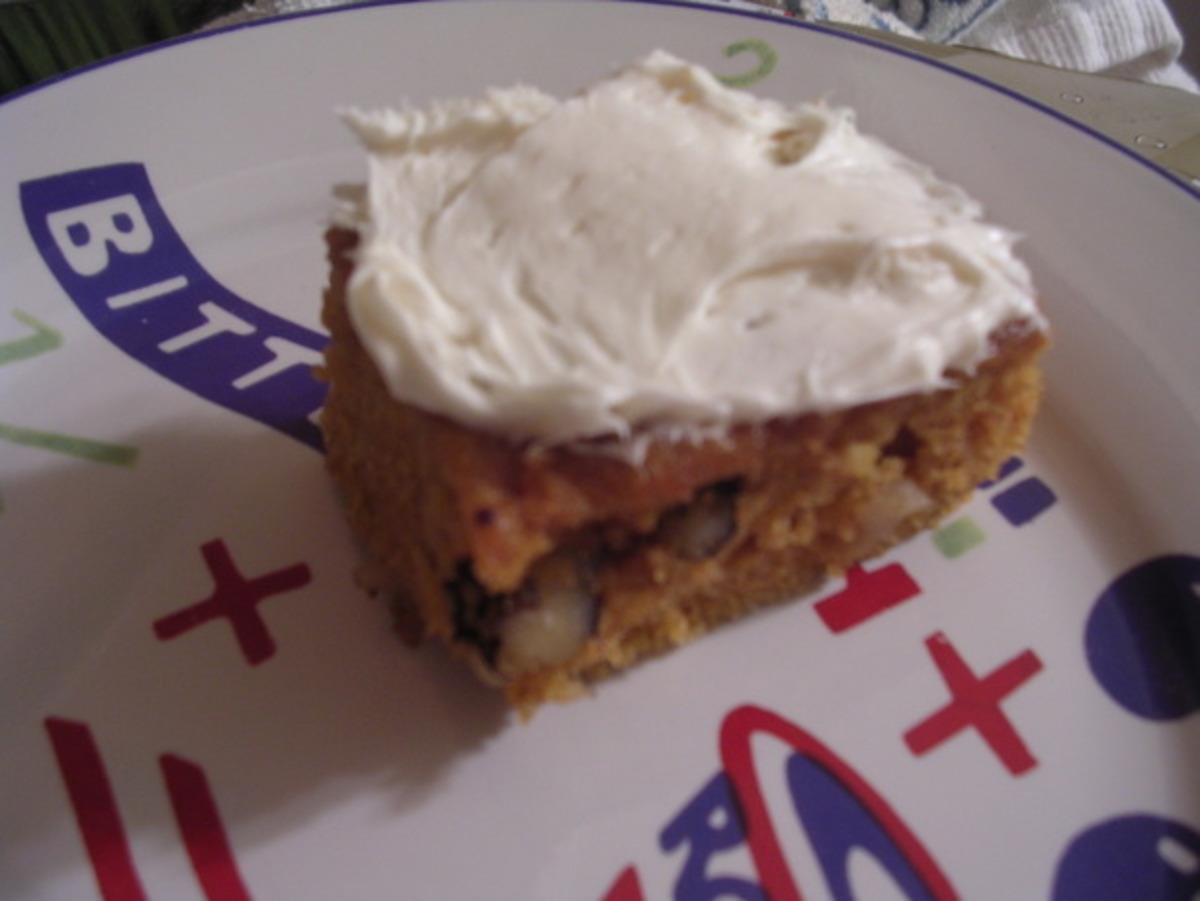 Number Of Ingredients: 13
Ingredients:
2 eggs, beaten
1 cup sugar
3/4 cup oil
2 (4 ounce) jars carrot baby food
1 teaspoon baking soda
1 teaspoon cinnamon
1/2 teaspoon salt
1/2 cup chopped nuts (optional)
1 1/4 cups flour
1 (8 ounce) package cream cheese, softened
3 cups powdered sugar
1/2 cup butter, softened
vanilla
---
CARROT BARS
These bars are like a faux carrot cake. Really easy to do if you're in a hurry! I think maybe Margot, a friend in Pensacola, gave it to me. All I know for sure is that I've had it for a long time and that it's so good! Photo: http://www.tasteofhome.com/Recipes/Carrot-Cake-Bars
Recipe From justapinch.com
Provided by Sandy Young
Time 25m
Steps:
1. Mix together eggs, sugar, and oil.
2. Add flour, soda, salt, cinnamon, pecans, and carrots to the eggs/sugar/oil mixture.
3. Bake in two (2) 9"x13" greased and floured pans at 350 for 25 minutes.
4. Cool cakes.
5. Beat together all frosting ingredients and spread on cakes. So delicious and so easy!
Number Of Ingredients: 14
Ingredients:
4 eggs
2 c granulated sugar
1 c vegetable oil
2 c all-purpose flour
2 tsp baking soda
1 tsp salt
2 tsp cinnamon
1 c chopped pecans
3 jar(s) baby food carrots (small jars)
CREAM CHEESE FROSTING
1 8-oz. package cream cheese, softened
1 tsp vanilla extract
1 stick butter or margarine, softened
1 box sifted confectioners' sugar
---
More recipes about Baby Carrot Bars recipes
---
---
---
---
---
---
---
---
---
---
---
---
---
---
---
---
---
---
---
---
---
---
---