Baked Swedish Meatballs (Tyler Florence)
---
BAKED SWEDISH MEATBALLS (TYLER FLORENCE)
I made these last week and loved their juicy texture. Despite the involved directions, I added a few timesavers and didn't find them any more difficult than regular meatballs (mixed in my Kitchen Aid). They freeze great. I put leftover frozen ones in crockpot with jarred gravy and cream of mushroom soup. Note: I've never made the lingonberry sauce but mix a can of cream of Mushroom soup with a half can milk for a creamy sauce.
Recipe From food.com
Provided by Roxygirl in Colorado
Time 1h10m
Yield 8 serving(s)
Steps:
In a small bowl, combine the bread crumbs and the milk; stir with a fork and let stand for 5 minutes.
Put 3 tablespoons of the butter in a small skillet and let it melt over medium heat.
Add the shallots, garlic, and caraway; season with salt and pepper.
Saute until softened but not browned, about 2 minutes.
Put the ground beef and pork in a large bowl.
Add the sweated shallot mixture, egg, parsley, and dill; season with salt and pepper.
Squeeze the milk out of the bread (I omitted this step) and add the bread to the meat mixture, and mix well using your hands.
Pinch off about 1/2 cup worth of the meat mixture and roll it around in your moistened hands to shape it into a cue ball-sized meatball.
Continue forming the meatballs and putting them on a platter; there should be about 20 meatballs.
(I formed my meatballs the night before and let rest in refrigerator to develop the flavor).
Melt 2 tablespoons of the butter in a large skillet over moderate heat.
When the foam starts to subside, add the meatballs in batches so you don't overcrowd the pan.
Saute the meatballs until well-browned on all sides, about 7 minutes total.
Remove the meatballs to a platter lined with paper towels as they are done.
(I baked mine on a foil-lined pan in my convection oven at 400 degrees until they were brown. They were so juicy that I'm always going to do it that way, and no mess!).
Discard most of the fat from the skillet and return it to the heat.
Add the remaining tablespoon of butter and swirl it around to coat the pan.
Sprinkle in the flour, and stir with a wooden spoon to dissolve into the fat.
Pour in the chicken broth, and stir with a wooden spoon to loosen the bits from the bottom of the pan.
Simmer and stir until the liquid is reduced and a sauce starts to form;.
season with salt and pepper.
Lower the heat and stir in the sour cream.
Return the meatballs to the sauce and stir in 1/4 cup of the lingonberry jam until combined.
Simmer until the sauce thickens slightly and the meatballs are heated through, about 15 to 20 minutes.
Shower with chopped parsley and transfer to a serving bowl.
Serve the Swedish meatballs with additional lingonberry jam on the side.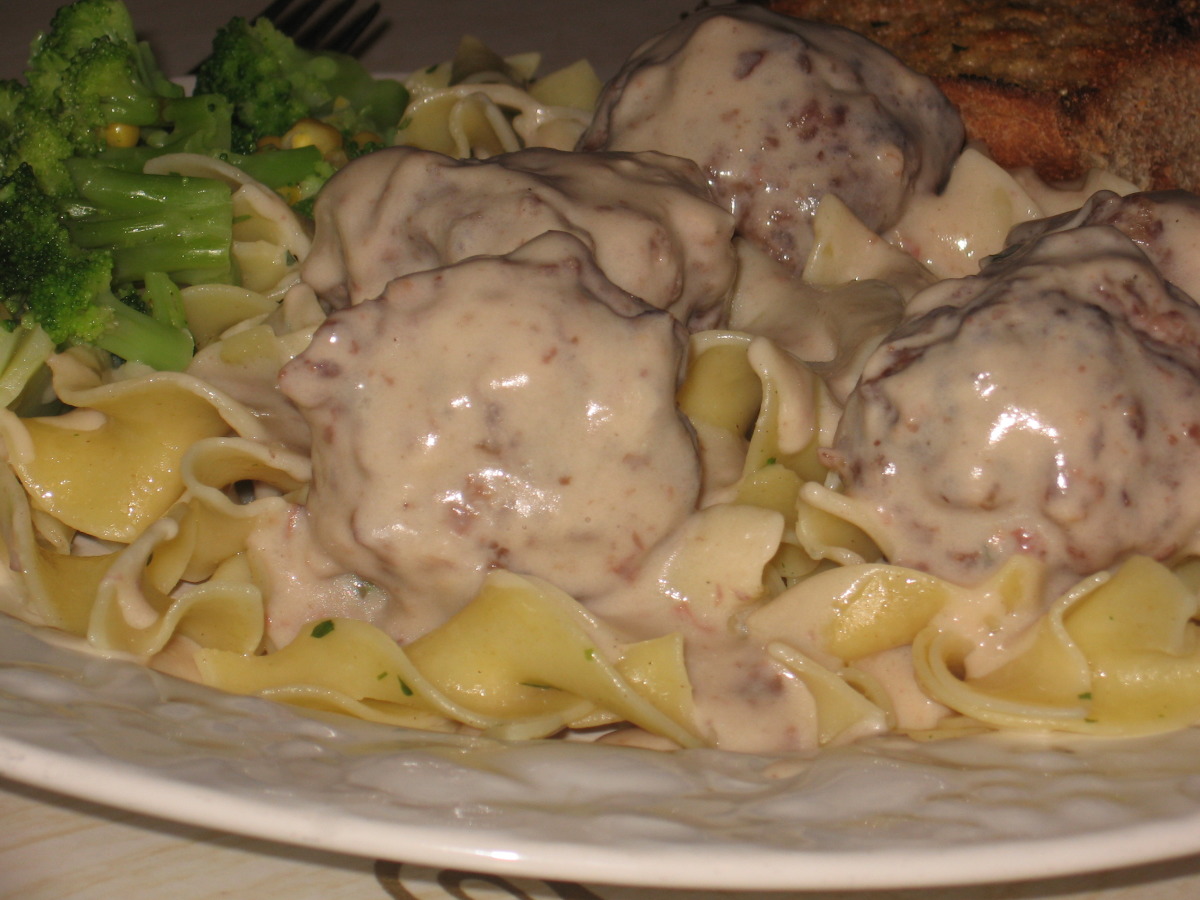 Number Of Ingredients: 18
Ingredients:
1 cup fresh breadcrumb (I used french bread)
3/4 cup milk
6 tablespoons unsalted butter
4 shallots, minced (I used red onion)
2 garlic cloves, minced
1 teaspoon caraway seed, toasted and ground
kosher salt
fresh ground white pepper
1 lb ground beef (I used only beef)
1 lb ground pork
1 large egg
3 tablespoons fresh parsley, chopped, plus
extra fresh parsley, for garnishing dish
1 tablespoon fresh dill, chopped (I used dried) or 1/2 teaspoon dried dill (I used dried)
2 tablespoons all-purpose flour
1 1/2 cups chicken broth
3/4 cup sour cream
1/4 cup lingonberry preserves or 1/4 cup red currant jam
---
BAKED SWEDISH MEATBALLS
This recipe is from my Seaward Inn Cookbook. My husband loves it so much that I am putting it on-line to reference while travelling. I serve it with egg noodles. The Seaward Inn is a lovely place in Rockport, MA, that we visited each summer while the Campbell family owned it. Great food and ambience!
Recipe From food.com
Provided by Maureen in MA
Time 50m
Yield 30 meatballs, 6 serving(s)
Steps:
Soak bread in milk.
Add the following to soaked bread:.
- Eggs, slightly beaten.
- Ground beef.
- Onion.
- Sugar.
- Spices (except dill weed).
Shape into 1" balls. Brown on all sides in skillet (or bake in 400 degree oven for 20 min.).
Remove meatballs to 2 quart casserole.
In skillet, or saucepan:.
Add 5 Tbsp flour (or cornstarch) to meat drippings, then add 1 can Consomme and 1 can water.
Note: Shake with 1 soup can of water with flour (or cornstarch) if meatballs were baked. Then add to Consomme.
Cook, stirring gravy until thick and smooth.
Add 1 cup light cream and 1 tsp dillweed, and stir until blended.
Add to meatballs.
Bake, covered for 30 minutes at 400 degrees.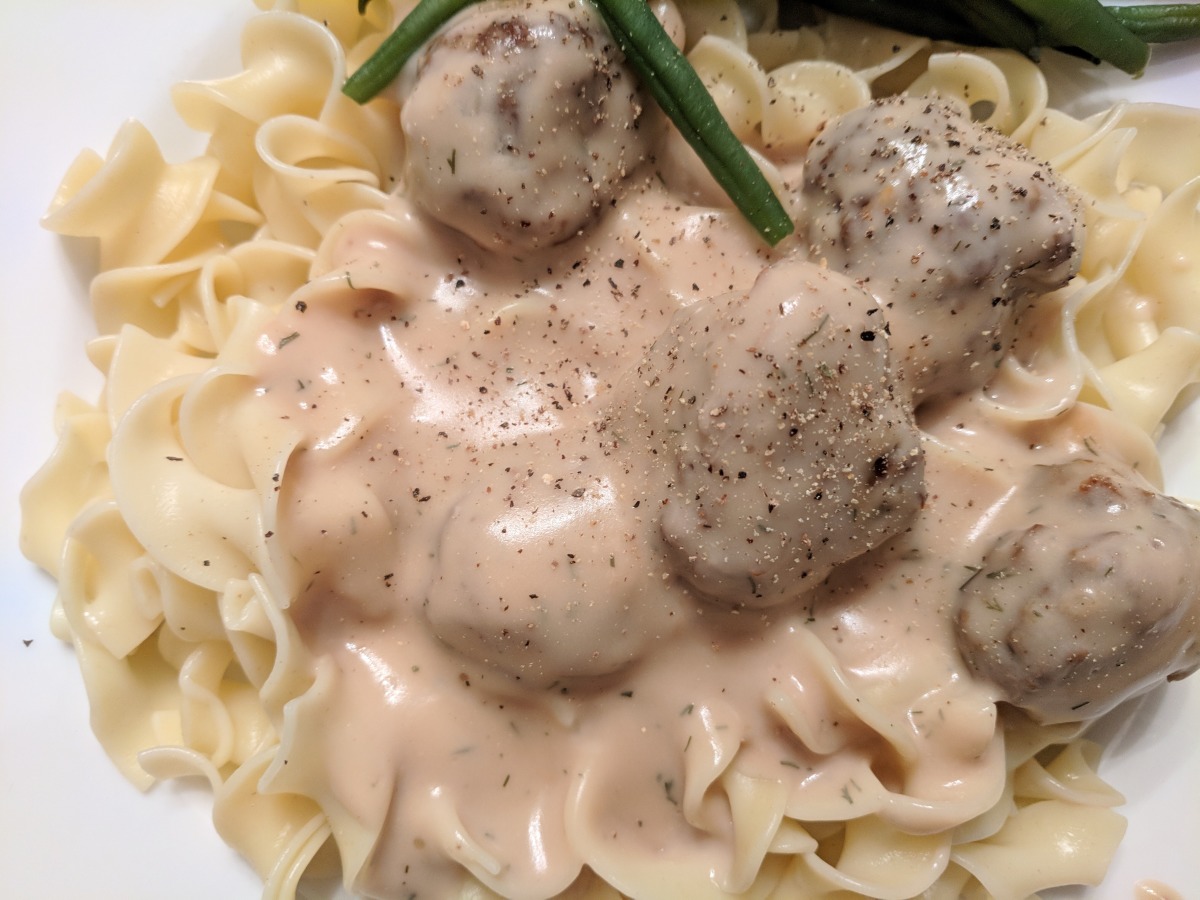 Number Of Ingredients: 16
Ingredients:
2 slices bread
1/2 cup milk
1 1/2 lbs ground beef
1 egg, slightly beaten
1 small onion, minced
1/2 teaspoon sugar
1/2 teaspoon nutmeg
1/2 teaspoon allspice
1 teaspoon salt
1/4 teaspoon pepper
1/4 teaspoon cardamom seed
5 tablespoons flour or 5 tablespoons cornstarch
1 (10 1/2 ounce) can condensed beef consomme
1 (10 1/2 ounce) can water
1 cup light cream
1 teaspoon dill weed
---
More recipes about Baked Swedish Meatballs (Tyler Florence) recipes
---
---
---
---
---
---
---
---
---
---
---
---
---
---
---
---
---
---
---
---
---
---
---
---