---
BEER BREAD
Per Google.com, the #1 recipe for Beer Bread in the world! There are a few recipes for beer bread out there, but none as simple (and tasty!) as this one. You can even mix it in the baking pan for easy cleanup. This is sensational when served with soups or just as a snack, but don't expect it to be around very long when your family gets a taste of it! Be sure to use a sheet pan on the shelf below the pan to catch any excess butter that may drip during cooking.
Recipe From food.com
Provided by Gerald Norman
Time 1h3m
Yield 6-8 serving(s)
Steps:
Preheat oven to 375 degrees.
Mix dry ingredients and beer.
Pour into a greased loaf pan.
Pour melted butter over mixture.
Bake 1 hour, remove from pan and cool for at least 15 minutes.
UPDATED NOTES: This recipe makes a very hearty bread with a crunchy, buttery crust. If you prefer a softer crust (like a traditional bread) mix the butter into the batter instead of pouring it over the top.
Sifting flour for bread recipes is a must-do. Most people just scoop the 1 cup measure in the flour canister and level it off. That compacts the flour and will turn your bread into a "hard biscuit" as some have described. That's because they aren't sifting their flour! If you do not have a sifter, use a spoon to spoon the flour into the 1 cup measure. Try it once the "correct" way and you will see an amazing difference in the end product.
I have had many email from you kind folks about using non-alcoholic beverages instead of beer. That is fine to do but I highly recommend adding a packet of Dry Active Yeast or 2 teaspoons of Bread (Machine) Yeast so that you get a proper rise.
The final result should be a thick, hearty and very tasteful bread, NOT A BRICK! ;).
Thank you all for the incredibly nice comments and those of you who left a bad review - learn to sift sift SIFT! You will be amazed at the results you get.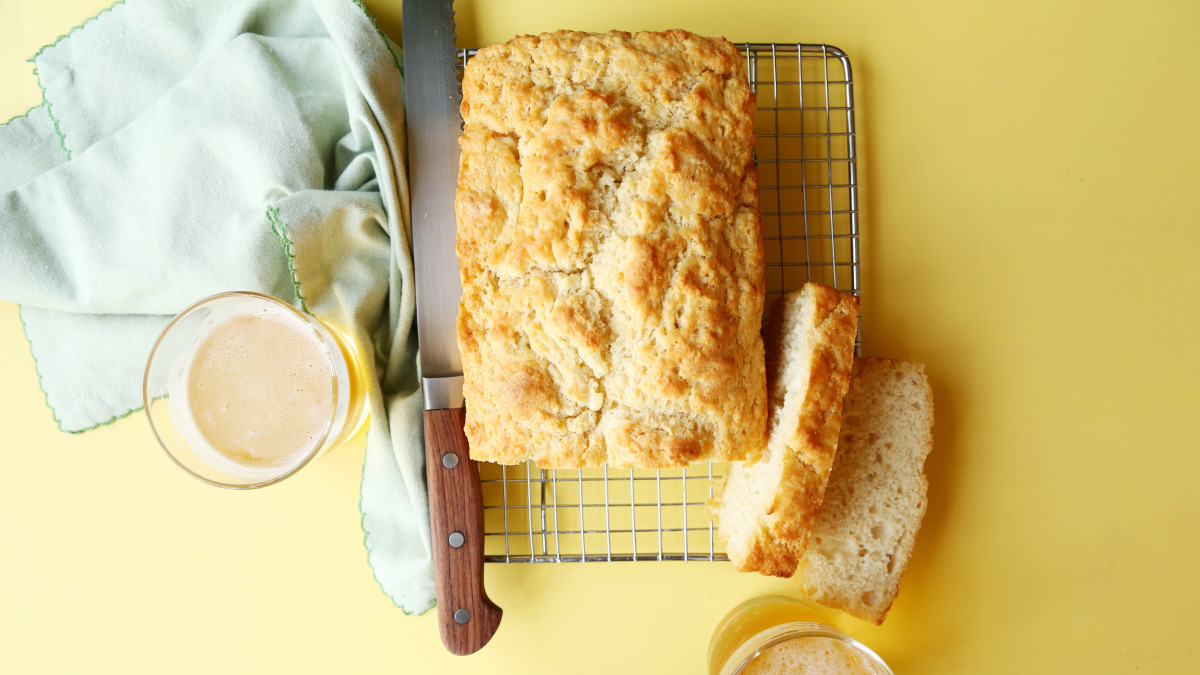 Number Of Ingredients: 6
Ingredients:
3 cups flour (sifted)
3 teaspoons baking powder (omit if using Self-Rising Flour)
1 teaspoon salt (omit if using Self-Rising Flour)
1/4 cup sugar
1 (12 ounce) can beer
1/2 cup melted butter (1/4 cup will do just fine)
---
BETTER BEER BREAD
With the right technique, your beer bread will rise high and be moist and flavorful. The bonus is that it takes only 10 minutes to prepare beer bread, making it the perfect recipe for beginner cooks! I've posted two variations that will give your bread additional flavor, although you can make it with the first four ingredients and you will be back to "normal" beer bread, which is still wonderful!
Recipe From food.com
Provided by CookinDiva
Time 50m
Yield 12 serving(s)
Steps:
Preheat oven to 375 and spray a loaf pan (I use a glass pan).
In a large bowl, mix flour and sugar together. If you are making one of the "variations", add those ingredients to the bowl.
Slowly pour in room-temperature beer, as if you were trying NOT to create a huge "head" of bubbles.
Gently mix batter, again being careful not to whip the bubbles out of the beer and only mixing until everything is moistened. You will have lumps!
Pour batter into loaf pan. Melt butter and pour over batter.
Bake 375 degrees for 45-47 minutes. The top will be brown and the butter will have created a wonderful, slightly salty exterior.
Tip: place a sheet of foil under your loaf pan to catch any excess butter that may bubble over.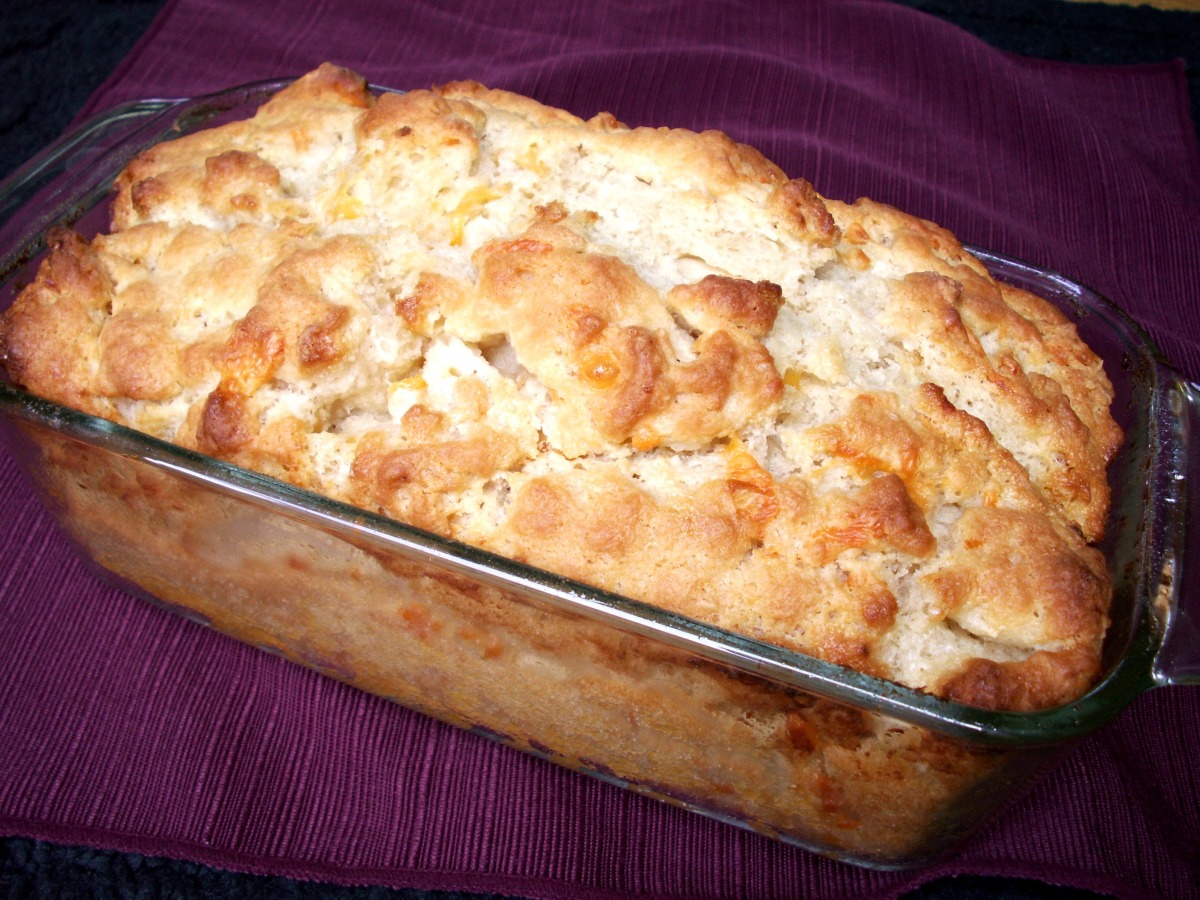 Number Of Ingredients: 9
Ingredients:
3 cups self-rising flour
1/4 cup sugar
12 ounces beer, room temperature
1/4 cup salted butter, melted
1/2 cup sharp cheddar cheese, shredded
1 teaspoon onion flakes
1/4 cup parmesan cheese, grated
1/4 teaspoon ground black pepper
1/4 teaspoon rosemary, ground
---
More recipes about Beer Bread II recipes
---
---
---
---
---
---
---
---
---
---
---
---
---
---
---
---
---
---
---
---
---
---
---
---