---
WILD RICE SALAD WITH DRIED CHERRIES
This wild rice side dish is bursting with flavor, thanks to cherries, garlic, and ginger.
Recipe From marthastewart.com
Provided by Martha Stewart
Steps:
Stir together rice, 6 cups water, and 1 teaspoon salt in a medium saucepan. Bring to a boil over medium-high heat. Reduce heat to medium-low; cover, and simmer until rice is tender and beginning to burst, about 45 minutes. Drain.
Stir sugar, lemon juice, and vinegar in a small bowl; set aside. Heat oil in a medium saucepan over medium-high heat. Add shallots, garlic, ginger, and remaining 1/2 teaspoon salt. Cook, stirring constantly, until shallots are translucent, about 3 minutes. Stir in cherries and 1/2 cup water. Cook until cherries are plump, about 10 minutes. Remove from heat, and stir in sugar mixture.
Stir together cherry mixture and rice in a large dish. Cover; let stand at least 1 hour (or refrigerate overnight). Just before serving, stir in parsley.
Number Of Ingredients: 11
Ingredients:
2 cups wild rice
1 1/2 teaspoons coarse salt
2 tablespoons sugar
2 tablespoons fresh lemon juice
2 tablespoons white wine vinegar
6 tablespoons olive oil
2 large shallots, thinly sliced (about 1 cup)
1 tablespoon minced garlic
1 piece (4 inches) peeled fresh ginger, very thinly sliced into rounds
2 cups dried sour cherries
1 cup fresh flat-leaf parsley leaves, some coarsely chopped, some left whole
---
WILD RICE SALAD
I recently had this rice salad at a baby shower and everyone wanted the recipe. It's beyond delicious! So many tasty treats in this one. The lady that made it told me she got the recipe from a local chef here in Saratoga Springs.
Recipe From food.com
Provided by ihvhope
Time 1h30m
Yield 8-10 serving(s)
Steps:
Combine rice, water and salt together in a large pot and bring to a boil, reduce heat and simmer for 50 to 60 minutes.
Drain rice and chill.
Combine the chilled rice with the vegetables, fruit, and nuts.
Whisk vinegar, oil, garlic, salt, pepper, oregano, mustard and honey.
Starting with 1/3 cup of the dressing add to the rice mixture and blend.
Taste and adjust with more or less to suit your personal tastes.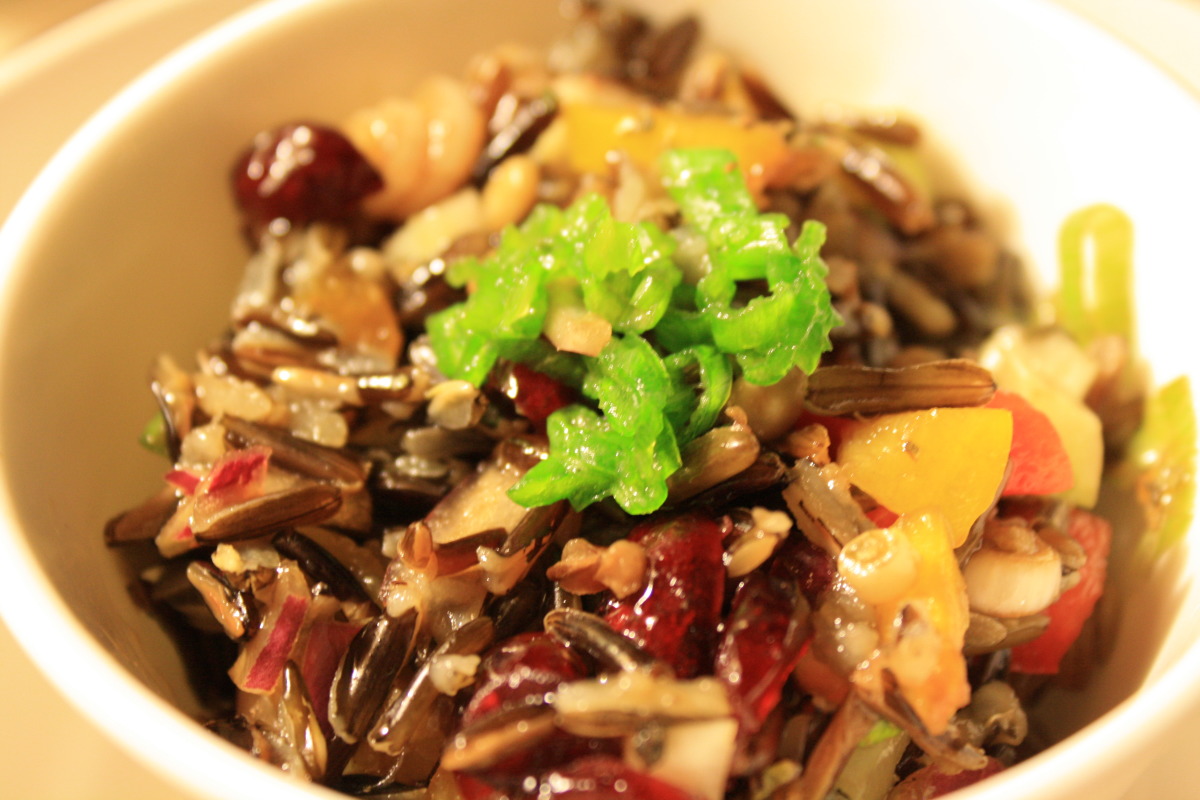 Number Of Ingredients: 21
Ingredients:
1 cup wild rice
4 cups water
1 teaspoon salt
1/4 cup diced red bell pepper
1/4 cup diced yellow bell pepper
1/4 cup diced red onion
1/4 cup diced scallion
1/4 cup diced celery
1/4 cup pistachio nut
1/4 cup diced dried apricot
1/4 cup raisins or 1/4 cup currants
1/4 cup cranberries or 1/4 cup cherries
1 tablespoon toasted salted sunflower seeds
1/4 cup balsamic vinaigrette
3/4 cup olive oil
1 minced garlic clove
1 teaspoon salt
1/4 teaspoon black pepper
1 teaspoon dried oregano
1 teaspoon Dijon mustard
1 teaspoon honey
---
More recipes about Cherry Wild Rice Salad recipes
---
---
---
---
---
---
---
---
---
---
---
---
---
---
---
---
---
---
---
---
---
---
---
---
---