Chipotle, Corn, And Black Bean Stew
---
CHIPOTLE, CORN, AND BLACK BEAN STEW
This recipe is easily altered: add zucchini, cauliflower, or any other veggies. From "Vegan With a Vengeance" by Isa Moskowitz. Tastes best if you let it sit for an hour after fully cooked!
Recipe From food.com
Provided by EmilyStrikesAgain
Time 35m
Yield 6 serving(s)
Steps: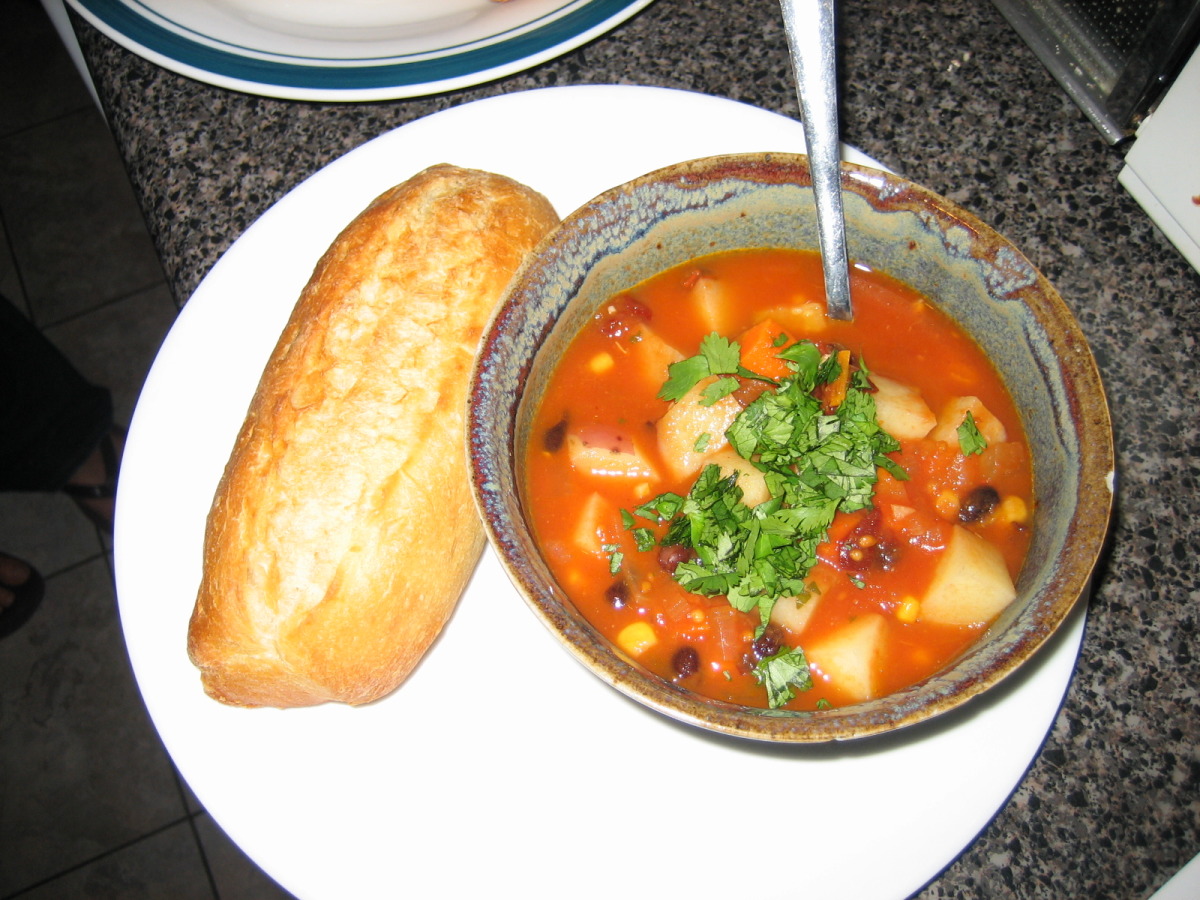 Number Of Ingredients: 14
Ingredients:
2 tablespoons olive oil
1 large onion, quartered and thinly sliced
3 garlic cloves
2 teaspoons cumin
2 chipotle peppers, drained and chopped (canned)
1 (28 ounce) can crushed tomatoes
3 cups water
4 russet potatoes, cut into 3/4-inch dice
2 carrots, peeled, cut into 3/4-inch dice
1 cup corn
1 (16 ounce) can black beans, drained and rinsed
1 cup fresh cilantro, lightly packed, torn into pieces
1 lime, juice and zest of
salt and pepper
---
BLACK-BEAN-AND-CORN STEW
Garnish this hearty vegetarian stew with sour cream, cheddar cheese, diced red onion, toasted pumpkin seeds, or chopped chives; serve with heated flour tortillas.
Recipe From marthastewart.com
Provided by Martha Stewart
Time 45m
Steps:
Number Of Ingredients: 9
Ingredients:
4 teaspoons olive oil
1 medium onion, chopped
4 garlic cloves, minced
2 teaspoons ground cumin
1 can (4 1/2 ounces) chopped green chiles
2 cans (15 ounces each) black beans, drained and rinsed
2 cans (14 1/2 ounces each) diced tomatoes in juice
Coarse salt
1 package (10 ounces) frozen corn
---
More recipes about Chipotle, Corn, and Black Bean Stew recipes
---
---
---
---
---
---
---
---
---
---
---
---
---
---
---
---
---
---
---
---
---
---
---