---
CURRIED CHICKEN (EASY)
"I Hate To Cook Book" is a delightful, funny and curious cookbook, copyrighted 1960 and was a girl's best friend. For the women who did it all, and was not predisposed to "liking" cooking to boot. This "Sunday Chicken" adaption is absolutely a lifesaver, for all of us, even now, in todays world. Just takes *chicken* and a couple other ingredients. Please give this your seal of approval--and most of all, *enjoy*.
Recipe From food.com
Provided by Andi Longmeadow Farm
Time 1h15m
Yield 4 serving(s)
Steps:
Preheat oven to 350 degrees.
Spray baking dish with cooking spray.
Heat oil, (and butter if using) in a small skillet.
*Optional step*~I brown the chicken in this skillet first, on each side.
Remove chicken if browning and put in baking dish.
Or if you didn't brown chicken, just place salt and peppered chicken pieces in baking dish.
Add onion and apple, cook until soft over med/high heat.
Add garlic, cooking for 30 seconds.
Add curry powder, salt, and pepper.
Add soup and half and half, and cook until heated.
Ladle sauce over chicken, covering chicken.
Place in oven, bake, uncovered~for 1 hour, or until completely done. Chicken temp should be 160 degrees internally.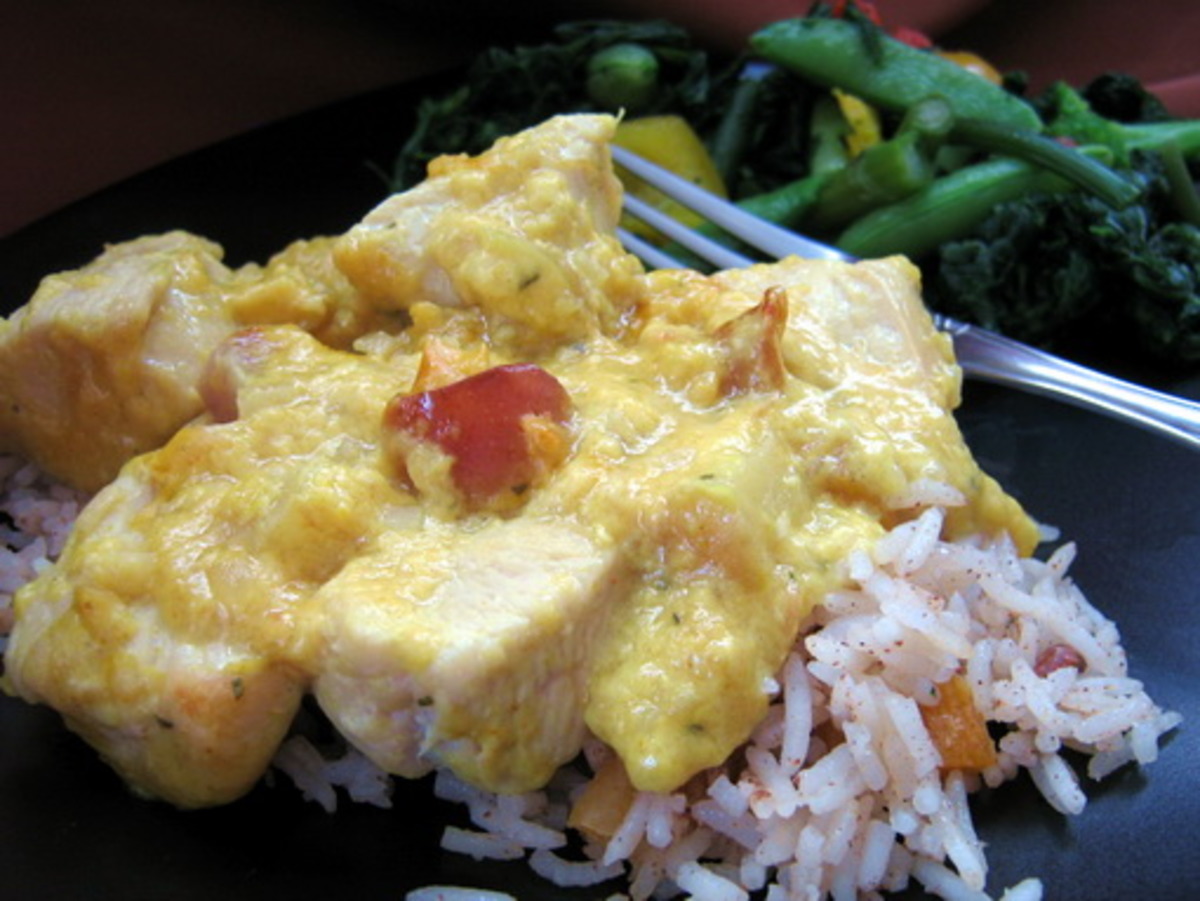 Number Of Ingredients: 12
Ingredients:
4 chicken pieces
1 tablespoon olive oil
1 teaspoon butter (optional)
1 small apple, chopped fine
1/4 cup onion, chopped fine
1 garlic clove, minced fine
1 teaspoon curry powder
1/4 teaspoon salt (optional)
1/4 teaspoon pepper
1 (10 1/2 ounce) can mushroom soup (I use low sodium)
1/2 cup half-and-half (I use skim)
1 pinch paprika
---
EASY DELICIOUS CHICKEN CURRY
This is a simple, fast recipe for chicken curry. I have been using this recipe for over 30 years. I've tried other recipes but always come back to this one. Hope you enjoy! Prep time is to make curry, assuming you have cooked chicken on hand.
Recipe From food.com
Provided by marypage
Time 40m
Yield 4 serving(s)
Steps:
Melt butter over low heat in a heavy bottomed saucepan.
Sauté onion and curry power in melted butter for 2-3 minutes to bring out flavors in curry powder.
Blend in flour, salt, sugar and ground ginger. Cook over low heat until mixture is smooth and bubble.
Remove saucepan from heat and whisk in chicken broth and milk.
Bring mixture to a boil, stirring constantly. Boil for 1 minute until mixture thickens.
Add chicken and lemon juice.
Heat to warm the chicken.
Spoon Chicken Curry over the cooked rice and serve with accompaniments on the side so everyone can top as desired.
Curry Accompaniments:.
Chutney, tomato wedges, raisins, slivered almonds, chopped salted peanuts, sautéed onion rings, pineapple, chopped hard cooked eggs, crispy bacon bits, pickles (sweet or sour), flaked coconut, sliced avocado.
You can also use this recipe to make shrimp curry. Replace the cooked chicken with 2 cups of cooked, cleaned shrimp.
Number Of Ingredients: 12
Ingredients:
3 tablespoons butter
1/4 cup onion, minced
1 1/2-2 teaspoons curry powder
3 tablespoons flour
3/4 teaspoon salt
3/4 teaspoon sugar
1/4-1/2 teaspoon ground ginger
1 cup chicken broth
1 cup milk
2 cups cooked chicken, diced, whatever you have leftover
1/2 teaspoon lemon juice
3 -4 cups cooked rice
---
CURRIED CHICKEN THIGHS
Recipe From foodnetwork.com
Provided by Food Network Kitchen
Yield 4 servings
Steps:
Heat oil in large skillet and stir in butter to melt. Season chicken thighs with salt and pepper. Cook thighs skin side down until golden brown. Flip chicken and continue to cook until golden brown. Remove chicken to a plate.
Stir in onions and cook until tender. Stir in curry, cayenne, cinnamon and cumin and cook until aromas are released. Stir in carrots and toss to coat. Add chicken stock and bring to a simmer.
Place chicken thighs back into skillet and stir in broccoli. Cover and simmer for 15 minutes to cook chicken.
Stir in cream and peas. Season to taste. Serve with basmati rice.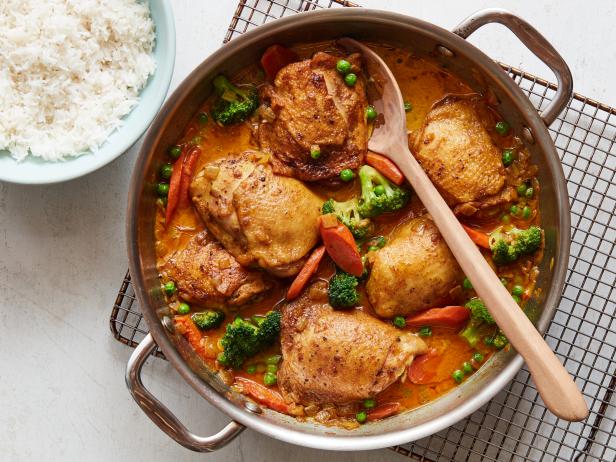 Number Of Ingredients: 15
Ingredients:
2 tablespoons vegetable oil
1 tablespoon butter
6 chicken thighs
Salt and pepper
1 cup chopped onion
3 teaspoons curry powder
1/2 teaspoon cayenne
1 teaspoon cinnamon
1 teaspoon cumin
2 carrots, peeled and sliced on diagonal
1 1/2 cups low sodium chicken stock
1 cup broccoli florets
1/4 cup heavy cream
3/4 cup frozen peas
Cooked basmati rice, for serving
---
EASY CHICKEN CURRY
Weeknight cooking doesn't get any easier than this endlessly adaptable five-ingredient, 30-minute curry from Mark Bittman. Sauté a pile of chopped onions in a little oil, then stir in curry powder (or red curry paste for Thai flavors). Pour in a can of coconut milk and swirl to combine. Add chicken, simmer until it's cooked through and finish with some chopped tomatoes. And dinner is served! This recipe lends itself to experimentation, so change it up. Be generous with spices. Toss in chopped bell pepper or carrots with the onions. Add a can of drained chickpeas or a generous handful of fresh spinach with the tomatoes. Instead of chicken, try shrimp, duck, turkey, firm fish, tofu, lump crab meat or beef. Just watch the cooking time: Fish, shrimp and crab cook faster than other meats. Also, don't forget to season as you go with salt and pepper.
Recipe From cooking.nytimes.com
Provided by Mark Bittman
Time 30m
Yield 4 servings
Steps:
Place oil in a large skillet; turn heat to medium-high. A minute later, add onions, along with a generous pinch of salt and some pepper. Cook, stirring occasionally, until onions are very soft and almost falling apart, 15 minutes or more. Stir in curry powder, and cook, stirring, for another minute or so.
Add coconut milk, and cook until it thickens, about 2 minutes, stirring occasionally. Add chicken, and stir, then cook until done, 3 to 6 minutes. (If you use shrimp, keep in mind that it cooks a little faster than chicken; if you are in doubt about whether chicken is done, cut into a piece.)
Add tomato, and cook another minute; adjust seasonings as necessary. Serve over rice, garnished with basil or mint, if desired.
Number Of Ingredients: 8
Ingredients:
2 tablespoons canola, corn or other neutral oil
2 large onions, peeled and sliced
Salt and freshly ground black pepper to taste
2 teaspoons curry powder
1 can unsweetened coconut milk (1 1/2 to 2 cups)
1 1/2 pounds peeled shrimp or boneless chicken, cut into 3/4- to 1-inch chunks
1 cup peeled, seeded and diced tomato (canned is fine; cut up and drain before using)
Chopped basil or mint for garnish (optional)
---
CURRIED CHICKEN BREASTS
This sweet and spicy recipe comes from Lee Durels of Tulsa, Oklahoma.
Recipe From marthastewart.com
Provided by Martha Stewart
Time 40m
Steps:
Preheat oven to 375 degrees. Put chicken breast halves into an 8-inch square baking dish.
In a small saucepan, combine butter, honey, mustard, curry powder, and salt, and cook over medium heat, stirring, until the mixture begins to bubble.
Pour over chicken; bake until chicken is cooked through, about 30 minutes.
Number Of Ingredients: 6
Ingredients:
4 boneless, skinless chicken breast halves, (about 1 pound)
4 tablespoons butter
1/2 cup honey
1/4 cup Dijon mustard
1 tablespoon curry powder
1/2 teaspoon salt
---
More recipes about Curried Chicken (Easy) recipes
---
---
---
---
---
---
---
---
---
---
---
---
---
---
---
---
---
---
---
---
---
---
---