Kittencal's Fluffy Omelet
KITTENCAL'S FLUFFY OMELET
of course you can double this and make it in a large skillet! you can use any favorite cheese you desire, cheddar is good also, i prefer monterey jack for omelets! the trick to a fluffy omelet is the baking powder, so do not omit and don't overcook the eggs! --- also see my recipe#251220
Time: 5 minutes
Steps:
in a small bowl whisk together eggs , baking powder , cream , green onions , salt and pepper until frothy
heat an 8-inch skillet over medium heat until your hands feel warm when held about 2-inches above the surface
add in butter and swirl to coat the bottom of the pan evenly
pour the whisked eggs into the skillet
let set slightly
using a heat-proof spatula , push eggs from edge towards the center
tilt pan to let egg fill the spaces
repeat until omelet if just set
sprinkle the grated cheese down the center of the omelet
using the same spatula , gently fold the omelet over the cheese
tilt skillet and slide the filled omelet onto a serving plate
Number Of Ingredients: 7
Ingredients:
eggs
baking powder
whipping cream
salt and pepper
butter
monterey jack cheese
green onion
---
FLUFFY ITALIAN OMELET
I'm not sure this is really an Italian Omelet, but that is what my mom always called it. Very simple and tasty.
Recipe From food.com
Provided by JenniferK2
Time 5m
Yield 1 serving(s)
Steps:
Mix all ingredients together and beat well.
Heat skillet and spray with cooking spray.
Pour egg mixture into pan and cook until almost set; fold omelet in half and cook about 30 seconds longer.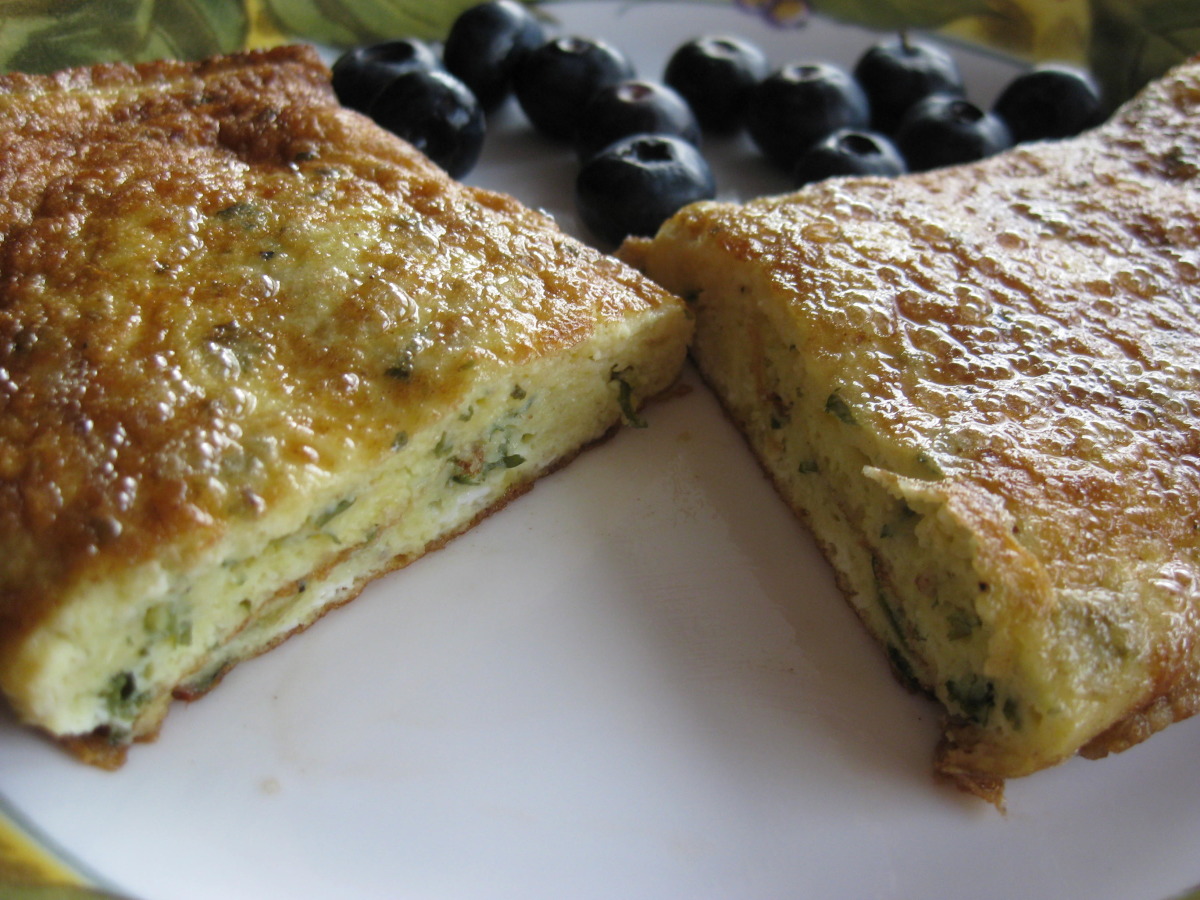 Number Of Ingredients: 5
Ingredients:
2 eggs
2 teaspoons breadcrumbs
2 teaspoons parmesan cheese
1 teaspoon milk
1 teaspoon parsley
---
PERFECT OMELETTE FOR ONE
I first saw this recipe on a TV cooking show and it looked so easy and good, decided to make it. So easy and quick and tastes so good.
Recipe From food.com
Provided by William Uncle Bill
Time 6m
Yield 1 serving(s)
Steps:
In a small mixing bowl, break both eggs, add cold water, salt and pepper and using a fork or a whisk, mix until well blended.
Preheat an 8 or 10 inch frying pan on medium-high heat. It is preferable to use a non-stick frying pan or skillet.
Add butter and let it melt.
Rotate pan and let the butter coat the edges.
Pour the egg mixture into the center of the pan and immediately start to rotate the pan in a circular motion, keeping the pan on the element at all times.
During rotating, take a spatula and loosen the egg on the sides of the pan if nececessary and continue to rotate the pan until the eggs are cooked. You may need to loosen the sides a couple of times during cooking; takes about 2 minutes. The omelette should be loose and rotate in the pan. Do not overcook the omelette as it will get rubbery.
Once the omelette is cooked, take the spatula and turn 1/3 of the omelette over towards the center of the pan. Slide the omelette onto a platter so that it folds again.
You may wish to use your choice of filling. Just before you fold the last 1/3 over, add some filling and then fold the omelette over.
Do not let the omelette brown. It should be thin and soft.
Enjoy.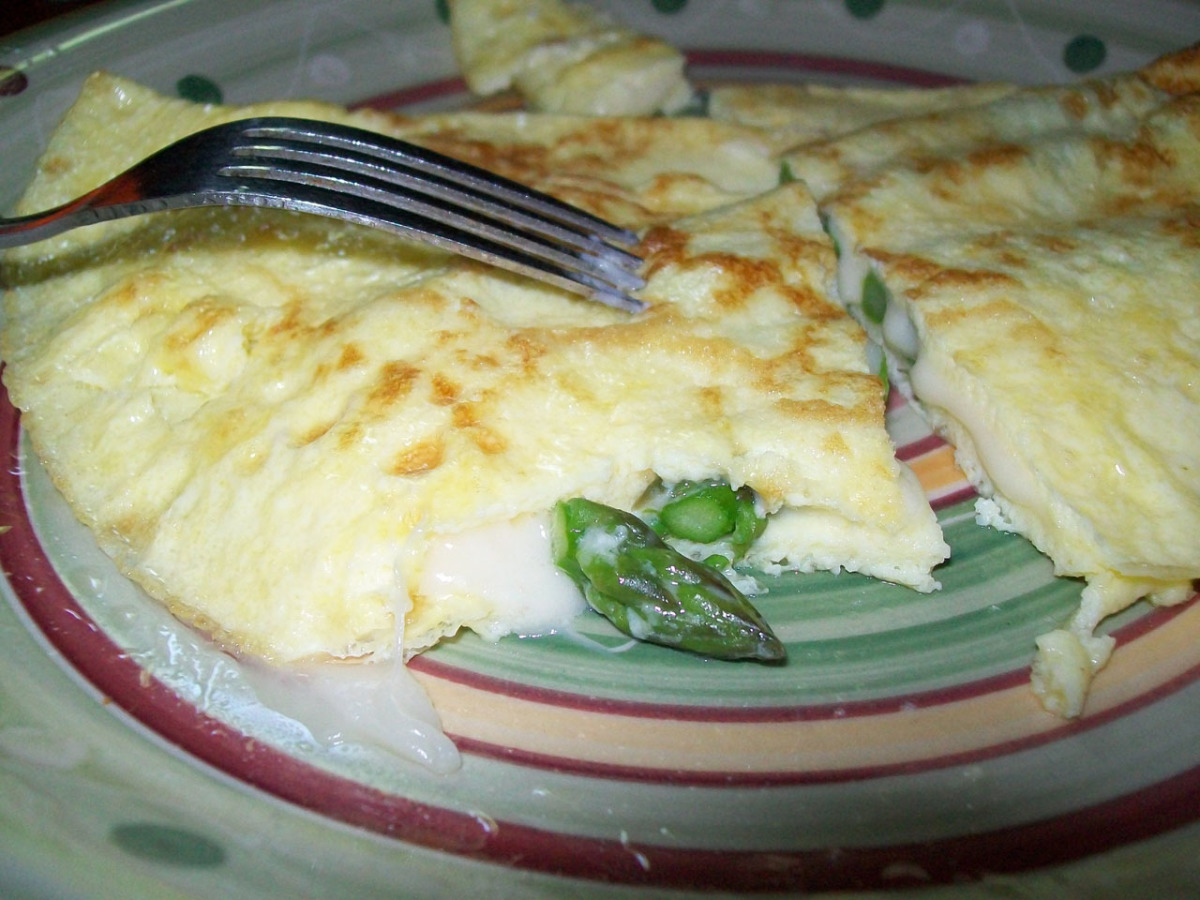 Number Of Ingredients: 5
Ingredients:
2 large eggs
1 tablespoon cold water
1 pinch salt
1 pinch black pepper
2 tablespoons butter
---
OMELET
Make and share this Omelet recipe from Food.com.
Recipe From food.com
Provided by Msjin
Time 3m
Yield 1-2 serving(s)
Steps:
Heat the pan with cooking spray.
Beat eggs, garlic salt and chicken broth together and pour in hot pan.
Sprinkle cheese on top.
Make sure both sides of omelet are cooked.
Serve. Add more cheese if desired.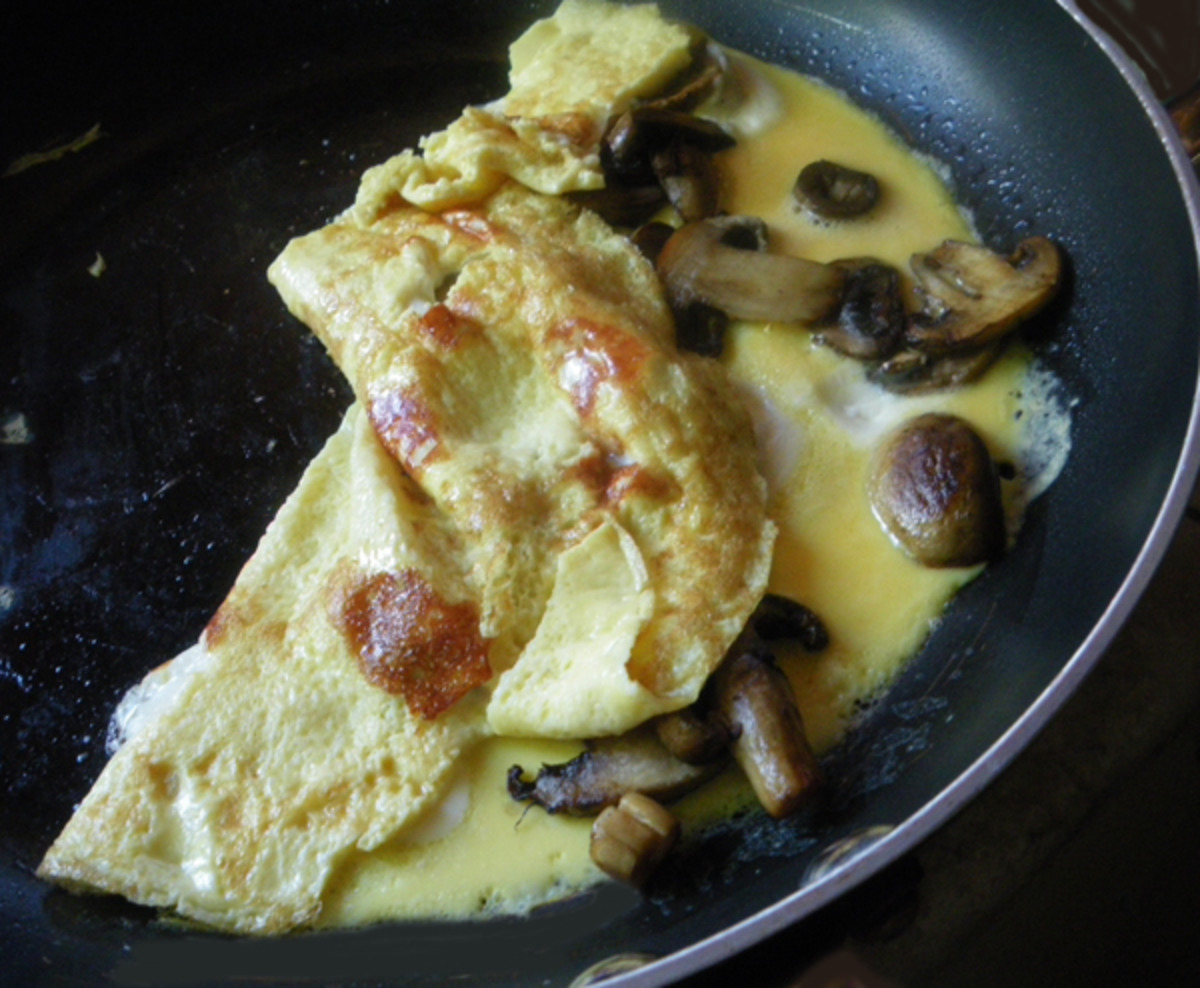 Number Of Ingredients: 5
Ingredients:
3 eggs
1/2 teaspoon garlic salt
2 tablespoons chicken broth
2 tablespoons grated mozzarella cheese
cooking spray
---
More recipes about Kittencal's Fluffy Omelet recipes
---
---
---
---
---
---
---
---
---
---
---
---
---
---
---
---
---
---
---