---
MONTE CRISTO
Recipe From foodnetwork.com
Provided by Food Network
Time 1h
Yield 6 servings
Steps:
Preheat a griddle and deep fryer to 350 degrees F.
Butter the griddle. Dunk the Texas toast on both sides in the French Toast Custard and grill until golden brown. Flip and add 1 slice Swiss cheese to each slice of toast. Then add 3 ounces ham on top of 6 of the toast slices, then top the ham with another slice of Swiss cheese. Top each ham and cheese toast with a cheese only toast, to form 6 sandwiches. Cook until the cheese melts, then remove from griddle and cool. Dunk the cooled sandwiches in the pancake batter until fully covered and put into the fryer. Cook until golden brown on both sides, about 8 minutes. Serve with the Strawberry-Rhubarb Syrup.
Beat the eggs well, then add the sugar and mix until emulsified and all the sugar has dissolved. Add the milk and vanilla and whisk until combined.
Add the strawberries, rhubarb, sugar and maple syrup to a saucepot. Place over medium heat and cook until fruit is soft, about 20 minutes. Let cool slightly, then carefully puree with a hand blender.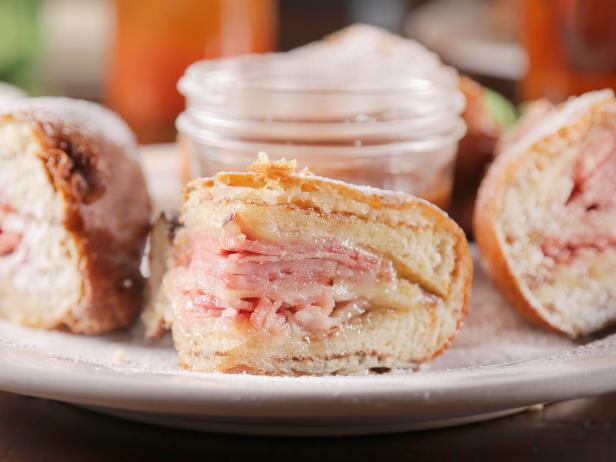 Number Of Ingredients: 15
Ingredients:
Unsalted butter, for griddling
12 slices Texas toast
French Toast Custard, recipe follows
18 slices Swiss cheese
18 ounces shaved ham
16 ounces premade pancake batter
Strawberry-Rhubarb Syrup, recipe follows
6 large eggs
1 cup sugar
3/4 cup milk
1 tablespoon vanilla extract
4 ounces fresh strawberries, stemmed and quartered
4 ounces fresh rhubarb, large dice
1/2 cup sugar
2 ounces maple syrup
---
More recipes about Monte Cristo Crepes recipes
---
---
---
---
---
---
---
---
---
---
---
---
---
---
---
---
---
---
---
---
---
---
---
---
---
---