PASTA PRIMAVERA
Time: 0 minute
Steps:
melt the butter in a large sauce pan
add the cream and the pepper
bring to a simmer
add the tomato sauce and the precooked vegetables
stir in the cooked pasta
remember to cook it al dente still slightly firm to the bite
whip the egg yolks with a fork and mix them into the cream
whisk the mixture into the cream sauce and pasta
this will serve as a thickner
make sure the pasta is completely coated with the sauce and serve with some parmesan cheese
Number Of Ingredients: 10
Ingredients:
salted butter
egg yolks
fresh black pepper
35 % fresh cream
carrot
tomato sauce
zucchini
fettuccine
broccoli
cream
---
PASTA PRIMAVERA
Roasting the veggies makes this unique from any other Primavera. This is truly TO DIE FOR! My take on a Giada de Laurentiis dish. I've tweaked it quite a bit. I have also tossed about 2 cups of rotisserie chicken in with the veggies and also used tortellini instead of the bowtie pasta. (I also add mushrooms when DH isn't home!) Anyway, it's a very easy recipe to play around with! Enjoy!
Recipe From food.com
Provided by KPD123
Time 30m
Yield 4-6 serving(s)
Steps:
On 1 cookie sheet toss all the veggies in olive oil, herbs, salt and pepper until well coated. Transfer half veggies onto another cookie sheet. Spread veggies into an even layer on both pans.
Roast at 450 degrees for 20 minutes, turning after 10 minutes.
Toss hot pasta with butter. Then add veggies to the pasta. Use reserved pasta water to combine ingredients if necessary (sometimes I just don't need to add it -- ).
Sprinkle with parm cheese, adding more salt and pepper to taste if need!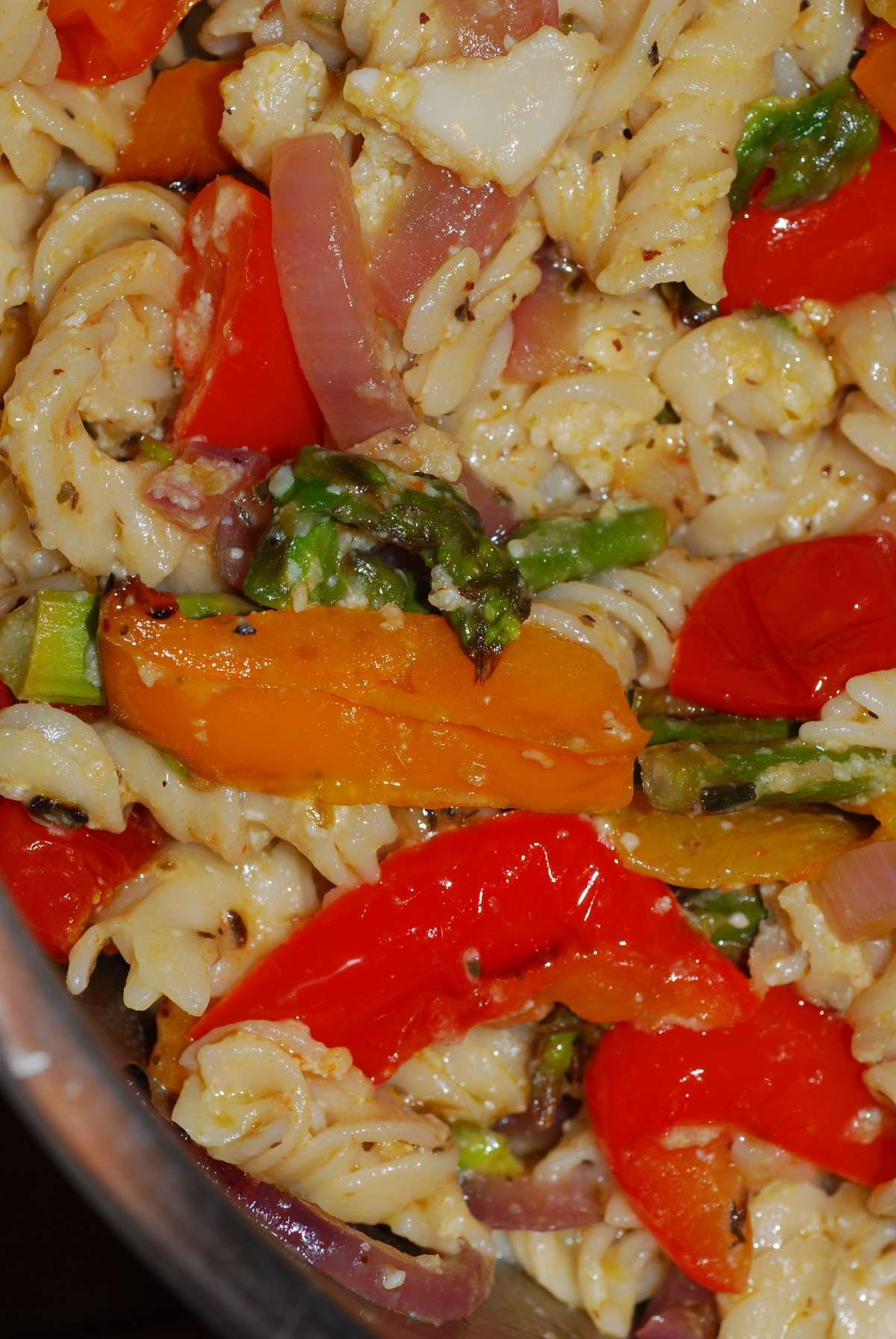 Number Of Ingredients: 14
Ingredients:
1 lb farfalle pasta, cooked and drained, reserving 1/2 cup pasta water (bowties)
2 tablespoons butter
1 red onion, thinly sliced
1 red bell pepper, cut into 2-inch pieces (matchsticks)
1 orange bell pepper, cut into 2-inch pieces (matchisticks)
2 carrots, cut into 2-inch pieces (matchsticks)
1/2 cup grape tomatoes, cut in half
5 garlic cloves, smashed
1 bunch asparagus, cut into 2-inch pieces
1/4 cup olive oil
1 tablespoon dried Italian herb seasoning or 1 tablespoon herbes de provence
2 teaspoons salt
2 teaspoons pepper
1/2 cup parmesan cheese, shredded
---
More recipes about Pasta Primavera recipes
---
---
---
---
---
---
---
---
---
---
---
---
---
---
---
---
---
---
---
---
---
---
---
---
---
---