QUICK MINESTRONE SOUP
really nice on a rainy night, curl up with a book, and a steaming hot bowl of this!!! quick and easy! one of my favs
Time: 35 minutes
Steps:
bring water to boil
add carrot , onion , small macaroni and soup mix
simmer for 15 minutes
skin tomato , chop and add to soup
add cabbage
simmer 10 minutes
serve
Number Of Ingredients: 7
Ingredients:
water
onion
carrot
cabbage leaves
chicken noodle soup mix
tomatoes
small macaroni noodles
---
QUICK MINESTRONE SOUP
I cook this every winter. I've made it as an small entree when I have dinner parties or a main meal for the family. I often get comments about how yummy it is and how filling it is. I leave out the prosciutto as I only eat poultry and seafood. This recipe comes from a book called 'Quick Meals' - The good taste collection, Volume 3 by Anneka Manning
Recipe From food.com
Provided by Chef floWer
Time 45m
Yield 4 serving(s)
Steps:
Heat the oil in a large saucepan over medium-high heat. Add the onion and prociutto, and cook, stirring occasionally for 5 minutes or until the onion softens and is light golden. Add the potatoes, carrots, zucchini and celery, and cook stirring for 1 minute.
Stir in the tomatoes and stock, increase heat to high and bring to the boil. Reduce heat to medium-low and simmer, uncovered, for 5 minutes. Stir in the pasta and simmer, uncovered, for a further 10 minutes or until the pasta is al dente.
Stir in the beans, parsley, salt and pepper. Cook, uncovered, for 1-2 minutes or until the beans are heated through. Taste and adjust the seasoning if necessary. Ladle the soup into serving bowls, sprinkle with the parmesan and serve with the crusty bread.
VARIATION:.
Kidney beans and vegetable soup: Replace the prosciutto with 3 bacon rashers. Add 45 grams finely shredded cabbage to the mixture with the tomatoes and stock. Replace the borlotti beans with 1 x 425 grams can red kidney beans. Omit the parmesan and top each bowl of soup with 1 teaspoon prepared pesto.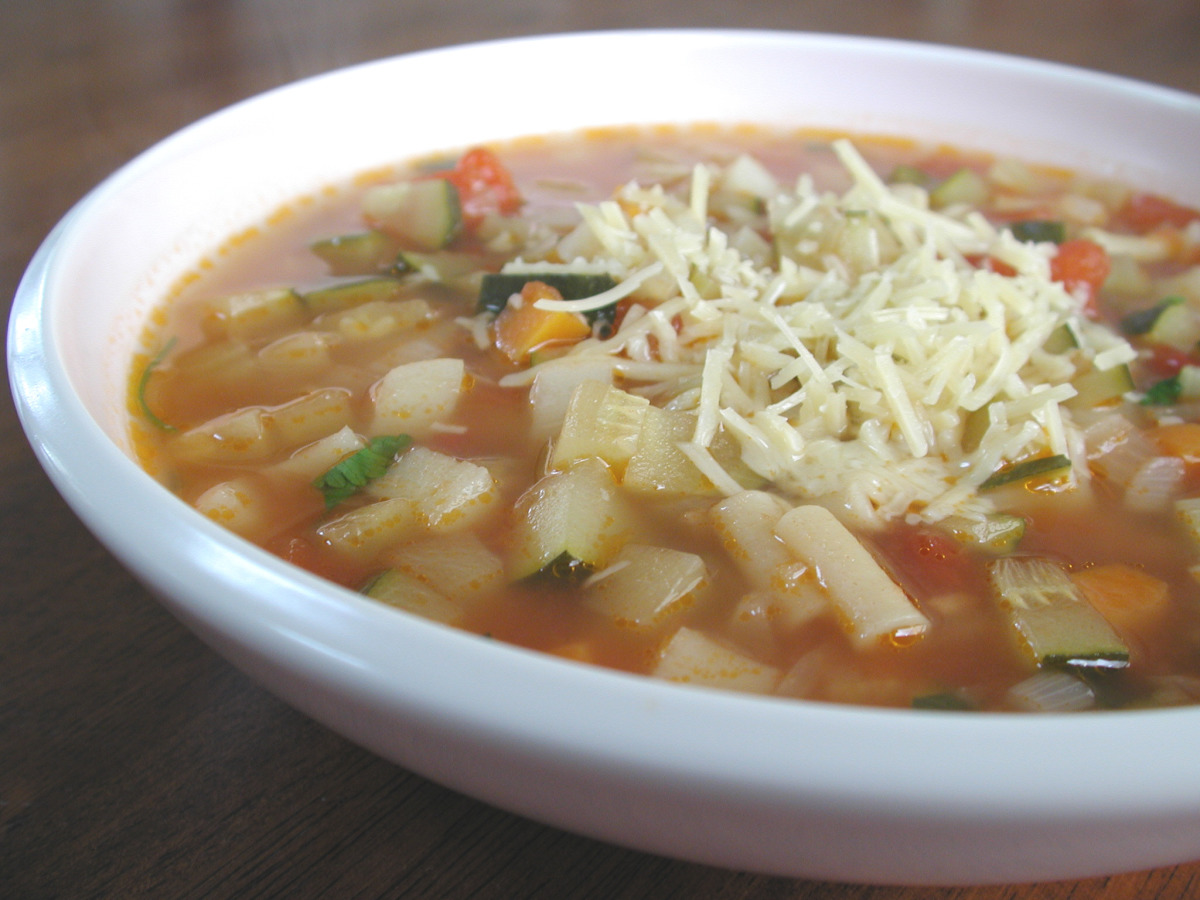 Number Of Ingredients: 15
Ingredients:
2 tablespoons olive oil
1 large brown onion, chopped
150 g prosciutto, thin slices, chopped
2 potatoes, desiree, peeled, cut into 1 . 5 cm pieces
2 carrots, peeled, chopped
2 zucchini, chopped
2 celery ribs, sliced (celery sticks)
1 (400 g) diced tomatoes, can
6 cups vegetable stock
55 g macaroni, dried
1 (425 g) borlotti beans, canned, rinsed, drained
1/3 cup flat leaf parsley, fresh, chopped
salt & fresh ground pepper, to taste
25 g parmesan cheese, finely shredded
crusty bread, to serve
---
MINESTRONE
One of my favorite dishes, which is hard to find properly made in Italian restaurants, is a good minestrone. This hardy vegetable soup is especially delicious poured on top of a mound of steamed Swiss chard or kale, and garnished with a green extra virgin Tuscan olive oil and freshly grated Parmesan. If you have any leftover rinds of Parmesan cheese, they can be cooked in the soup and will give it flavor. Serve the soup with toasted Italian bread spread with olive oil and rubbed with crushed garlic.
Recipe From cooking.nytimes.com
Provided by Moira Hodgson
Time 2h45m
Yield 6 - 8 servings
Steps:
Soak the beans overnight in water to cover. Discard the water. Add fresh water to cover and simmer until the beans are soft, about 30 to 45 minutes. Allow them to cool in their water.
In a large, heavy casserole, soften the onion, garlic and leeks in the olive oil. Add the celery, carrots, zucchini, string beans and potato and saute for 10 minutes, stirring frequently. Add the tomatoes.
Meanwhile, bring the chicken stock to a boil in a separate pan. Add to the soup ingredients and simmer gently for 1 1/2 hours covered. The soup should be thick, not watery. If it is too watery, uncover and cook until thickened.
Add the beans and cook for 15 minutes. Season to taste with salt and pepper.
Before serving, sprinkle the soup with parsley. Serve with a small jug of extra virgin olive oil on the side and a bowl of grated Parmesan cheese. The oil and the cheese are added separately.
Number Of Ingredients: 15
Ingredients:
1 1/2 cups dried cannellini beans
1 medium onion, coarsely chopped
1 clove garlic, minced
2 leeks, sliced
4 tablespoons extra virgin olive oil
2 stalks celery, sliced
1/2 pound baby carrots, cut in half
1/2 pound small zucchini, cut in 1-inch pieces
1/2 pound string beans, cut in 1-inch pieces
1 large potato, peeled and diced
1 cup Italian tomatoes, peeled, seeded and chopped (fresh or canned)
8 cups chicken stock
Coarse salt and freshly ground pepper to taste
4 tablespoons Italian parsley, chopped
Freshly grated Parmesan cheese to garnish
---
More recipes about Quick Minestrone Soup recipes
---
---
---
---
---
---
---
---
---
---
---
---
---
---
---
---
---
---
---
---
---
---
---
---
---