---
SPINACH AND FETA PIZZA
My husband is a meat and potatoes type of guy, but loves this veggie pizza. In fact, it is the only one I make at home any longer.
Recipe From food.com
Provided by Erindipity
Time 30m
Yield 4 serving(s)
Steps:
In large non-stick skillet, heat oil over medium high heat. Add onions. Once onions begin to brown reduce heat to low. Continue to cook onions until soft and caramelized. This should take a total of 20-30 minutes.
Roll dough out. Spread pesto. Layer remaining ingredients and onions over sauce.
Bake according to dough directions.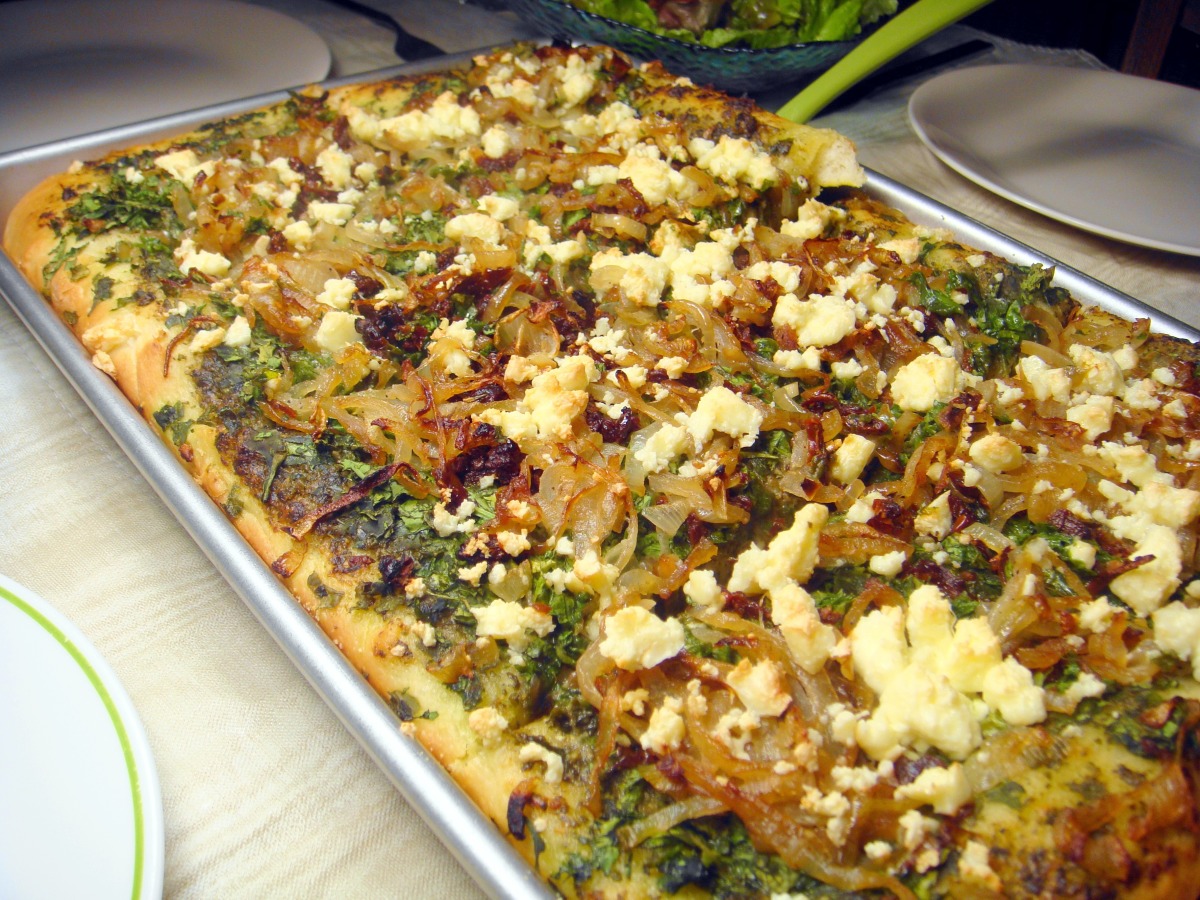 Number Of Ingredients: 7
Ingredients:
1 pizza dough, for 12 inch pizza
2 sweet onions, sliced
2 tablespoons olive oil
1/2-1 cup pesto sauce
1/2 cup frozen spinach, thawed and squeezed dry
1/2 cup sun-dried tomato, in oil drained
6 ounces feta, crumbled
---
SPINACH FETA PIZZA (6 WW POINTS)
Found this recipe in Taste of Home by Wilma Lombardo. WW points caluculated using the nutritional analysis provided in the cookbook. One serving is 1 slice of pizza (cut pizza into 6 slices).
Recipe From food.com
Provided by Trixyinaz
Time 1h55m
Yield 6 slices
Steps:
DOUGH: In a bread machine pan, place the first six ingredients in order suggested by manufacturer.
Select dough setting (check dough after 5 minutes of mixing; add 1 to 2 tbs of water or flour if needed).
When cycle is completed, turn dough onto a lightly floured surface.
Knead for 1 minute.
Cover and let rest for 15 minutes.
Roll into a 12-in circle.
Transfer to a lightly greased 12-in pizza pan.
Cover and let rise in a warm place until puffed, about 20 minutes.
TOPPINGS: Sprinkle with garlic and garlic salt.
Top with the spinach, onion, mushrooms, cheeses and basil.
Bake at 400 degrees for 30 to 35 minutes or until gold and cheese is melted.
Let stand 5 minutes before slicing.
Cut pizza into 6 slices.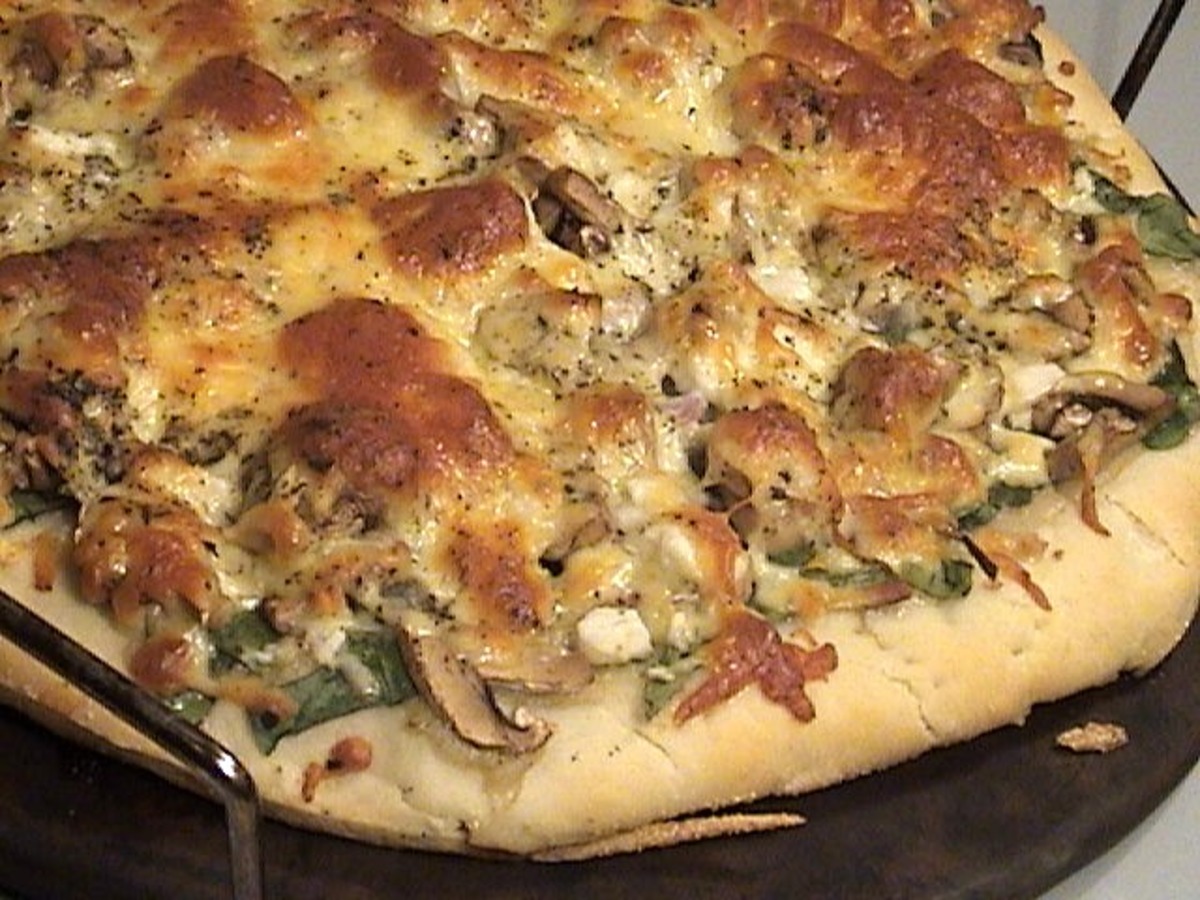 Number Of Ingredients: 14
Ingredients:
3/4 cup water (70 to 80 degrees)
2 tablespoons olive oil or 2 tablespoons canola oil
1/2 teaspoon sugar
1/2 teaspoon salt
2 cups bread flour
2 teaspoons active dry yeast
1 clove garlic, minced
1/8 teaspoon garlic salt
2 cups chopped fresh spinach
1 small red onion, sliced and separated into rings
1 cup sliced fresh mushrooms
4 ounces shredded mozzarella cheese
1/4 cup crumbled feta cheese
1/2 teaspoon dried basil
---
SPINACH-FETA PIZZA SLAB PIE
Made from store-bought pizza dough, this savory pie filled with fresh spinach, mozzarella, and feta is a cinch to put together.
Recipe From marthastewart.com
Provided by Martha Stewart
Time 1h5m
Steps:
Place spinach in a large pot over high heat; cover. Steam until just collapsed, about 3 minutes; transfer to a colander. When cool enough to handle, squeeze out excess water; roughly chop.
Preheat oven to 425 degrees, with a rack in lower third. Brush a 9 1/2-by-13-inch rimmed baking sheet with oil. On a lightly floured work surface, roll out and stretch one piece of dough into a thin 10-by-13-inch rectangle. (If dough is springing back, let stand 5 minutes.) Transfer to prepared baking sheet. Arrange mozzarella over dough, leaving a 1-inch border. Top with spinach and sprinkle with feta. Season with salt and red-pepper flakes. Roll out and stretch remaining portion of dough into a 10-by-14-inch rectangle. Drape over filling. Pinch edges to seal; slash a few vents in top. Brush with egg wash; sprinkle with sesame seeds.
Bake until golden brown all over and filling is bubbling through vents, 40 to 45 minutes. (Check color of bottom crust by lifting corner with a spatula.) Immediately slide pie off sheet onto a wire rack. Let cool completely. Before serving, cut into squares.
Number Of Ingredients: 10
Ingredients:
2 bunches spinach (1 pound, 6 ounces), tough stems trimmed, washed, with water still clinging to leaves
Extra-virgin olive oil, for brushing
Unbleached all-purpose flour, for dusting
1 pound store-bought pizza dough, divided in half
8 ounces low-moisture mozzarella, such as Polly-O, thinly sliced
2 ounces feta, crumbled (1/3 cup)
Kosher salt
Pinch of red-pepper flakes
1 large egg, beaten
1 tablespoon sesame seeds
---
More recipes about Spinach Feta Pizza recipes
---
---
---
---
---
---
---
---
---
---
---
---
---
---
---
---
---
---
---
---
---
---
---
---