CRAB RANGOON
my mom used to take my sister and me to a little cantonese chinese restaurant that served these. i loved them! these days, you can't even find a cantonese restaurant, so i had to come up with my own version
Time: 50 minutes
Steps:
combine all ingredients except wonton skins until well blended
adjust seasonings , but be gentle with the worcestershire and soy sauces , or the cheese will turn a dirty brown color , which isnt too appetizing
chill cheese well before starting assembly
place 1 rounded teaspoon of filling in the center of each wonton skin
moisten edges with water , and fold in half to form triangles , squeezing out air as you do so
moisten one bottom corner , pull bottom corners down and overlap slightly , pressing them together to seal
to prevent wonton skins from drying out too much , prepare just a few at a time , keeping the remaining skins covered with a damp towel
transfer to a tray , cover with plastic wrap , and chill thoroughly before proceeding
your can either deep fry the crab rangoon , which tastes wonderful , or you can bake them , which is much better for you , but not near as crispy
it is up to you
to fry , you really need a deep fryer , even if its just a fry baby-- the bigger the better , though , unless youre willing to stand there frying 2-3 at a time and then wait for the oil to reheat before the next 2-3
heat the oil to 375 degrees f
drop a few pieces in the deep fryer , place the fryer basket or something on top to keep the puffs submerged , and fry until golden brown
drain , place on a baking sheet lined with paper towels , and hold in a 220 degree f oven while you cook the rest of the puffs
let the oil return to 375 degrees f before frying the next batch
to bake , spray a baking sheet with pam or another nonstick vegetable spray , and arrange puffs on sheet , leaving as much space between them as possible
spray the puffs generously on all sides with pam , or better yet , if you have one of those pump-up oil sprayers , spray with real grease
preheat oven to 425 degrees f , and bake for 12-15 minutes , until golden brown
regardless of how you cook them , serve hot with sauces of choice , sweet and sour , plain old soy sauce , and / or hot mustard , so you can take a taste with one sauce , then another , then another , and then back to the first
we have never tried these baked , but they are really good deep fried
variations: instead of doing the triangle thing , moisten the whole top side of the wonton wrapper , add filling , pull all four corners together , and squeeze the wrapper into a little purse shape , squeezing out most of the air before sealing the neck of the bag
or put the filling into a pastry bag with a 1 / 4-3 / 8" round
roll into a fat cigarette shape , folding in the ends as you roll
Number Of Ingredients: 13
Ingredients:
cream cheese
crabmeat
green onions
garlic
worcestershire sauce
reduced sodium soy sauce
wonton wrappers
peanut oil
vegetable oil cooking spray
soy sauce
sweet and sour sauce
hot chinese chili paste
chinese mustard
---
CRAB RANGOON
This is said to be the closest to the rangoon served at a certain Asian food chain. The rangoon can also be deep-fried instead of baked.
Recipe From allrecipes.com
Provided by Carol Belle
Time 50m
Yield 8
Steps:
Preheat an oven to 425 degrees F (220 degrees C). Lightly spray baking sheet with cooking spray.
Combine garlic, cream cheese, crab, green onions, Worcestershire sauce, and soy sauce in a bowl. To prevent wonton skins from drying, prepare only 1 or 2 rangoon at a time. Place 1 teaspoon of filling onto the center of each wonton skin. Moisten the edges with water and fold the wonton skin diagonally to form a triangle, pressing edges to seal. Moisten one of the bottom corners. Create a crown by pulling both bottom corners together and sealing. Arrange the rangoon on the baking sheet and lightly spray with cooking spray.
Bake in the preheated oven until golden brown, 12 to 15 minutes.
Number Of Ingredients: 7
Ingredients:
1 clove garlic, minced
1 (8 ounce) package cream cheese
1 (6 ounce) can crabmeat, drained and flaked
2 green onions with tops, thinly sliced
2 teaspoons Worcestershire sauce
½ teaspoon light soy sauce
48 wonton wrappers
---
CRAB RANGOON
Recipe From foodnetwork.com
Provided by Jeff Mauro, host of Sandwich King
Time 55m
Yield 36 wontons
Steps:
For the sweet and sour sauce: Add the sugar, pineapple juice, vinegar, cherry syrup, ketchup and salt to a 3-quart saucepan over medium-low heat and cook, stirring, until the sugar is dissolved. Combine the cornstarch with 1/4 cup water in a bowl and mix well; add this to the sugar mixture. Turn the heat to medium-high and cook, stirring constantly, until the mixture thickens, 3 to 4 minutes. Chill in the refrigerator until ready to serve.
For the wontons: Combine the crab, cream cheese, green onions, soy sauce and Worcestershire sauce in a large bowl. Mix well to combine; I found using your hands can sometimes be the best way. Lay out the wonton wrappers on a clean work surface. Place 1 tablespoon of the crab mixture in the center of each wrapper. Moisten the edges of the wrappers with a little of the egg wash, then fold each into a triangle. Press to seal the wontons, squeezing out any trapped air; this will ensure that the wontons stay closed during frying.
Heat 2 inches oil in a deep-fryer or a Dutch oven to 375 degrees F. Fry a few wontons at a time until golden brown, 3 to 4 minutes. When you add the wontons to the oil, the temperature will drop about 10 degrees. Try to keep the temperature maintained at 360 degrees F. Remove to a paper towel-lined plate or sheet pan fitted with a wire rack. Repeat with the remaining wontons. Serve with the sweet and sour sauce and enjoy!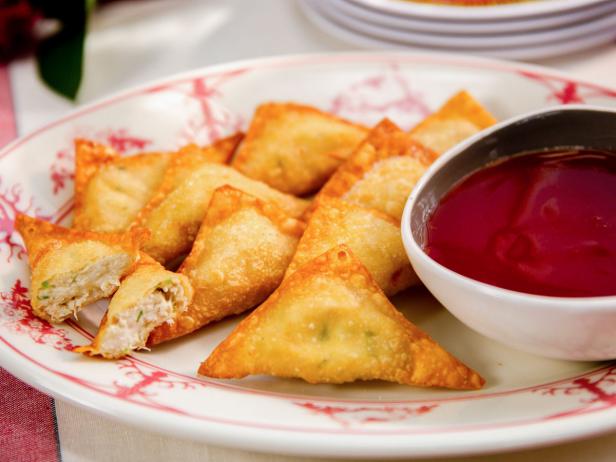 Number Of Ingredients: 15
Ingredients:
1 cup sugar
1/2 cup pineapple or orange juice
1/2 cup rice wine vinegar
1/4 cup maraschino cherry syrup (from the jar)
1/4 cup ketchup
Pinch kosher salt
1 1/2 tablespoons cornstarch
8 ounces lump crab meat
8 ounces cream cheese, at room temperature
2 green onions, fine dice
1 teaspoon soy sauce
1/2 teaspoon Worcestershire sauce
36 wonton wrappers
1 large egg, beaten
Vegetable oil, for frying
---
CRAB RANGOON
You can make the filling the day before and 1 hour before cooking remove from fridge. Very yummy stuff!
Recipe From food.com
Provided by Diana Adcock
Time 1h
Yield 50-60 individual appitizers
Steps:
Whip together the sour cream, cream cheese and soy sauce and sugar until smooth.
Fold in remaining ingredients (except wrappers) Heat oil to med-high and you want it around 1 1/2-2 inches deep.
Place a small bowl of water on your work surface and lay out 6 wrappers, and place around 1 1 1/2 t's in the center of each wrapper.
Moisten edges, bring up corners and pinch together, along with sides-you dont want filling to float away.
Place all 6 in the hot oil and repeat process.
By the time you have the next set of 6 ready to crimp it should be time to turn the rangoon's.
You want them a nice golden color.
When done remove with a slotted spoon and drain on paper towells.
Repeat until done.
Try to share.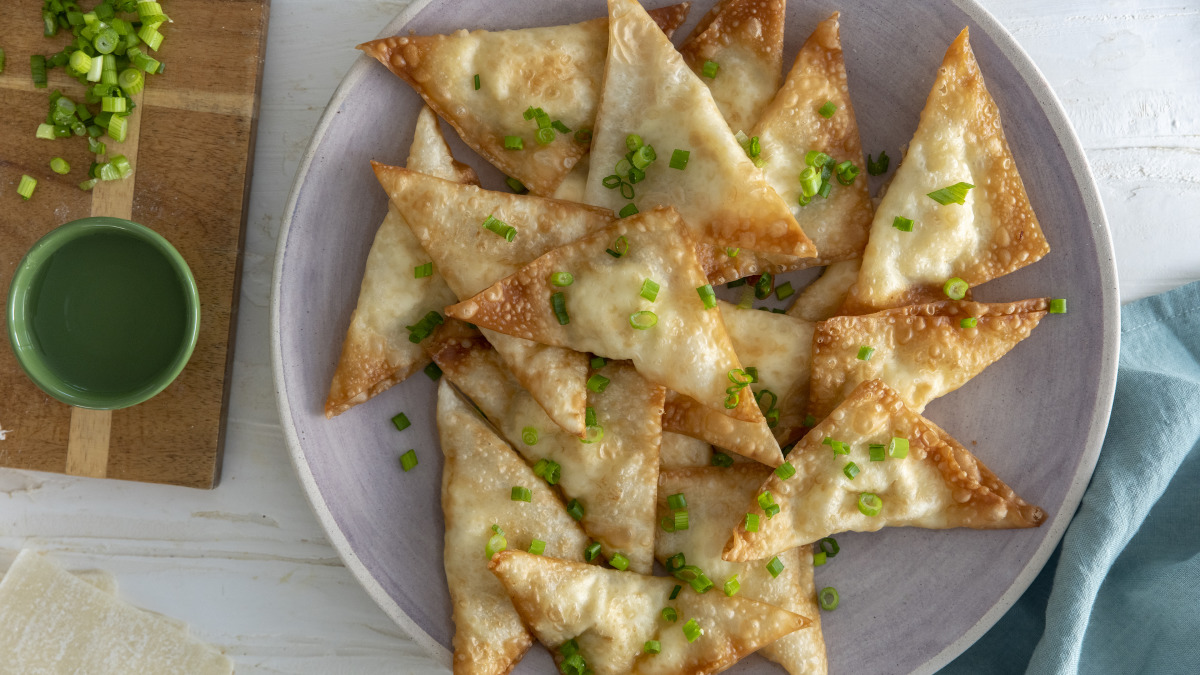 Number Of Ingredients: 10
Ingredients:
1/4 cup sour cream
2 (8 ounce) packages cream cheese, at room temp
3/4-1 cup crabmeat, picked
2 green onions, sliced thin
1 clove garlic, minced (large clove)
1 teaspoon ginger, minced
2 teaspoons soy sauce
1 teaspoon sugar
wonton wrapper (I buy 2 packages as I'm never quite sure how many I'll end up with)
oil (for frying)
---
CRAB RANGOON
These are the crab rangoons I served the entire time I was in business. We made and served countless thousands of them.
Recipe From food.com
Provided by tgobbi
Time 22m
Yield 16-20 wontons
Steps:
Pick over the crab to remove pieces of shell.
Use only about 1/2 t of filling for each wonton.
Seal edges with beaten egg.
(Make sure you squeeze out all the air or they'll pop open during frying and make a real mess)!
Deep fry at 350º until golden brown and crispy.
Blot on paper towels.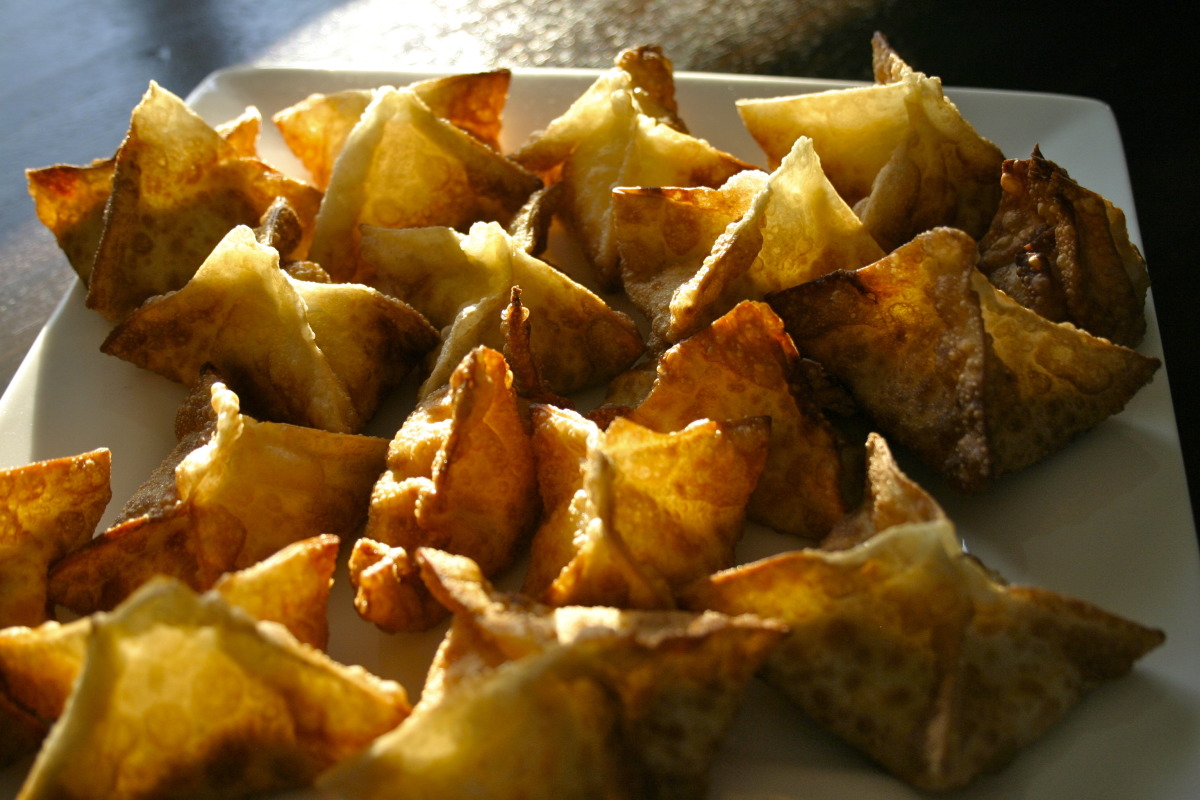 Number Of Ingredients: 9
Ingredients:
1 (6 ounce) can crabmeat
6 ounces cream cheese, room temp
1/2 tablespoon minced garlic
1 dash Worcestershire sauce
1/2 teaspoon salt
1 dash white pepper
wonton skins
1 beaten egg
deep frying oil
---
CRAB RANGOON
As an American-born Asian kid, I grew up eating items that were created in the States but are authentic in flavors. The Chinese have been here since the 1800s and if dishes were created by Asians in America I think they are totally authentic. Dishes like orange chicken, California roll, spicy tuna and crab rangoon have now made their way back to the Asian countries from which their native creators originated.
Recipe From foodnetwork.com
Provided by Jet Tila
Time 30m
Yield 24 pieces
Steps:
Press out as much liquid as possible from the crabmeat you are using. Any excess moisture will soak through the wonton skins. In a medium bowl, combine the crab, cream cheese, scallions, tarragon, salt and pepper either with your hands or a stand mixer with a paddle attachment.
Take a wonton skin, place 1 teaspoon of the filling in the center of each wrapper.
With a finger dipped in egg, moisten the 2 adjacent sides; fold over the opposing corner to make a triangle. (You have some choices with shape. You can make a purse, tortellini or traditional triangle wontons.)
Place the completed ones on a tray. Uncooked, rangoons can be wrapped and kept frozen for 1 to 2 weeks and dropped into the fryer frozen.
Heat oil in a 4- or 5-quart (3.8- or 4.7-L) Dutch oven or pot until the oil reaches 360 degrees F (182 degrees C). Fry in small batches until golden about 2 minutes on each side and drain on a wire rack over a rimmed baking sheet. I like to serve these with sweet chili or plum sauce.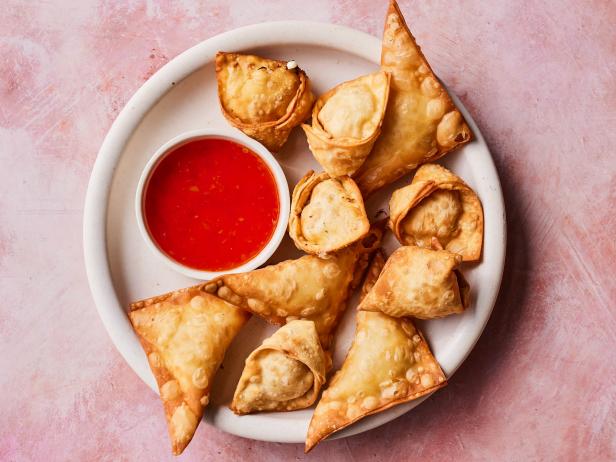 Number Of Ingredients: 9
Ingredients:
8 ounces (227 g) lump crabmeat or snow crabmeat
16 ounces (454 g) cream cheese, at room temperature
2 scallions (whites only), very finely chopped
2 tablespoons (5 g) finely chopped tarragon
Kosher salt and freshly ground black pepper
24 wonton skins (square)
1 egg, slightly beaten, for sealing
2 quarts (1.9 L) vegetable oil, for frying
Sweet chili or plum sauce, for serving
---
More recipes about crab rangoon recipes
---
---
---
---
---
---
---
---
---
---
---
---
---
---
---
---
---
---
---
---
---
---
Recently Search