CURRY SALMON
an easy way to make a tasty, flavorful fish. my kids love it. sometimes i will broil this instead. we like lots of curry on it. unsure of serving amounts.
Time: 30 minutes
Steps:
slather both sides of the fish with plenty of curry
sprinkle lightly with garlic powder , salt and pepper
rub the spices into the fish
wrap fish in a foil packet and bake at 350 degrees for 15-20 minutes
Number Of Ingredients: 5
Ingredients:
salmon fillet
curry powder
garlic powder
salt
pepper
---
CURRIED SALMON
Until our daughter shared this recipe, my husband and I swore we didn't like salmon. But after one taste of this grilled version, we were converts!
Recipe From tasteofhome.com
Provided by Taste of Home
Time 20m
Yield 6 servings.
Steps:
In a large resealable plastic bag, combine the soy sauce, oil, garlic powder, curry powder, lemon-pepper, Worcestershire sauce and Liquid Smoke if desired; add the salmon. Seal bag and turn to coat. Refrigerate for 1 hour. , Drain and discard marinade. Using long-handled tongs, moisten a paper towel with cooking oil and lightly coat the grill rack. Place salmon skin side down on rack. Grill, covered, over medium heat or broil 4 in. from the heat until fish flakes easily with a fork, 10-12 minutes.
Number Of Ingredients: 8
Ingredients:
1/3 cup soy sauce
1/3 cup canola oil
1 teaspoon garlic powder
1 teaspoon curry powder
1 teaspoon lemon-pepper seasoning
1 teaspoon Worcestershire sauce
1/4 teaspoon Liquid Smoke, optional
6 salmon fillets (8 ounces each)
---
SALMON CURRY
A family favorite for salmon lovers! Serve hot with rice or roti, topped with cilantro if you like.
Recipe From allrecipes.com
Provided by strawberries444
Time 50m
Yield 4
Steps:
Heat 2 tablespoons oil in a frying pan over medium-high heat. Gently fry salmon pieces until easily flaked with a fork, about 5 minutes. Drain on paper towels and set aside.
Heat remaining oil in the same pan over medium heat. Add onions, garlic, and ginger; fry until golden, about 7 minutes. Add cumin, garam masala, and turmeric. Cook and stir until fragrant, about 10 seconds. Add tomatoes; cook until they start to reduce, about 5 minutes. Add water and salt; bring to a boil.
Return salmon to the pan and reduce heat to low. Simmer until flavors combine, about 10 minutes.
Number Of Ingredients: 11
Ingredients:
3 (6 ounce) fillets salmon, cut into cubes
3 tablespoons olive oil, divided
2 medium onions, sliced
4 cloves garlic, minced
1 tablespoon minced fresh ginger root
2 teaspoons cumin seeds
2 teaspoons garam masala
1 teaspoon ground turmeric
2 tomatoes, grated
2 cups water
salt to taste
---
THAI SALMON CURRY
I made this up being hungry for salmon but not wanting to do the familiar teriyaki routine. The results were delicious and also used up some hot peppers that were ready on my plants. And you can't believe how quick and easy this is to prepare! The hardest part is steaming the rice!
Recipe From food.com
Provided by PalatablePastime
Time 25m
Yield 3-4 serving(s)
Steps:
Remove the skin from the fillets (discarding skin) and cut the fish into medium/large cubes (about 1-inch size).
Place the coconut milk into a large saute pan and add ginger, sugar, fish sauce, curry paste, and lime juice.
Use a whisk to blend it until it is smooth.
Bring the coconut milk to a boil and add the fish.
Cook, turning fish gently to cook all sides as it cooks, for 5-7 minutes (depending on size of cubes or how well done you like your fish).
Sprinkle curry with chopped basil and cilantro.
Serve garnished with minced Thai bird chiles, if you like, but remember that these are very hot, and you might want to taste one small thin ring (preferably with some food) before adding a lot of them to your serving.
Ladle into bowls over steamed jasmine rice.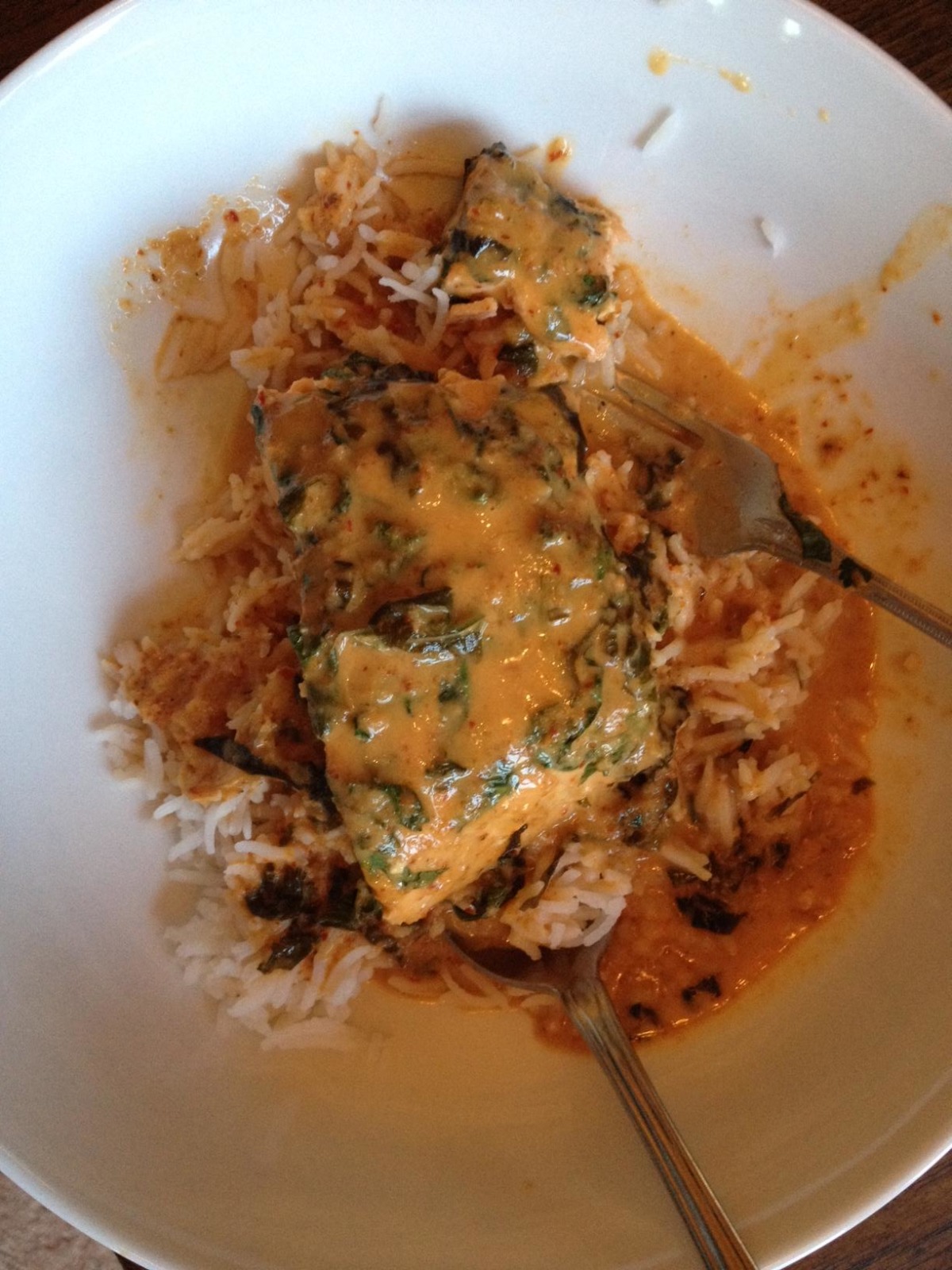 Number Of Ingredients: 11
Ingredients:
1 1/2 lbs fresh salmon fillets
1 (14 ounce) can light unsweetened coconut milk
1 tablespoon grated ginger
1 tablespoon palm sugar or 1 tablespoon brown sugar
2 tablespoons fish sauce
1 -3 tablespoon red curry paste (you choose how much)
1/2 lime (juice of, no seeds)
1/4 cup chopped fresh basil
2 tablespoons chopped fresh cilantro
minced Thai chile (optional; as many as you prefer)
3 cups steamed jasmine rice (or other type of rice)
---
More recipes about curry salmon recipes