SPRING VEGETABLE CHOWDER RECIPE BY TASTY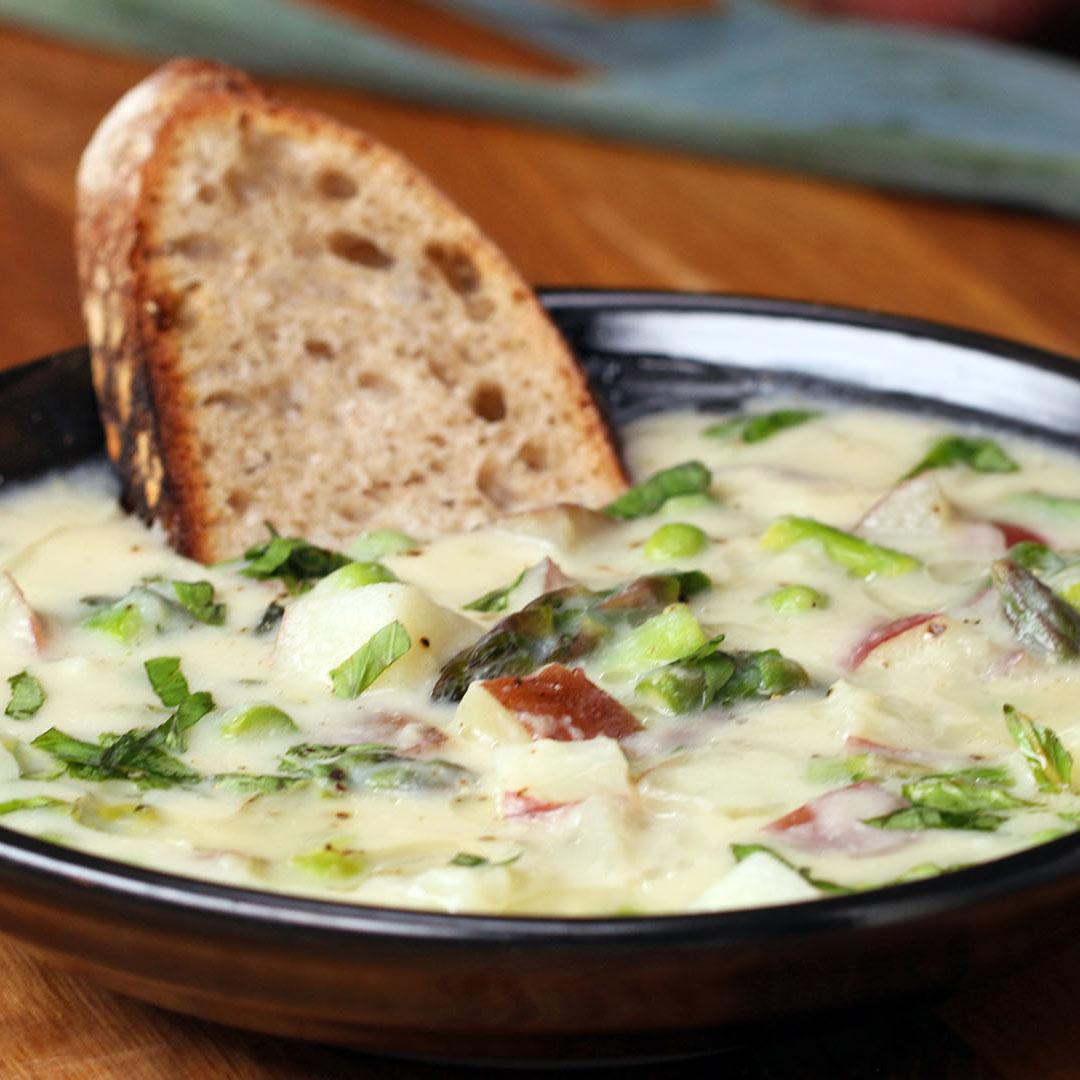 Here's what you need: olive oil, riced cauliflower, leek, garlic, kosher salt, vegetable stock, non-dairy milk, asparagus, english pea, lemon, fresh basil, medium red potato, cold water, fresh lemon juice, freshly ground black pepper
Recipe From tasty.co
Provided by Betsy Carter
Categories Lunch
Time 30m
Yield 6 servings
Number Of Ingredients: 15
Steps:
In a large pot, heat 2 tablespoons of olive oil over medium heat. Once the oil is shimmering, add the riced cauliflower, leeks, garlic, and 1 teaspoon of salt. Sauté for 2 minutes, until the leeks just begin to soften.
Pour in the vegetable stock and 2 cups (480 ml) of non-dairy milk. Increase the heat to medium-high and bring to a boil. Reduce the heat to medium, cover, and simmer for 15-20 minutes, until the cauliflower is completely broken down and tender.
Meanwhile, in a large pan, heat 2 tablespoons of olive oil over medium heat. Add the asparagus, peas, and 1 teaspoon of salt. Sauté for 2 minutes, until the vegetables are bright green with some crunch. Remove the pan from the heat and stir in the lemon zest and basil. Transfer to a bowl and set aside.
Wipe out the pan and add the potatoes and enough cold water to cover by 1 inch (1 ¼ cm). Season with 1 tablespoon of salt. Bring to a boil. Once boiling, reduce the heat to medium-low and simmer for 8-10 minutes, until the potatoes are easily pierced with a fork but not mushy. Drain and set aside.
Remove the pot with the cauliflower from the heat. Blend with an immersion blender until completely smooth and creamy. Add up to 1 cup (240 ml) non-dairy milk or water if needed to thin to your desired consistency.
Stir in the reserved asparagus, peas, potatoes, and the lemon juice. Season to taste with salt.
Ladle into bowls and garnish with fresh basil, a drizzle of olive oil, and freshly ground black pepper.
Enjoy!
---
VEGETABLE CHOWDER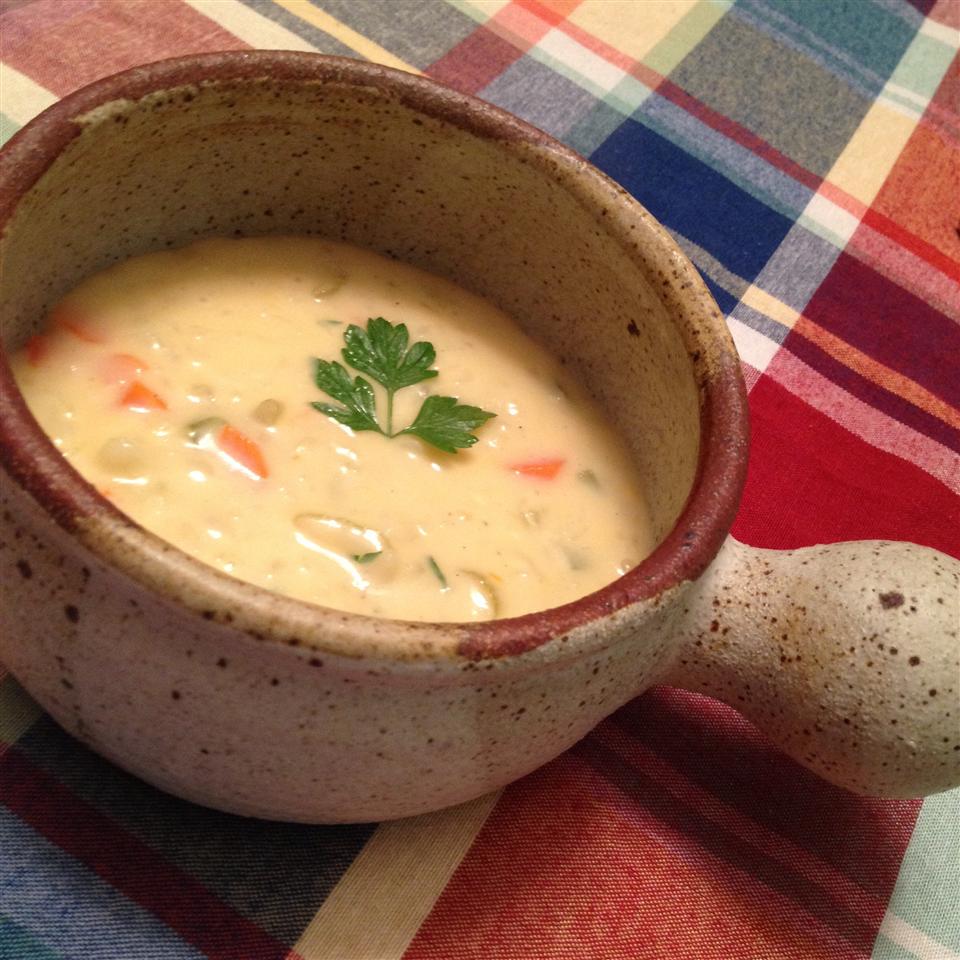 Steps:
In a Dutch oven or soup kettle, saute the pepper and onions in butter or margarine until tender.
Add remaining vegetables, water, bouillon, salt, and pepper; bring to a boil. Reduce heat; simmer covered for 20 minutes, or until the vegetables are tender.
Combine flour and milk until smooth; stir into pan. Bring soup to a boil; cook and stir for 2 minutes. Mix in the parsley. Just before serving, stir in the cheese until melted.
---
CREAMY VEGETABLE CHOWDER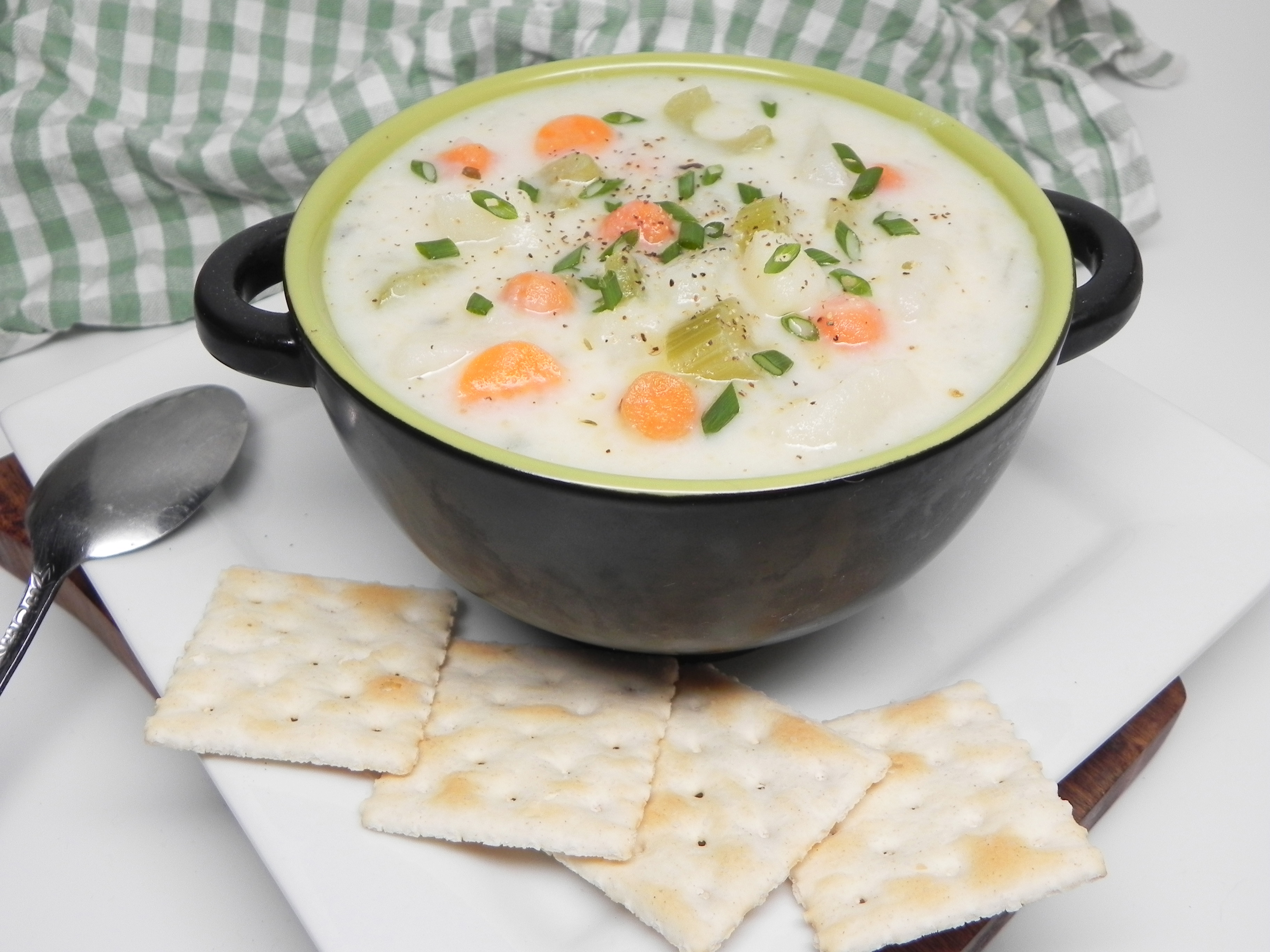 This is a creamy but low-fat soup that is certain to warm the coldest winter chills. Made with simple ingredients, it is perfect for those snowy days when you don't want to head to the store.
Recipe From allrecipes.com
Provided by Amy Brumfield
Categories Soups, Stews and Chili Recipes Soup Recipes Vegetable Soup Recipes
Yield 7
Number Of Ingredients: 12
Steps:
Melt butter in large saucepan over medium heat. Add onion and cook until tender.
Add carrots and celery and cook for 10 minutes or until carrots become a little tender. Add water or broth, potatoes, salt, and pepper. Bring to a boil and allow to simmer for 15 to 20 minutes or until all vegetables are tender.
Add milk and parsley and heat just to boiling.
In a separate bowl stir cornstarch into cold water. When completely dissolved add to hot soup, stir and serve.
---
VEGAN CURRIED VEGETABLE CHOWDER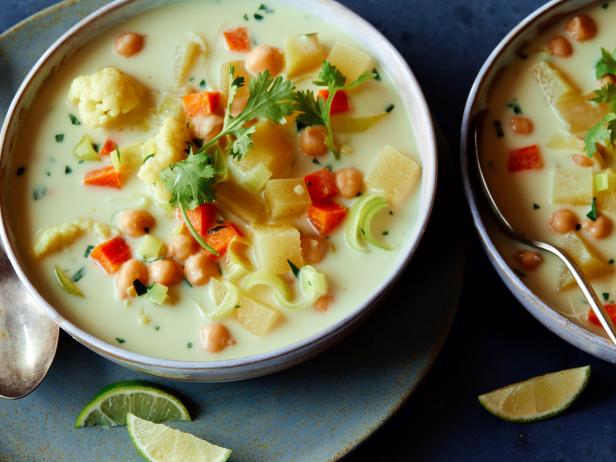 This creamy vegan soup is hearty enough for a whole meal, thanks to chickpeas and a host of vegetables. To make it even more filling, you can add a scoop of cooked rice or noodles just before serving. When selecting a vegetable broth for this recipe, try to find one that is lighter in color and flavor so it doesn't overpower the other components.
Recipe From foodnetwork.com
Provided by Food Network Kitchen
Categories main-dish
Time 50m
Yield 6 to 8 servings
Number Of Ingredients: 15
Steps:
Heat the olive oil in a medium Dutch oven or heavy pot over medium heat. Add the leeks, carrots and potatoes. Season with 1 teaspoon salt. Cook, stirring occasionally, until the vegetables begin to soften, about 5 minutes. Add the garlic, ginger, curry and cayenne. Cook, stirring, until the mixture is sizzling, about 1 minute. Stir in the coconut milk, vegetable broth and 4 cups water. Add the lime zest. Bring the soup to a rarpid simmer and cook until reduced slightly and the vegetables are almost tender, about 10 minutes.
Add the cauliflower and chickpeas. Continue to simmer rapidly until the vegetables are very tender and the soup is thick and flavorful, about 20 minutes more. Remove the lime zest. Season with salt and additional cayenne as needed. Stir in the lime juice and cilantro and serve with lime wedges.
---
RUSTIC ROASTED WINTER VEGETABLE CHOWDER
A thick and hearty soup with butternut squash, sweet potatoes, parsnips, and more. Serve with a crusty loaf of bread for a cozy winter dinner. And don't worry about your vegetable dices being exact. It's supposed to be rustic!
Recipe From kitchentreaty.com
Provided by Kare for Kitchen Treaty
Time 1h15m
Number Of Ingredients: 15
Steps:
Heat oven to 400 degrees Fahrenheit.
In a large bowl, toss the butternut squash, parsnips, sweet potatoes, carrots, and fennel with 2 tablespoons olive oil and 1/2 teaspoon coarse salt. Spread in a single layer on a large baking sheet and roast until tender and browned in places, about 40 minutes, turning a couple of times while roasting.
While the veggies are roasting, prepare the base of the soup. To a large saucepan over low heat, add 3 tablespoons olive oil. Add the onion along with a pinch of salt and a bit of pepper, then cook, stirring occasionally, until soft, about 10 minutes.
Stir in the flour and cook for 3 minutes, stirring constantly.
Stir in the vegetable broth. Add the potatoes and thyme. Bring to a boil over medium heat then reduce heat to low. Simmer uncovered for 15 minutes or until potatoes are soft. Remove from heat. Pick out the thyme stems and discard.
Stir in the roasted vegetables. Carefully transfer about 3 cups of the chowder to the pitcher of a blender. Puree until smooth. Return the pureed mixture to the pot and stir to combine. The soup should be thick, rich, and creamy.
Stir in the milk. Place the pot back on the burner, and, with the heat on medium-low, return to a simmer, stirring often to prevent burning.
Taste and add additional salt and pepper if desired.
Serve garnished with an additional turn of cracked pepper and thyme leaves. Sometimes, I'll reserve a few of the roasted veggies for garnish too.
---
---
---
More recipes about spring vegetable chowder recipe recipes
---
---
---
---
---
---
---
---
---
---
---
---
---
---
---
---
---
---
---
---
---
---
---
Recently Search