DECADENT CHOCOLATE TORTE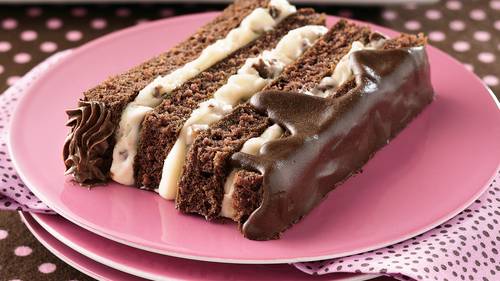 An eye-catching, four-layer cake features toffee, white chocolate, cream cheese and rich glaze.
Recipe From bettycrocker.com
Provided by By Betty Crocker Kitchens
Categories Dessert
Time 5h40m
Yield 16
Number Of Ingredients: 13
Steps:
Heat oven to 375°F (350°F for dark or nonstick pans). Line bottoms only of two 13x9-inch pans with foil or waxed paper; spray with baking spray with flour.
In large bowl, beat eggs with electric mixer on high speed about 5 minutes or until thick and lemon colored. Add cake mix, water and oil; beat on low speed 30 seconds, then on medium speed 2 minutes, scraping bowl occasionally. Place half the batter (about 2 1/2 cups) in each pan. Spread batter slightly higher in corners than at the center.
Bake 13 to 17 minutes or until cake springs back when lightly touched in center. Run knife around edges of pans to loosen cakes if necessary. Turn each cake upside down onto clean kitchen towel each sprinkled with 1 tablespoon powdered sugar; carefully remove foil. Cool completely, about 45 minutes.
In medium bowl, beat 3/4 cup of the whipping cream on high speed until stiff peaks form; set aside. In another medium bowl, beat cream cheese and 3 tablespoons powdered sugar on medium speed until smooth; set aside.
In small microwavable bowl, microwave baking chips and 2 tablespoons whipping cream on High 30 seconds; stir. Microwave 15 to 30 seconds longer; stir until chips are melted. Stir melted chips into cream cheese mixture. Add whipped cream and toffee candy to mixture; stir until well blended. Cover; refrigerate at least 1 hour.
Trim edges of cakes to make even. Cut each cake in half lengthwise. If necessary, trim top of layers to make flat surface. Place 1 cake piece on serving platter; spread with one-third of the filling (about 3/4 cup). Repeat layers twice. Top with remaining cake piece. Gently press in sides to straighten; if necessary, trim sides until even. Cover; refrigerate 30 minutes.
In medium microwavable bowl, beat butter on medium speed until smooth. On low speed, beat in remaining glaze ingredients until well blended. Reserve 3/4 cup of the glaze for garnish; cover and let stand at room temperature about 30 minutes or until thick enough to pipe. Meanwhile, microwave remaining glaze on High about 10 seconds or until slightly warm and spreading consistency. Spread over top of torte, letting some drip down sides. Refrigerate torte about 30 minutes or until glaze is set.
Spoon reserved 3/4 cup glaze into decorating bag fitted with small star tip. Pipe decorative border around top edges of torte. Refrigerate at least 2 hours. (Torte can be made 2 days ahead; wrap sides tightly with plastic wrap and refrigerate.) Let cake stand at room temperature 20 minutes before serving. Store covered in refrigerator.
---
DECADENT CHOCOLATE TRUFFLE TORTE
Create a mouthwatering chocolate truffle torte - and there's no cooking necessary!
Recipe From bbcgoodfood.com
Provided by Orlando Murrin
Categories Afternoon tea, Buffet, Dessert, Dinner, Lunch, Treat
Time 1h
Yield Serves 12 in small slices (it's very rich!)
Number Of Ingredients: 6
Steps:
Get your equipment ready (see tips below). Break the chocolate in small pieces into a large heatproof bowl. Spoon in the syrup and pour in about a quarter of the cream. Stand the bowl over (not in) a pan of hot water over the lowest possible heat and leave until the chocolate has melted, about 15-20 minutes. Remove the bowl from the pan and stir to combine. Leave until barely warm - dip your little finger in to check.
Get your cake tin ready. Do this while you are waiting for the chocolate to melt and cool so you're not hanging around. Cut open the plastic folder along the bottom, then cut out a disc to fit in the bottom of the tin and 3 strips to line the sides. (See step 2).
Pour the rest of the cream into a very large bowl and tip in the coffee and cinnamon. Whip with a balloon whisk until the cream looks like step 3. When you shake the bowl the cream should wobble like a thick milkshake, and when you dribble some cream from the whisk, the trail it leaves in the cream below should disappear in 1-2 seconds.
Fold the two together. Pour the cooled chocolate into the bowl containing the cream. With the largest metal spoon you've got, fold the cream and chocolate together in a figure-of-eight motion. Don't be nervous - keep going until they are evenly and smoothly mixed and the mixture has a soft, pillowy, downy texture - you will see and feel it thicken as you fold.
Set the torte. Pour the chocolatey cream into the tin and level the surface with the back of the spoon. Put the tin in the fridge and leave to firm up. This can happen in under an hour, but you may need to leave it longer, depending on the coldness of your fridge (you can leave it overnight if this is more convenient).
Unmould and serve. Unclip and remove the side of the tin, then remove the pieces of plastic around the sides. Invert a serving plate over the torte and turn the torte upside down on to it. Lift off the tin base and peel away the plastic. Dust all over with cocoa (including the plate if you wish to be fashionable) and serve in thin slices.
---
CHOCOLATE TORTE RECIPES
Grab a slice of our most decadent chocolate tortes. Our impressive dessert recipes are ideal for entertaining and sure to be hit.
Recipe From bbcgoodfood.com
Number Of Ingredients: 1
---
JOHN'S CHOCOLATE-TRUFFLE TORTE
For real chocoholics, this dark, decadent, flourless cake is a dream come true. The recipe is especially easy, too -- unlike most flourless cakes, the batter for this one is lightened with whipped cream instead of whipped egg whites.
Recipe From marthastewart.com
Provided by Martha Stewart
Categories Food & Cooking Dessert & Treats Recipes Cake Recipes
Time 1h
Number Of Ingredients: 7
Steps:
Preheat oven to 350 degrees. Assemble a 9-inch springform pan with the raised side of the bottom part facing down; secure side. Butter pan; line side with a long strip of waxed or parchment paper. Butter paper. Wrap bottom and side of pan with aluminum foil (to prevent water from seeping in); do not tuck foil inside pan. Set a kettle of water to boil for step 5.
In a large heatproof bowl set over (not in) a pan of simmering water, melt chocolate. Remove bowl from pan, and let cool to room temperature.
In another large bowl, using an electric mixer on high, beat eggs, sugar, salt, and rum until mixture is thick, foamy, and forms a ribbon when you lift the beater, 4 to 6 minutes.
Stir half the egg mixture into the cooled chocolate to lighten. Fold in remaining egg mixture, then whipped cream. Spoon batter into prepared pan, and smooth top.
Place springform pan in a roasting pan; carefully pour hot water from the kettle to come halfway up the side of the springform pan. Bake until torte is set and firm to the touch, about 30 minutes.
Transfer springform pan to a wire rack; remove foil and let cool to room temperature. Refrigerate torte in pan until well chilled, about 3 hours. To serve, release side. Using a knife dipped in warm water, cut torte into thin slices. Serve with whipped cream, if desired.
---
EASY, DECADENT, INCREDIBLY CHOCOLATEY CHOCOLATE TORTE GLUTEN FRE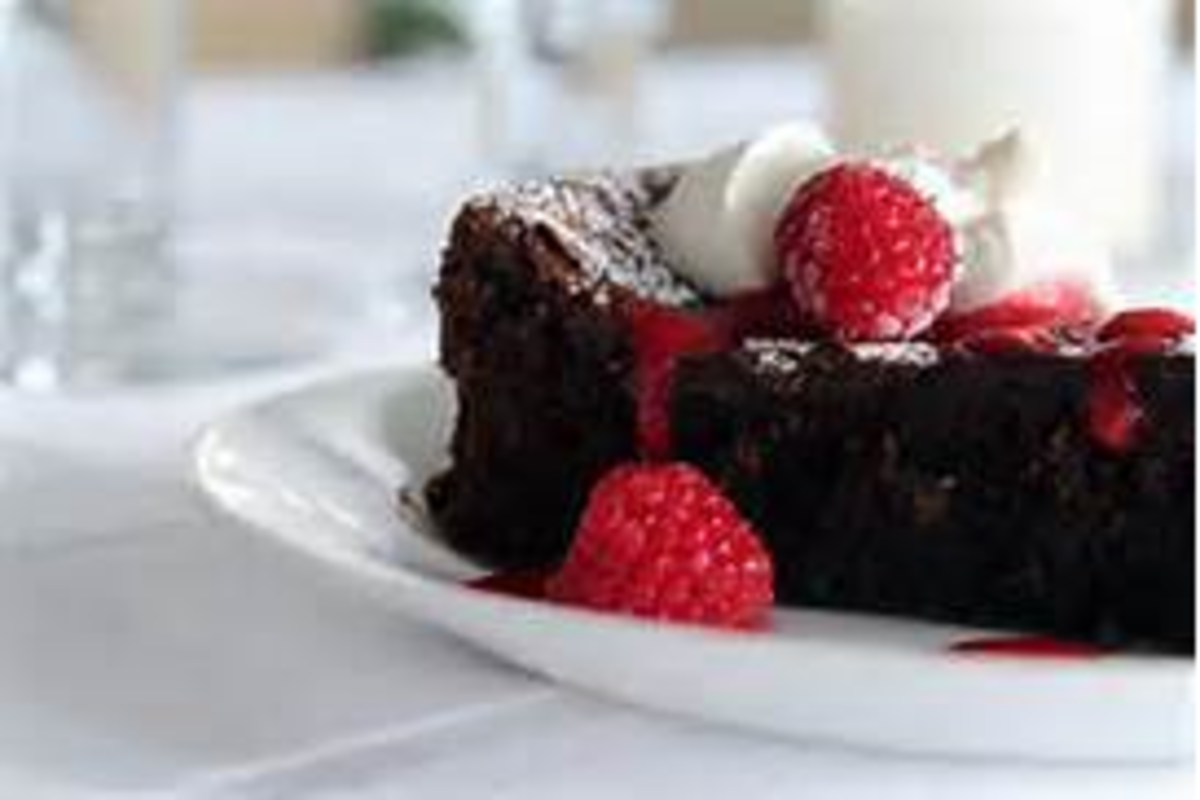 Below I give you my favorite dessert recipe. It's so easy a child can do it to perfection. Just melt, mix, pour, bake. And out comes the most intense chocolate experience. I accompany this with whipped cream (beat heavy cream with sugar and vanilla extract until semi stiff. Use your senses, taste & smell & DO NOT overwhip. If you raise your beater, cream should hold, but needn't stand up & salute) and strawberry sauce (thaw a container of frozen strawberries or any berries and liquefy in a blender or by a hand-held). Both are ridiculously easy to make too but are celestial accompaniments to this torte.
Recipe From food.com
Provided by Soma Sengupta
Categories Dessert
Time 1h20m
Yield 1 torte, 8 serving(s)
Number Of Ingredients: 5
Steps:
Preheat oven to 350 f.
Butter at 9″ round cake pan, line the bottom with a round of parchment paper cut to fit, butter the paper and dust the pan with cocoa powder, shake out excess.
Place broken up chocolate and melt with the butter in a heavy saucepan over lowest possible heat & cover. Or, you can place the pan in another pan containing simmering water. Remove cover when partially melted & stir. When fully melted, remove from heat and stir in sugar, stirring until no sugar granules are visible. Add the eggs one at a time, whisking after each addition. Pour into pan and place in a jelly roll pan, adding a small amount of hot water. Bake about 1 hour. Remove from the oven and let cool. REFRIGERATE OVERNIGHT.
Run a sharp knife around the rim, place a cake plate or cutting board over the top of the pan, and turn it over, bang several times if you need to dislodge the cake.
Let stand for 30-45 minutes until sides are soft enough to be smoothed with a knife. Remove parchment round.
You can serve the whipped cream on the side. I spread all of it (I usually whip 2 cups) in a thick layer, as thick as the torte, on the torte. It looks spectacular! If you do this, refrigerate the iced torte.
If you don't ice, sprinkle the entire top with cocoa powder. Sometimes, the top can look a little messy, but this makes it look beautiful.
Easy? The best things are.
---
---
---
More recipes about decadent chocolate torte
---
---
---
---
---
---
---
---
---
---
---
---
---
---
---
---
---
---
Recently Search