DRUNK CHICKEN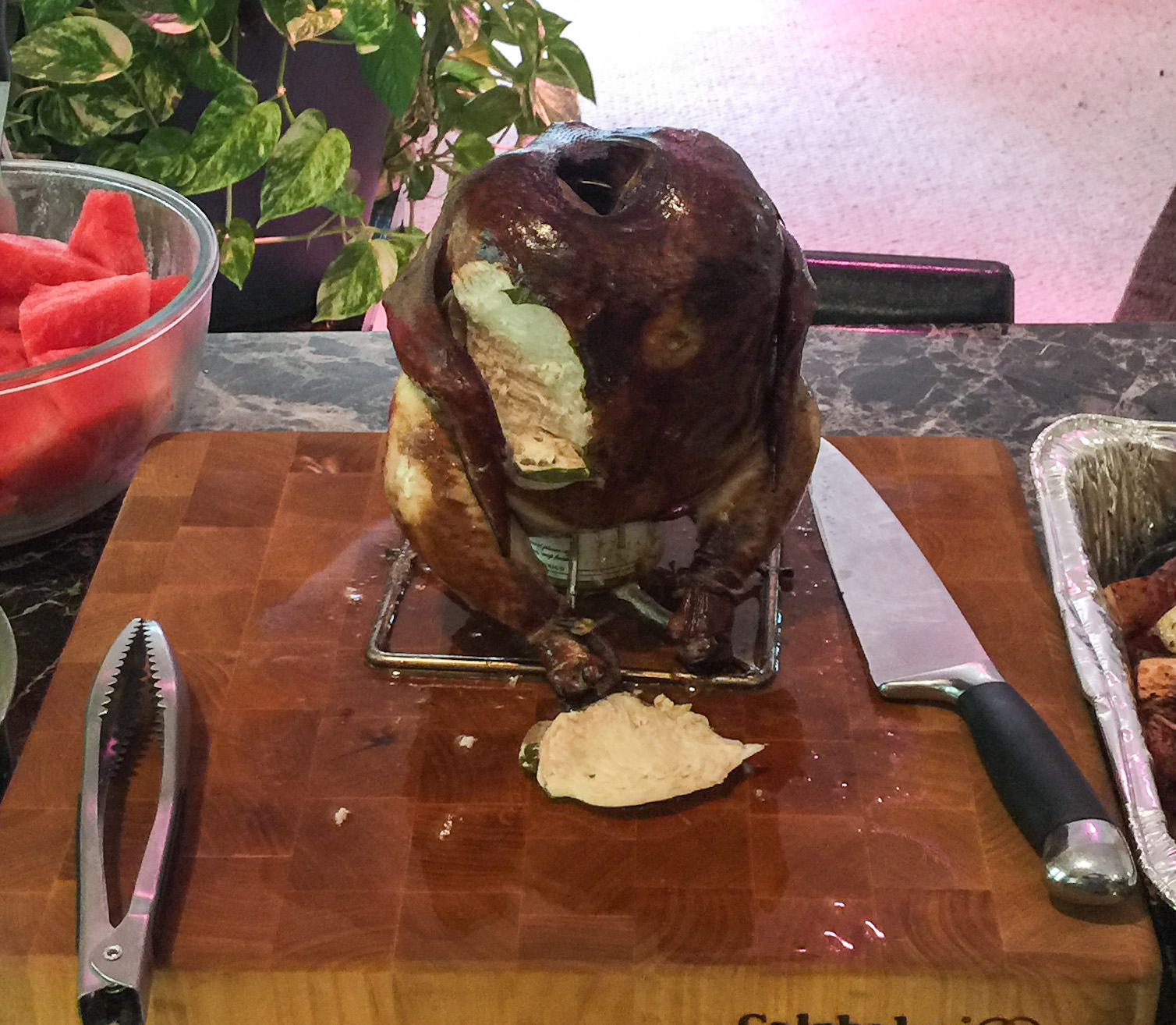 Steps:
Rinse and dry the chicken. Remove excess fat and leave skin on. Lift skin from breast and thigh areas, slide bay leaves under skin. Coat chicken with poultry seasoning.
Drink half the can of beer, pour liquid smoke into remaining beer. Raise tab on beer can until it is in the straight up position.
Insert beer can into chicken from the bottom until even with bottom of chicken. Insert skewer through the wing, ribs, tab on beer can, and out the opposite side. (this keeps the can from falling out the chicken).
Prepare grill: light the coals, and when they are ready, spread coals to form a ring around the outside edge of the grill.
Place chicken in center standing up on can to cook. Cover and cook for two hours.
Remove carefully from grill so as not to spill the contents of the can. Remove skewer and beer can, let chicken sit for fifteen minutes before cutting.
DRUNKEN CHICKEN
Steps:
Prepare an outdoor grill for medium heat.
Rinse chicken and pat dry. Season with salt and pepper to taste. Coat with mustard.
Pour half of beer out of can and refill with Italian style dressing. Place can on a disposable baking sheet. Set chicken on beer can (it acts as a stand), inserting can into cavity of the chicken.
Place baking sheet with beer and chicken on the preheated grill. Cover, and cook about 1 hour, until chicken is no longer pink and juices run clear.
DRUNKEN CHICKEN
Steps:
1. Wipe the chicken inside and out with paper towels. Combine all the marinade ingredients in a large heavy-duty plastic bag set over a bowl. Add the chicken and seal the bag with as little air as possible, leaving it in the bowl. Marinate the chicken in the refrigerator for a day, turning it from time to time; the bag ensures that all of the chicken is kept moist with marinade.
2. To roast the chicken, heat the oven to 425°F (220°C/Gas 7). Take the chicken from the marinade, pat it dry with paper towels, and sprinkle it inside and out with salt and pepper. Discard the marinade. Truss the chicken, set it on its back in a roasting pan; cut the butter in slices and set them on the breast. Roast the chicken, basting often, until it sizzles and starts to brown, about 15 minutes. Turn the chicken onto one leg and continue roasting for another 15 minutes, basting often. Turn the bird onto the other leg and roast for 15 more minutes. And finally, turn it onto its back to finish cooking, allowing 50 minutes to 1 hour total cooking time. To test, lift the bird with a two-pronged fork and pour juice from the cavity; it should run clear, not pink.
3. Meanwhile cook the pearl barley: melt the butter in a heavy pan, add the onion and sauté, stirring occasionally, until it is soft but not brown, 5 to 7 minutes. Stir in the barley and sauté 2 to 3 minutes until the grains look transparent. Add the stock with salt and pepper, cover, and bring to a boil. Lower the heat, and simmer until all the liquid is absorbed, 30 to 40 minutes. Taste, and if the barley is not tender, add more stock and continue simmering.
4. Toast the almonds: Spread them on a baking sheet and brown them in the oven with the chicken for 2 to 3 minutes, watching carefully that they don't burn. Let them cool. When the barley is cooked, sprinkle the prunes, apricots, and almonds on top and leave, covered, to keep warm. The barley pilaf can be stored in the refrigerator up to 2 days and reheated on top of the stove just before serving.
5. When the chicken is done, transfer it to a platter and cover it with foil to keep warm. Discard fat from the pan, leaving behind the cooking juices. Stir in the flour and cook, stirring, for 1 minute. Add the sweet white wine and simmer for 1 to 2 minutes, stirring to dissolve the juices. Add the stock and simmer again until the gravy is slightly thickened and reduced by half. Strain it into a saucepan, reheat it, taste, and adjust the seasoning.
6. If necessary, reheat the barley pilaf. Add the marjoram or parsley; stir to mix all the ingredients and taste for seasoning. Discard trussing strings from the chicken and spoon the barley pilaf around it. Moisten it with a little gravy and serve the rest separately.
Quick fix:
Cut the chicken into 6 to 8 pieces, or use ready-prepared breasts or thighs (my recommendation). Marinate them for 1 to 2 hours. Drain and pat the pieces dry on paper towels, then coat them in seasoned flour. Melt the butter in a sauté pan or skillet and fry the chicken pieces until well browned on all sides. Cover the pan and roast in a 350°F (175°C/Gas 4) oven until the chicken pieces are very tender when pierced with a two-pronged fork, 20 to 30 minutes. Transfer them to a platter and keep warm. Discard excess fat from the pan and make the gravy as directed.
DRUNKEN CHICKEN
Recipe From epicurious.com
Categories Chicken Summer Bon Appétit
Yield Makes 8 first-course servings
Number Of Ingredients 7
Steps:
Bring large pot of water to boil. Add chicken, 6 ginger slices, 4 sliced green onions, and 1 teaspoon salt. Reduce heat; simmer until chicken is cooked through, about 45 minutes. Drain chicken; place in bowl of ice water to cool. Mix 4 cups water, 2 sliced green onions, 5 tablespoons salt, and remaining ginger slices in large bowl until salt dissolves. Drain chicken; add to saltwater brine. Let stand 30 minutes at room temperature.
Meanwhile, mix rice wine and sugar in medium bowl. Stir to dissolve sugar. Season marinade to taste with salt. Drain chicken. Cut into 8 pieces. Transfer chicken to shallow glass baking dish. Pour marinade over. Cover and refrigerate 1 hour. Let stand 15 minutes at room temperature. Transfer chicken to plates; discard marinade. Sprinkle with remaining green onions.
*Available at Asian markets.
People also searched
More recipes about "drunken chicken recipes"
DRUNKEN CHICKEN RECIPE - OUT OF THIS WORLD CHICKEN ...
---
BEST BEER BUTT CHICKEN RECIPE, WHATS COOKING AMERICA
---
DRUNKEN CHICKEN RECIPE - THE SPRUCE EATS
---
DRUNKEN CHICKEN RECIPE RECIPE - COOK.ME RECIPES
---
DRUNKEN CHICKEN LEGS | CHRISTINE'S RECIPES: EASY CHINESE ...
---
DRUNKEN RICE WITH CHICKEN - PATI JINICH
---
DRUNKEN CHICKEN (醉鸡) | OMNIVORE'S COOKBOOK
---
DRUNKEN CHICKEN RECIPE | MYRECIPES
---
CHINESE DRUNKEN CHICKEN | THE WOKS OF LIFE
---
DRUNKEN CHICKEN RECIPE - FOOD.COM
---
SHANGHAI DRUNKEN CHICKEN (AUTHENTIC RECIPE!) - RASA MALAYSIA
---
DRUNKEN CHICKEN RECIPE | FOOD NETWORK KITCHEN | FOOD NETWORK
---
ASIAN DRUNKEN CHICKEN RECIPE - CHEF BILLY PARISI
---
DRUNKEN NOODLES WITH CHICKEN | JUST A TASTE
---
EASY DRUNKEN CHICKEN WINGS (醉雞翼) | SIMPLE. TASTY. GOOD.
---
DRUNKEN CHICKEN NOODLES (PAD KEE MAO) | SLIMMING EATS RECIPE
---
DRUNKEN CHICKEN ...HEAVY ON THE SAUCE! RECIPE | RACHAEL ...
---
DRUNK CHICKEN - BIGOVEN
---
SHAOXING DRUNKEN CHICKEN RECIPE | NOOBCOOK.COM
---
110 DRUNKEN CHICKEN IDEAS IN 2021 | RECIPES, COOKING ...
---
"DRUNKEN" CHICKEN | MRFOOD.COM
---
10 BEST DRUNKEN CHICKEN LIQUOR RECIPES | YUMMLY
---
DRUNKEN CHICKEN MARSALA WITH TOMATOES | RECIPE | MARSALA ...
---
CHINESE FERMENTED RICE DRUNKEN CHICKEN 糟雞 | CHINESE ...
---
Recently Search