THREE FRUIT MARMALADE
This marmalade is more like a jelly with some shreds of peel. Cut the peel thick or thin, as you like it.
Recipe From marthastewart.com
Provided by Martha Stewart
Categories Food & Cooking Breakfast & Brunch Recipes
Yield Makes 5 8-ounce jars
Number Of Ingredients: 5
Steps:
Scrub fruit, place in a large bowl, and cover with boiling water. Let stand 2 minutes, then drain. Remove peel in thin slices with a zester, or cut off with a sharp knife into thicker pieces, as desired. Tie peel in a piece of cheesecloth; set aside.
Chop remaining pith and fruit into small pieces. You can do this with a food processor, but do not puree.
Combine chopped fruit, cheesecloth bag, and water in a 4-quart stainless-steel pan. Cover, and simmer 1 1/2 hours over low heat, until reduced by almost half. Remove cheesecloth bag, and set aside.
Strain contents of pan, pressing to extract liquid. Discard solids, and return liquid to pan. Add sugar and dissolve over low heat. Bring to a boil. Add peel from cheesecloth, and simmer over medium heat, until mixture reaches 221 degrees on a candy thermometer or falls in sheets from a spoon, 10 to 30 minutes.
Store the marmalade in jars in the refrigerator for up to 4 weeks.
---
NORMAN'S GOLDEN THREE-FRUIT MARMALADE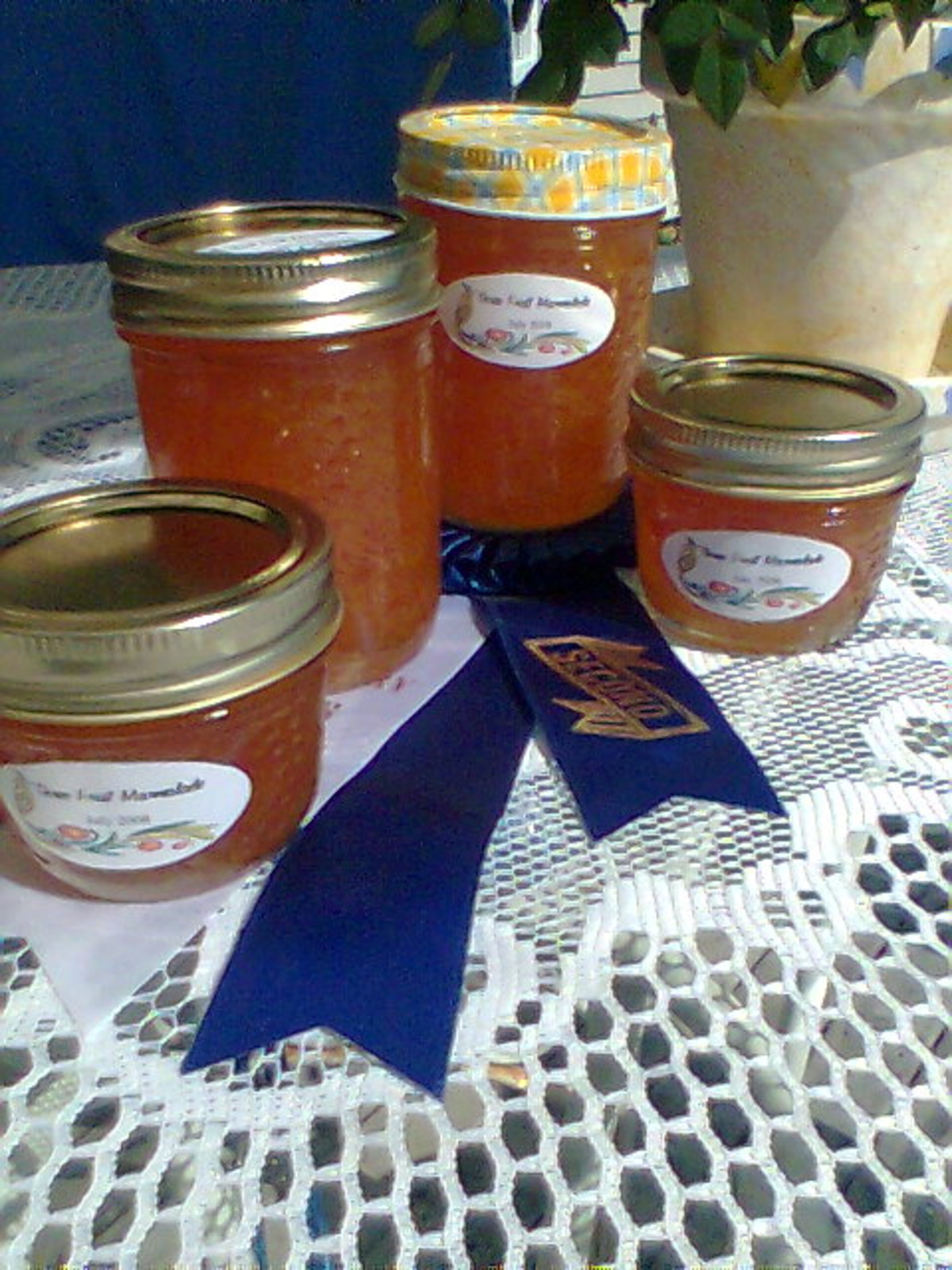 Marmalade was my Father-In-Law's favourite. We never ate it because it was so bitter, so I just made it for him. Over the years, I came to discover that it was the pith and the membrane that made me turn up my nose to this glowing concoction. I can guarantee you, that if you follow my method, you will have the best bottle of sunshine you can imagine. UPDATE Aug 18/08: I'm very happy to say that this recipe won Second Place in the "Certo" category, and Third Place in the "Marmalade" category at our local fair.
Recipe From food.com
Provided by Diana 2
Categories Lemon
Time 40m
Yield 5 1/2 pints
Number Of Ingredients: 7
Steps:
Scrub the fruit, and dry. Using a zester, remove the peel (from all three), being careful not to get any pith. If you do not have a zester, use a vegetable peeler, being careful to remove *only* the zest. Then, using a sharp knife, or shears, cut the peel into fine strips. I have also grated the peel, but it doesn't look as pretty.
Place the zest in a small saucepan with the water and the baking soda, and bring to a boil. Reduce the heat and simmer for 20 minutes.
In the meantime, slice the top and bottom of each fruit, so that it sits flat on your cutting board. Using a sharp knife and following the contour of the fruit, cut away all the pith, leaving only the pulp.
While holding the fruit over a bowl (to catch all the juices), use the knife to cut out the flesh, leaving the membrane. Remember, it's the pith and the membrane that make marmalade bitter.
Add the pulp and juice to the simmering zest (do not drain the zest). Simmer, covered, for 10 minutes.
Measure 3 cups of the mixture and mix it together with the sugar in a large pot.
Bring to a rapid boil. Stir and boil hard for 1 minute. Immediately remove the pot from the heat.
Add the pouch of pectin, and stir for 10 minutes. This will cool the mixture slightly and prevent the zest from floating.
Pour into sterilized jars and seal.
---
THREE-FRUIT MARMALADE
I make all my own jams, and this marmalade is a favorite. It marries the warm flavors of peaches and pears with citrus. -Lorraine Wright, Grand Forks, British Columbia
Recipe From tasteofhome.com
Provided by Taste of Home
Time 40m
Yield 8 half-pints.
Number Of Ingredients: 5
Steps:
Finely grate peel from orange; peel and section the fruit. Place peel and sections in a Dutch oven. Add peaches and pears. Stir in pectin. Bring to a boil over high heat, stirring constantly. Stir in sugar; return to a full rolling boil. Boil and stir 1 minute. , Remove from heat; skim off foam. Ladle hot mixture into eight hot half-pint jars, leaving 1/4-in. headspace. Remove air bubbles and adjust headspace, if necessary, by adding hot mixture. Wipe rims. Center lids on jars; screw on bands until fingertip tight., Place jars into canner with simmering water, ensuring that they are completely covered with water. Bring to a boil; process for 10 minutes. Remove jars and cool.
---
THREE FRUIT MARMALADE
Steps:
Select large fruit, squeeze and put fruit in preserving kettle. Put the pits in a cup of cold water and add also. Add water and let stand 12 hours or longer. Then boil for about 2 hours ( until soft). Add sugar and boil rapidly. Stir often for about another hour. Pour into sterilized jars and seal with parafin wax. NOTE: FOR SCOTCH MARMALADE- ADD 2 TBSP SCOTCH FOR GINGER MARMALADE- ADD 2 1/2 TSP. GINGER
---
MARMALADE RECIPES
Make your own marmalade to spread on toast, whether it's traditional orange or tangy lemon. We have savoury marmalades too, plus ideas for how to use them.
Recipe From bbcgoodfood.com
Number Of Ingredients: 1
---
THREE FRUIT MARMALADE
Make and share this Three Fruit Marmalade recipe from Food.com.
Recipe From food.com
Provided by Suzie_Q
Categories Jellies
Time 1h10m
Yield 5 half pints, 5 serving(s)
Number Of Ingredients: 5
Steps:
Remove seeds from fruits. Put through food grinder. Measure and put into large saucepan.
For each 1 cup pulp, add 3 cups water. Bring to a boil, stirring occasionally.
Simmer for 20 minutes. Boil rapidly, stirring 2 or 3 times, for 20 minutes. Measure quantity.
To each 1 cup pulp, add 1 1/2 cups sugar. Return to a boil, stirring.
Boil rapidly until thickened and a small amount cooled on a chilled saucer jells. This will take about 20 minutes.
Pour into hot sterilized half pint jars to within 1/4 inch of the top. Place sterilized metal lids on jars and screw metal bands on securely. For added assurance against spoilage, you may choose to process in boiling water bath for 5 minutes.
---
---
---
More recipes about three fruit marmalade
---
---
---
---
---
---
---
---
---
---
---
---
---
---
---
---
---
---
---
Recently Search