PHILLY-STYLE CHICKEN CHEESE STEAK
I was surprised not to find a recipe on Allrecipes for a Philly-style Chicken Cheese Steak so I decided to create and publish one. Depending on who you ask, this sandwich may or may not be authentic Philly style, but it is fantastic. Getting a good, fresh hoagie roll is key to this sandwich being perfect.
Recipe From allrecipes.com
Provided by Scott K
Categories Meat and Poultry Recipes Chicken Chicken Breast Recipes Broiled
Time 32m
Yield 2
Number Of Ingredients 12
Steps:
Preheat grill for medium heat and lightly oil the grate.
Place chicken between 2 sheets of heavy plastic on a work surface. Firmly pound chicken with the smooth side of a meat mallet to a 1/2-inch thickness.
Cook chicken breasts on preheated grill until no longer pink in the center and the juices run clear, 2 to 3 minutes per side. An instant-read thermometer inserted into the center should read at least 165 degrees F (74 degrees C). Shred chicken; season with seasoned salt.
Heat olive oil and butter in a skillet over medium heat. Add onion, bell pepper, and mushrooms; cook and stir until browned, 5 to 7 minutes. Stir in chicken; cook until heated through.
Set oven rack about 6 inches from the heat source and preheat the oven's broiler, or preheat a toaster oven.
Spread chicken mixture on the bottom half of each hoagie roll. Lay 2 pieces of provolone cheese side-by-side over chicken mixture.
Place hoagie rolls under broiler or in toaster oven and cook until provolone cheese is melted and bread is crunchy, 2 to 3 minutes.
Spread 1 teaspoon mayonnaise on top half of each hoagie roll. Top each half with 2 tomato slices and 1/2 of the lettuce. Fold halves together and roll each hoagie tightly in foil, using a knife to push any filling back inside. Set aside for flavors to blend, 1 to 2 minutes.
CHICKEN CHEESESTEAKS WITH PEPPERS
Steps:
Heat broiler, with rack set 4 inches from heat. On a rimmed baking sheet lined with aluminum foil, toss chicken with 1 tablespoon oil; season with salt and pepper. Broil, without turning, until chicken is opaque throughout, 5 to 7 minutes. Transfer to a cutting board (reserve baking sheet); let cool, and thinly slice. Set chicken aside.
On baking sheet, toss together peppers, onion, garlic, and remaining tablespoon oil. Broil, tossing occasionally, until crisp-tender and slightly charred, 8 to 10 minutes; season with salt and pepper. Add chicken to broiled vegetables; toss, and spread in a single layer.
Top chicken and vegetables with cheese; broil until cheese is bubbling, 30 seconds to 1 minute. Scoop out most of the doughy center from both halves of rolls; discard. Spread rolls with mayonnaise; fill with chicken and vegetables. Serve immediately.
SPICY CHICKEN HOAGIES
Make and share this Spicy Chicken Hoagies recipe from Food.com.
Recipe From food.com
Provided by ratherbeswimmin
Categories Lunch/Snacks
Time 8h20m
Yield 8 serving(s)
Number Of Ingredients 9
Steps:
Generously rub the jerk seasoning over the chicken thighs.
Put the bell pepper and onion in the bottom of a 4-5 quart slow cooker.
Place the chicken thighs over the vegetables.
In a small bowl, mix the broth and ketchup together; pour over the chicken.
Cover and cook on LOW for 6-8 hours.
Take chicken out of slow cooker; shred using two forks.
Replace chicken into slow cooker and mix well.
Season to taste with hot sauce and salt/pepper.
With a slotted spoon, spoon chicken mixture into hoagie buns.
Use extra sauce for dipping.
BARBECUED CHICKEN HOAGIES
"The day after we held a barbecue, I put leftover cheese spread, chicken and hoagie rolls together," says Erin Renouf Mylroie from St. George, Utah. "We were astounded at the smell, texture and flavor of these now-favorite sandwiches."
Recipe From tasteofhome.com
Provided by Taste of Home
Categories Lunch
Time 20m
Yield 2 servings.
Number Of Ingredients 8
Steps:
In a small bowl, combine the first five ingredients; spread over buns. Place on a baking sheet. Broil 3-4 in. from the heat for 2-4 minutes or until cheese is melted., Meanwhile, in a small microwave-safe bowl, combine chicken and barbecue sauce. Microwave on high for 2-3 minutes or until heated through. Spread chicken mixture over bun bottoms; replace tops.
BUFFALO CHICKEN HOAGIE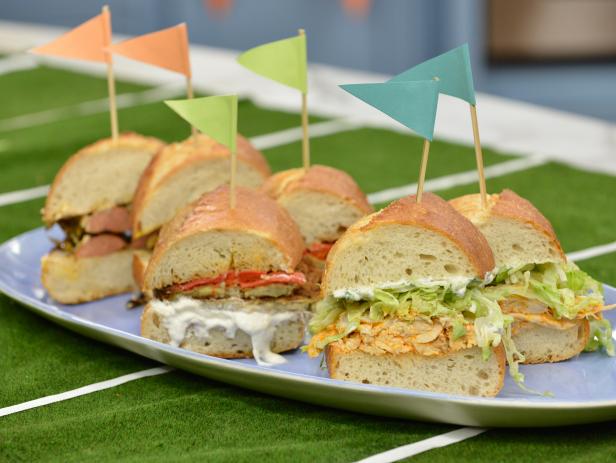 Recipe From foodnetwork.com
Provided by Katie Lee Biegel
Categories main-dish
Time 15m
Yield 10 to 12 servings
Number Of Ingredients 16
Steps:
Put the hot sauce and butter in a small skillet and heat until melted and combined. Let cool slightly, then pour over the shredded chicken in a medium bowl and toss to coat completely.
To assemble the sandwich, spread the chicken in an even layer on the bottom half of the bread. Top with the sliced celery and an ample amount of shredded lettuce. Spread the Blue Cheese Ranch on the top half of the bread and close the sandwich, using toothpicks to secure it. Cut into pieces and serve.
Stir together the blue cheese, mayonnaise, sour cream, chives, vinegar, onion powder and garlic powder in a medium bowl until well incorporated. Season with salt and pepper.
People also searched
More recipes about "chicken hoagie recipe"
BUFFALO CHICKEN HOAGIES | COOK SMARTS
---
GARLIC & DILL CHICKEN HOAGIES RECIPE | LAND O'LAKES
---
BUFFALO CHICKEN HOAGIE | RACHAEL RAY SHOW
---
ITALIAN CHICKEN HOAGIES RECIPE | LAND O'LAKES
---
NASHVILLE HOT CHICKEN HOAGIES - RECIPES | PAMPERED CHEF ...
---
GREEK-STYLE CHICKEN HOAGIE RECIPE | CDKITCHEN.COM
---
BEST CHICKEN CHEESESTEAKS RECIPE - HOW TO MAKE CHICKEN ...
---
10 BEST CHICKEN HOAGIE RECIPES | YUMMLY
---
CHICKEN CHEESETEAK HOAGIES RECIPE | LAURA IN THE KITCHEN ...
---
CHICKEN AND SAUSAGE HOAGIES - RECIPE GIRL
---
CHICKEN HOAGIE RECIPE - FOOD.COM
---
ITALIAN SLICED CHICKEN AND PORK HOAGIE RECIPE | RACHAEL ...
---
CHICKEN PHILLY CHEESE STEAK SANDWICH (VIDEO) - VALENTINA'S ...
---
CHICKEN CACCIATORE HOAGIES RECIPE | EATINGWELL
---
COUNTRY HAM CHICKEN CHEESE HOAGIE - BIGOVEN
---
CHICKEN BACON HOAGIE: LOWER CAL VS RESTAURANT STYLE - ETHAN
---
HOW-TO COOK PERFECT CHICKEN BREASTS | THE HOW-TO HOME
---
BUFFALO CHICKEN CHEESESTEAK RECIPE | CHISEL & FORK
---
10 BEST CHICKEN HOAGIE RECIPES | YUMMLY
---
HEROES, HOAGIES AND SUBS RECIPES | ALLRECIPES
---
THE BEST HOAGIE SANDWICH RECIPES | TASTE OF HOME
---
CREAM CHEESE CHICKEN WRAP RECIPE / LOL I COOKED UP YOUR ...
---
GRILLED CHICKEN HOAGIE | EPICURE.COM
---
Recently Search