CRUMPETS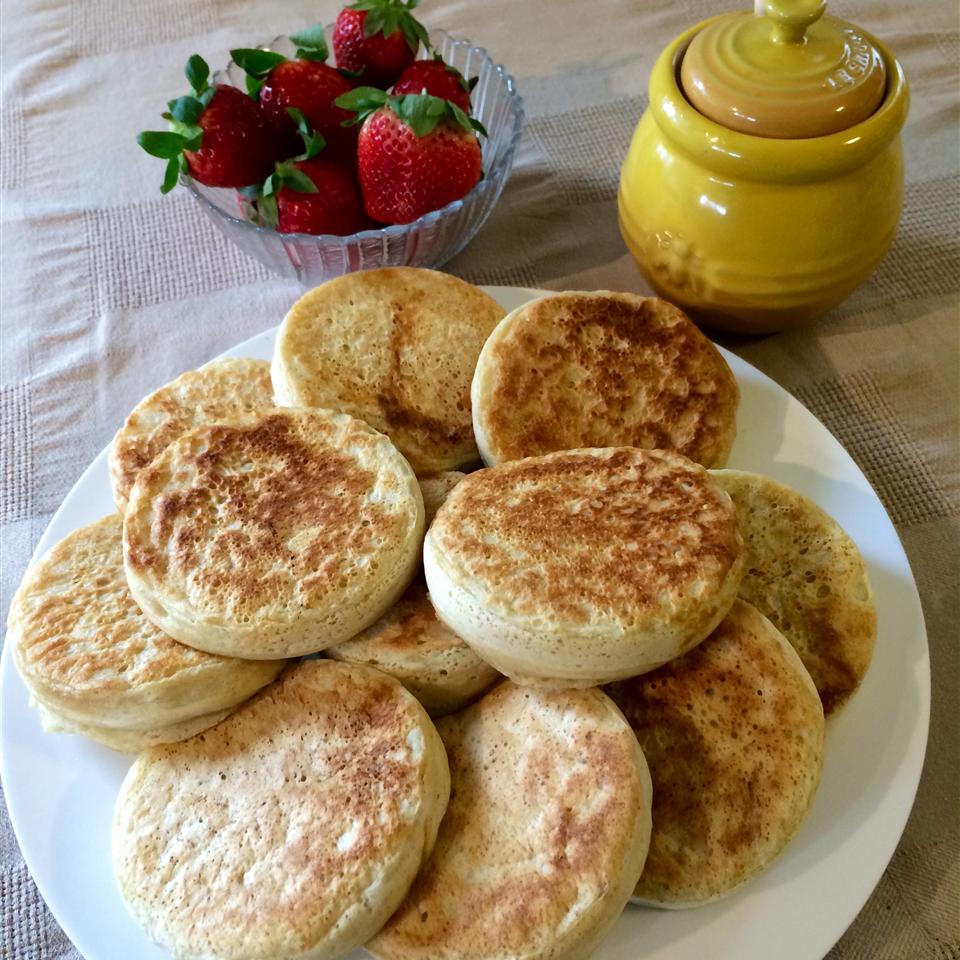 My local grocery store quit selling crumpets, so I decided to try my hand at making my own! These are a nice alternative to English muffins. To serve, toast the crumpets whole and spread with butter, honey, jelly, or your favorite topping.
Recipe From allrecipes.com
Provided by Tracy_V
Categories Bread Yeast Bread Recipes
Time 1h50m
Yield 12
Number Of Ingredients: 10
Steps:
Dissolve yeast and sugar in 1 cup of warm water. Let stand until foamy, about 10 minutes.
Meanwhile, mix flour, milk powder, and salt together in a large bowl. Make a well in the middle. Add the yeast mixture and remaining 1 3/4 cups warm water. Mix well with a wooden spoon until dough is the consistency of cake or waffle batter. Cover with plastic wrap and let stand in a warm spot until bubbly, about 1 hour.
Combine 2 tablespoons water and baking soda in a small bowl. Mix into the batter. Let stand for 15 minutes.
Heat a cast iron griddle or nonstick pan over medium heat. Lightly grease the griddle and inside of the crumpet rings with cooking spray. Arrange the rings on the griddle.
Fill crumpet rings 2/3 of the way with batter. Cook until tops are covered in bubbles and starting to look dry, 5 to 8 minutes. Carefully lift up crumpet rings, flip the crumpets, and cook until second side is lightly browned, 1 to 2 minutes. Turn heat down if crumpet is overly dark or still raw in the middle.
---
ENGLISH CRUMPETS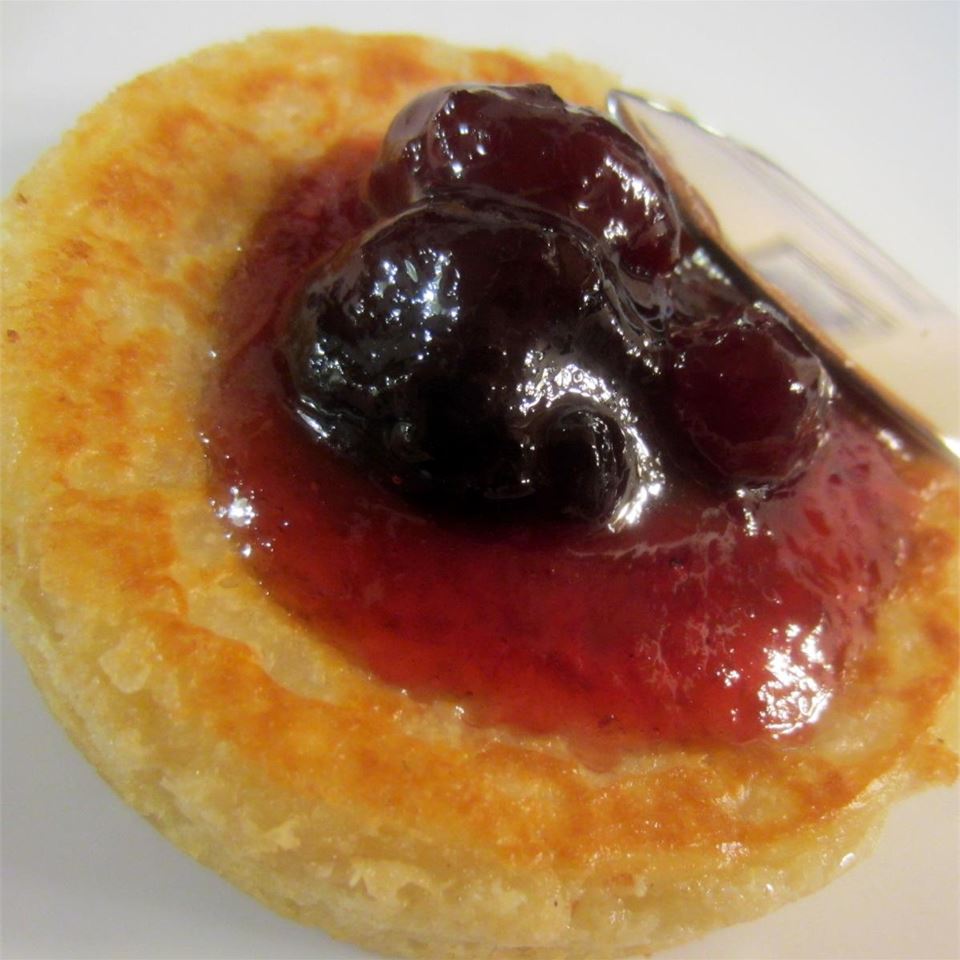 Homemade crumpets are delicious served with butter, jam or...Marmite®!
Recipe From allrecipes.com
Provided by Ginger
Categories Bread Yeast Bread Recipes
Time 1h40m
Yield 12
Number Of Ingredients: 9
Steps:
Whisk 2 cups plus 2 tablespoons flour, yeast, sugar, and salt in a large mixing bowl. Combine water and milk in a separate bowl and quickly whisk the milk mixture into the dry ingredients until batter is thick and smooth. Cover with a towel and let rise in a warm place until spongy, about 1 hour. Stir dough to reduce sponginess.
Place a rack into the oven and preheat to 150 degrees F (65 degrees C).
Spray a skillet and round metal open-top cookie cutters or crumpet molds with cooking spray. Heat skillet over medium-low heat, place the metal cutters or molds into the skillet, and let the molds heat up. Spoon batter into the molds, filling them about halfway. Let the crumpets cook until the bottoms are browned, the tops appear nearly dry, and popped bubbles appear on top, about 5 minutes.
Use tongs to lift molds out of the pan; remove molds from the crumpets. Flip and return crumpets to skillet to cook the other sides until browned, 1 to 2 more minutes. Repeat with remaining dough. Keep cooked crumpets warm on rack in the preheated oven while you cook remaining crumpets.
---
CRUMPET RECIPES
Make a batch of fluffy crumpets for a weekend brunch, then pile them high with sweet and savoury toppings, such as runny eggs or melted butter and honey.
Recipe From bbcgoodfood.com
Number Of Ingredients: 1
---
CRUMPETS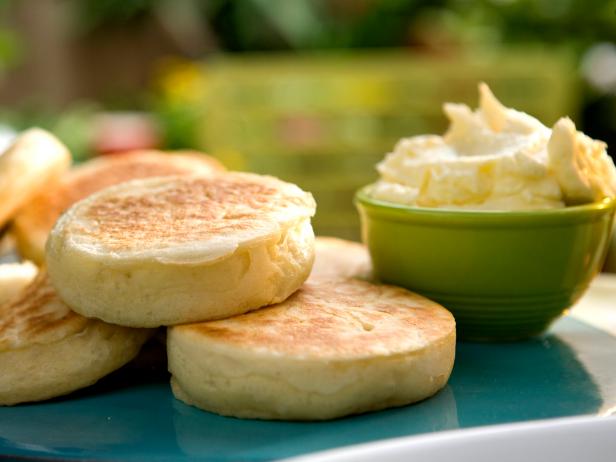 Recipe From foodnetwork.com
Provided by Bobby Flay
Time 2h45m
Yield 4 to 6 servings
Number Of Ingredients: 18
Steps:
In a small saucepan, heat the milk until lukewarm. Combine the milk, flour, water, butter, honey, yeast, baking powder and salt in the bowl of a stand mixer. Using the dough hook attachment, mix on high speed until completely blended and a soft dough has formed, 2 minutes. Remove the bowl, cover with a clean cloth or plastic wrap and put in a warm spot until risen and bubbly, about 1 hour.
Lightly spray a cast-iron or nonstick skillet or griddle with nonstick spray and heat over medium heat, about 5 minutes. Spray the metal rings well with non-stick spray and place them in the pan or on the griddle. Fill each ring with a scant 1/4 cup of the batter.
Cook until the crumpets are set and the bottoms are lightly golden brown, 3 to 5 minutes.
Carefully remove the rings, flip the crumpets and cook until completely cooked through and the bottoms are lightly golden brown, 3 to 5 minutes longer. While they are cooking, wash and spray the rings with nonstick spray for the next batch.
Butter the tops with the Whipped Butter and spread with the Orange-Blueberry Marmalade. Or split the crumpets and toast (like you would an English muffin), and spread with the Whipped Butter and Orange-Blueberry Marmalade.
Combine the cream and salt in the bowl of a stand mixer. Using the whip attachment, whip on high speed until the cream is light and fluffy and turns to butter. Using a rubber spatula, scrape the butter into a bowl and chill for 15 minutes before serving.
Using a vegetable peeler, remove the zest of the oranges and lemons. Cut the zest pieces into thin slices, then finely chop or grind and set aside.
Peel the remaining white part of the peel from the fruit and discard. Chop the fruit pulp, reserving any juice and set aside.
Place the zest and 1 1/2 cups water in a medium saucepan over high heat and bring to a boil. Reduce the heat, cover and simmer for 20 minutes, stirring occasionally. Add the reserved fruit pulp and juice, cover and simmer on low heat for an additional 7 minutes. Add the blueberries and simmer for 3 more minutes.
Stir the sugar into the fruit in the saucepan. Bring the mixture to a full rolling boil and cook exactly 1 minute, stirring constantly. Stir in the pectin. Remove from the heat and skim off any foam with metal spoon.
Serve at room temperature.
---
EASY CRUMPETS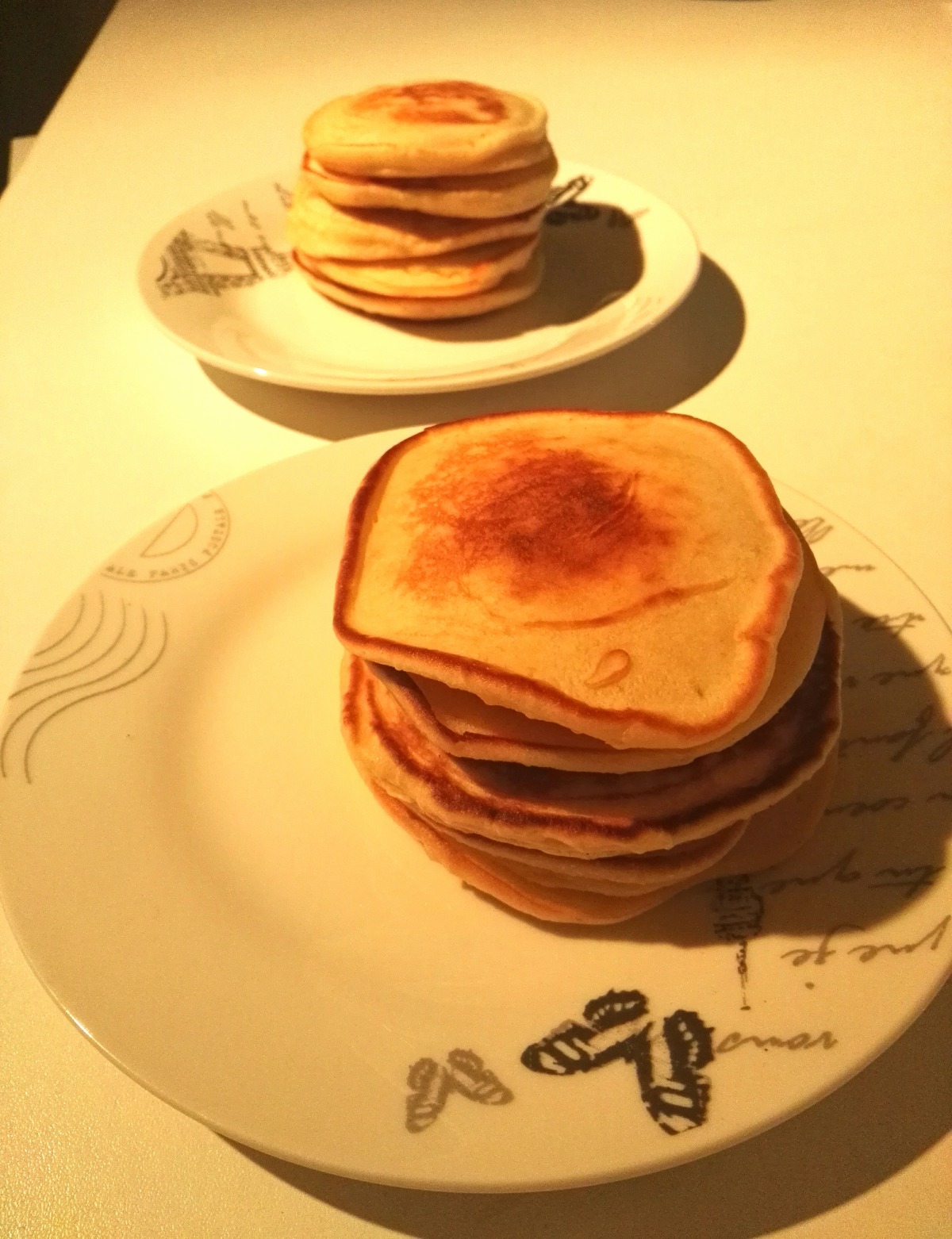 This is my mom's recipe for traditional SOUTH AFRICAN crumpets (little pancakes, or flapjacks). They are great for kids and they are melt in the mouth! My mom used to make a huge amount to send to school for birthdays - what a hit! They don't have yeast, so if you are looking for another type of crumpet, this isn't the recipe for you.
Recipe From food.com
Provided by Nikki
Categories Breakfast
Time 20m
Yield 20-30 depending on size
Number Of Ingredients: 6
Steps:
Mix everything, leaving butter for last.
Grease a flat bottomed frying pan or griddle.
Drop or pour small amounts of batter onto griddle.
Turn and cook other side when bubbles break on surface of crumpet.
Heat should be medium to get a deep, even golden colour.
Serve warm with butter and jam sandwiched together.
---
CRUMPETS
Make your own fluffy homemade crumpets for your next brunch. These golden brown buttery treats are well worth the effort and are delicious with melted cheese
Recipe From bbcgoodfood.com
Provided by Member recipe by campodifragole
Categories Breakfast, Brunch
Time 1h5m
Yield Makes 10-12
Number Of Ingredients: 9
Steps:
In a bowl stir together the yeast and 240ml warm water and let it stand for 5-10 mins. Add the warm milk, butter, salt and sugar. Add the flour and stir until the batter becomes smooth. Let stand for 30 mins.
Stir in the baking powder dissolved in water, leave to rise for 20-30 mins.
Grease a heavy-based frying pan with a little vegetable oil and heat over medium-low heat. Lightly grease 4 x 9cm diameter crumpet rings. Spoon batter into the rings so it comes halfway up the sides. Reduce heat to low, cover with an upturned deep frying pan to give the crumpets space to rise. Cook until the tops look dry, about 10-12 mins.
Flip them over and cook for 5 mins until golden and firm. Repeat with the remaining batter. Serve toasted with butter or with cheese melted under the grill.
---
---
---
More recipes about crumpets recipes
---
---
---
---
---
---
---
---
---
---
---
---
---
---
---
---
---
---
---
---
---
---
Recently Search