CUCUZZA CAKE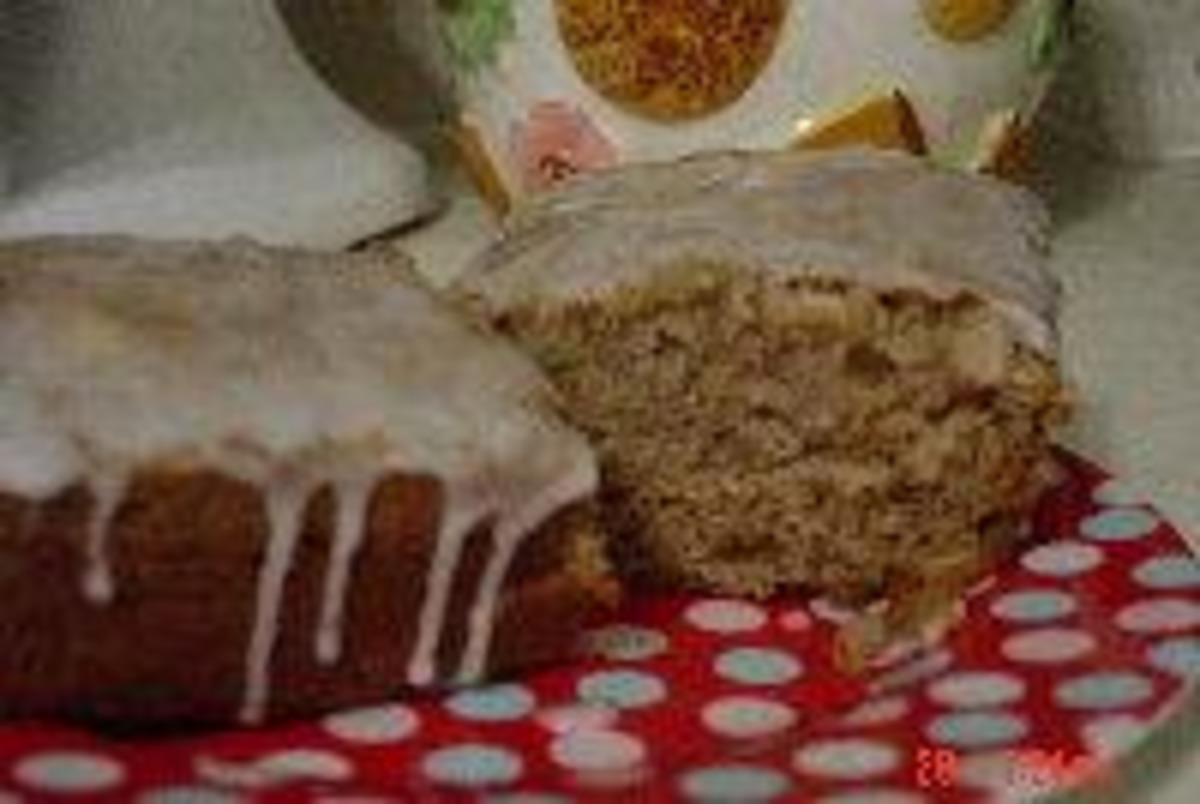 My Aunt Mae used to grow cucuzza's in her back yard when I was a little girl. Cucuzza is a long, green squash. She normally fried them up and served them with spaghetti every Sunday. I recently found this recipe for cucuzza cake. I made it last weekend and my family loved it... even the picky kids! My husband ate almost a whole cake for breakfast and asked me to bake some more! I guess I will be making this cake often! The original recipe said to bake for one hour, but my cakes were done at 45 minutes.
Recipe From food.com
Provided by Kim D.
Categories Breads
Time 1h
Yield 2 loaves
Number Of Ingredients 15
Steps:
Preheat oven to 350 degrees F.
Sift flour, cinnamon, baking soda and baking powder together and set aside.
Beat eggs with sugar, oil and vanilla.
Add flour mixture to egg mixture, mix well.
Add grated cucuza (skin, seed and all), orange zest, pineapple and pecans.
Mix well.
Divide batter into 2 greased loaf pans.
Pan should be about 1/2 full.
Bake for 45 minutes, or until cakes test done.
Let cool for about 10 minutes.
Mix all icing ingredients together, using enough milk to get a smooth, spreadable icing.
Remove cakes from pans and glaze tops of cakes while warm.
CHOCOLATE CUCUZZA CAKE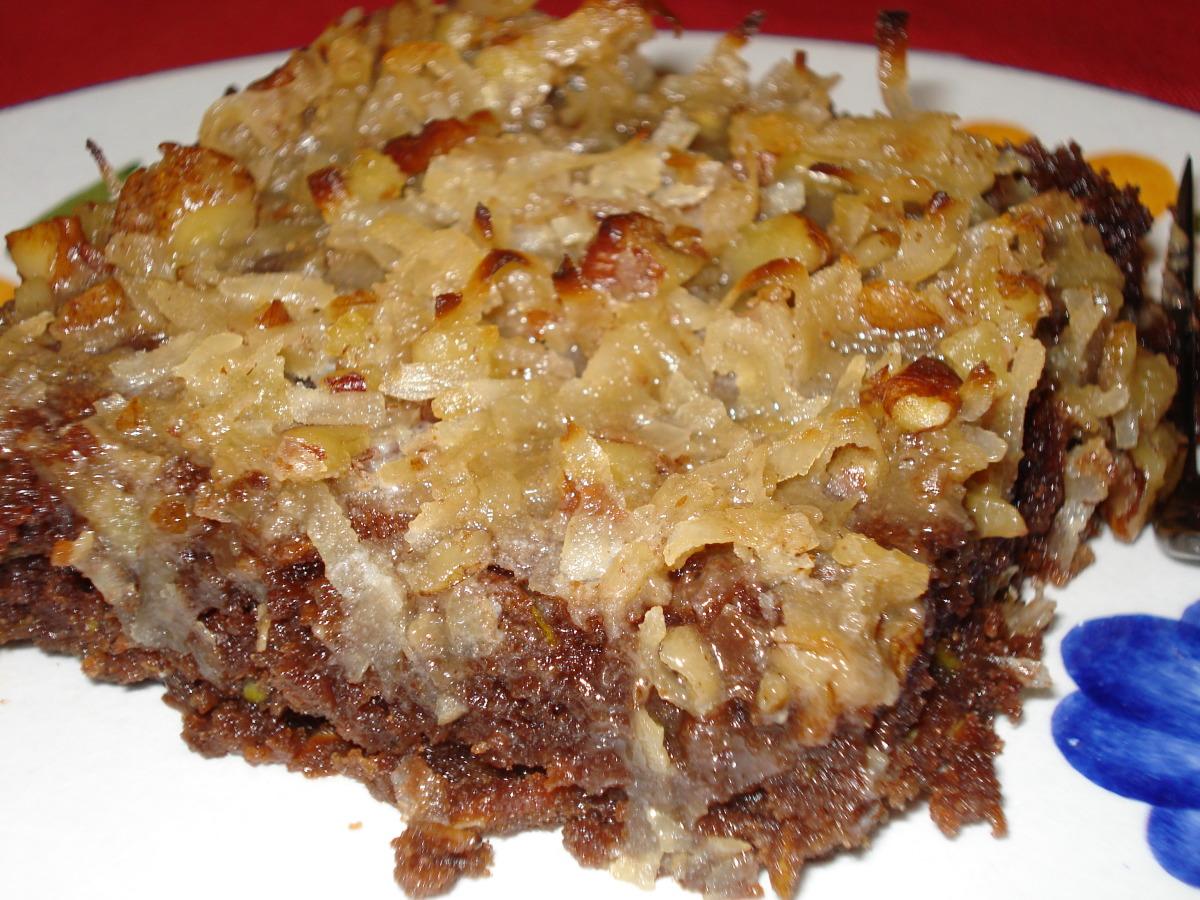 I created this recipe to use up the abundance of cucuzza squash I have growing in my garden. Cucuzza is a long green Italian squash with a mild nutty flavor. If you don't have cucuzza, you can substitute zucchini.
Recipe From food.com
Provided by Kim D.
Categories Dessert
Time 1h8m
Yield 15 serving(s)
Number Of Ingredients 18
Steps:
Preheat oven to 325°F.
In a large mixing bowl, combine butter, oil and sugar, creaming until smooth.
Add eggs, one at a time beating well after each addition.
Add vanilla and beat well.
In a separate bowl, combine flour, baking soda, baking powder, cinnamon, and cloves.
Add dry ingredients to the creamed mixture, alternately with buttermilk.
Stir in shredded cucuzza.
Pour batter into a greased 13X9-inch baking pan.
Bake for 45-50 minutes until done. You can test to see if the cake is done by inserting a toothpick near the center of the cake and see if it comes out clean. If it does, it's done.
Allow cake to cool on a wire rack for about 10 minutes.
Meanwhile, in a medium mixing bowl, combine all frosting ingredients.
Spread over warm cake.
Broil in oven approximately 4-6 inches from the heat for about 2-3 minutes. Be careful not to burn, it will broil fast!
Cool cake completely before serving.
~NOTE~ You don't have to peel or seed the cucuzza, just wash the outside skin with warm water and pat dry before shredding.
People also searched
More recipes about "cucuzza cake recipes"
23 CUCUZZA RECIPE IDEAS | CUCUZZA RECIPE, RECIPES, FOOD
---
7 SICILIAN CUCUZZA RECIPES IDEAS | CUCUZZA RECIPE, RECIPES ...
---
47 CUCUZZA SQUASH RECIPES IDEAS IN 2021 | CUCUZZA SQUASH ...
---
CUCUZZA CAKE RECIPE - WEBETUTORIAL
---
HOW TO COOK CUCUZZA: DON'T LET THIS GIANT, ITALIAN SQUASH ...
---
CUCUZZA STUFFING RECIPE | HARDCORE ITALIANS
---
CHOCOLATE CUCUZZA CAKE - PLAIN.RECIPES
---
CHOCOLATE CUCUZZA CAKE RECIPE - FOOD.COM | RECIPE ...
---
PASTA CON CUCUZZA RECIPE - YOUTUBE
---
RECIPES WITH CUCUZZA (PAGE 1) - FOODFERRET
---
ITALIAN GRANDMA MAKES CHOCOLATE CUCUZZA CAKE * CUCUZZA ...
---
CUCUZZACAKE
---
CUCUZZA CAKE- TFRECIPES
---
I EAT LA.: RECIPE FOR CUCUZZA CASSEROLE | FOOD/RESTAURANTS ...
---
CUCUZZA SUMMER SICILIAN SQUASH | SICILIAN COOKING
---
ITALIAN SQUASH (CUCUZZA) - COOKING WITH NONNA
---
CUCUZZA BAKE WITH GROUND BEEF, PASTA & CHEESE - NINO SALVAGGIO
---
CHOCOLATE CUCUZZA CAKE | RECIPES, FOOD, CUCUZZA RECIPE
---
Recently Search