DHAL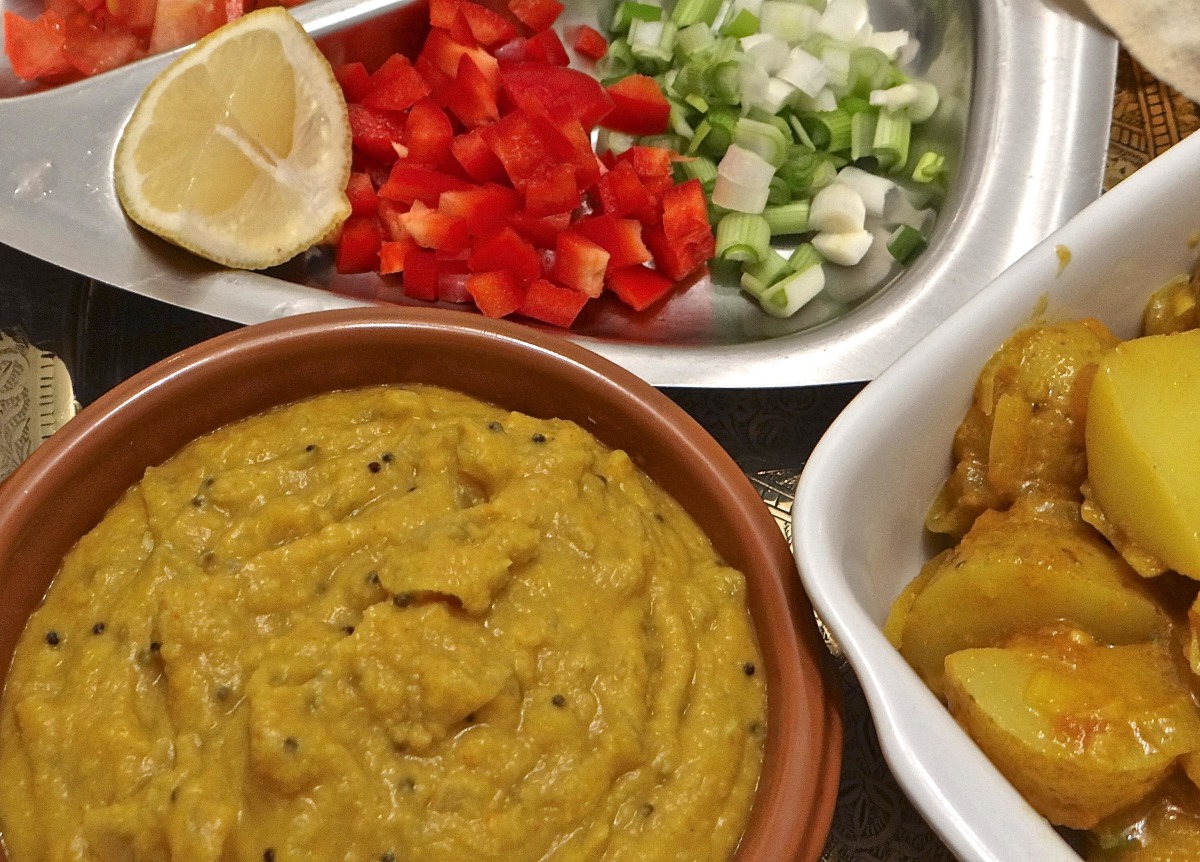 A great lentil recipe, to accompany curries, a wonderful blend of spices that is a great addition as a side dish to any Indian Curry. Made by memory after having watched the cook make this many times when I was a child. Serves 4-6
Recipe From food.com
Provided by JoyfulCook
Categories Lunch/Snacks
Time 1h35m
Yield 4-6 serving(s)
Number Of Ingredients 10
Steps:
Wash lentils and pick out all the brown bits (as otherwise this will color the dahl a brown color).
Wash; place in a medium saucepan and cover with water 3-4 inches above lentils. Simmer for 45 minutes (lentils should be very soft when cooked), skimming the foam off the top of the water occasionally. Top up with extra water, if necessary.
Strain lentils, retaining the liquid. Blend lentils with some of the liquid in blender until smooth. Add more water if necessary--blend should be like a thick paste. Put to one side.
Place oil in medium saucepan. Add the mustard seeds and cook stirring until the seeds start to pop. Immediately add the onions and garlic. Cook, stirring until onions are soft. Add all the spices; stir and cook for another minute or two. Add the pureed lentils and stir well until fully mixed.
This freezes extremely well. Serve with curry and rice as an accompaniment.
SPICY INDIAN DAHL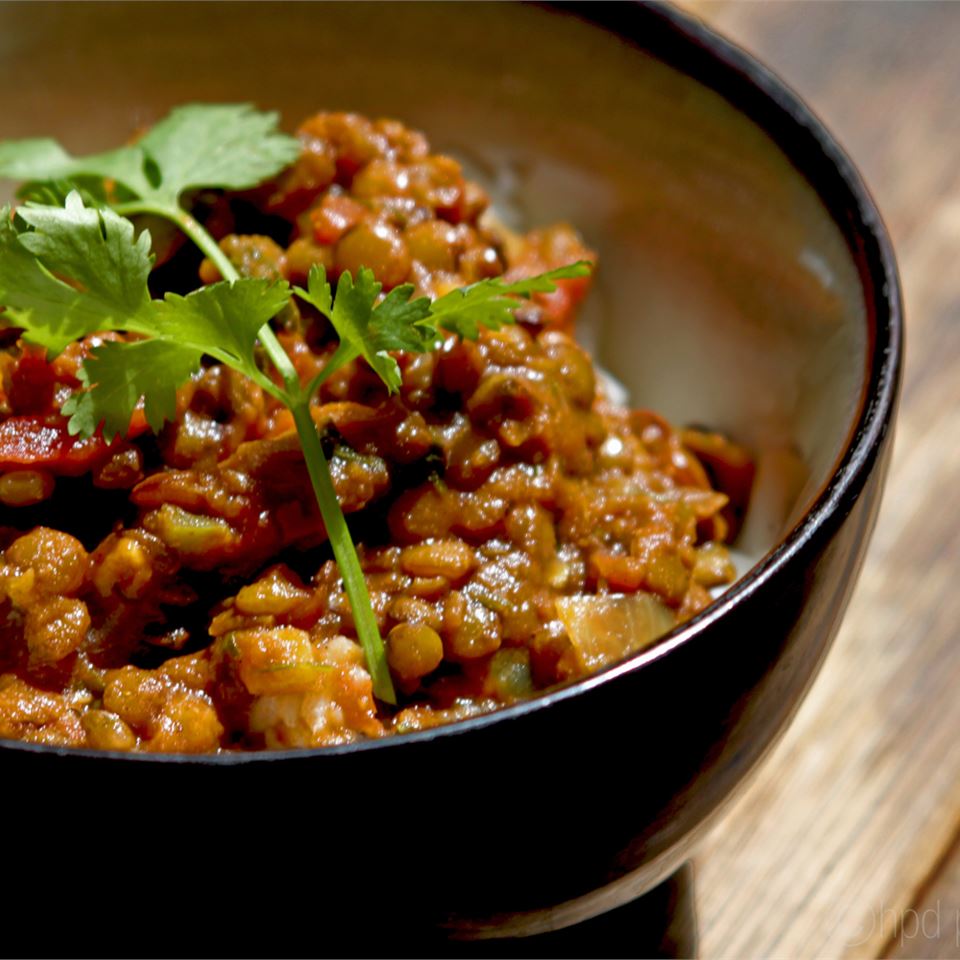 A spicy Indian lentil soup that can be enjoyed with rice or Naan, the Indian bread. A very healthy dish.
Recipe From allrecipes.com
Provided by Rachel
Categories World Cuisine Recipes Asian Indian
Yield 6
Number Of Ingredients 13
Steps:
Cook the lentils by boiling or pressure cooking until lentils are soft. (Pressure cooking is faster.)
In a skillet heat the oil and add mustard seeds. When mustard seeds begin to flutter, add onions, ginger, jalapeno peppers, and garlic. Saute until the onions and garlic are golden brown. Add coriander and cumin. Add chopped tomatoes. Saute the mixture well until tomatoes are well cooked.
Add water. Boil 6 minutes. Add cooked lentils, stirring well. Add salt to taste, stirring well. Add finely chopped cilantro and remove from heat. Serve hot.
BENGALI DHAL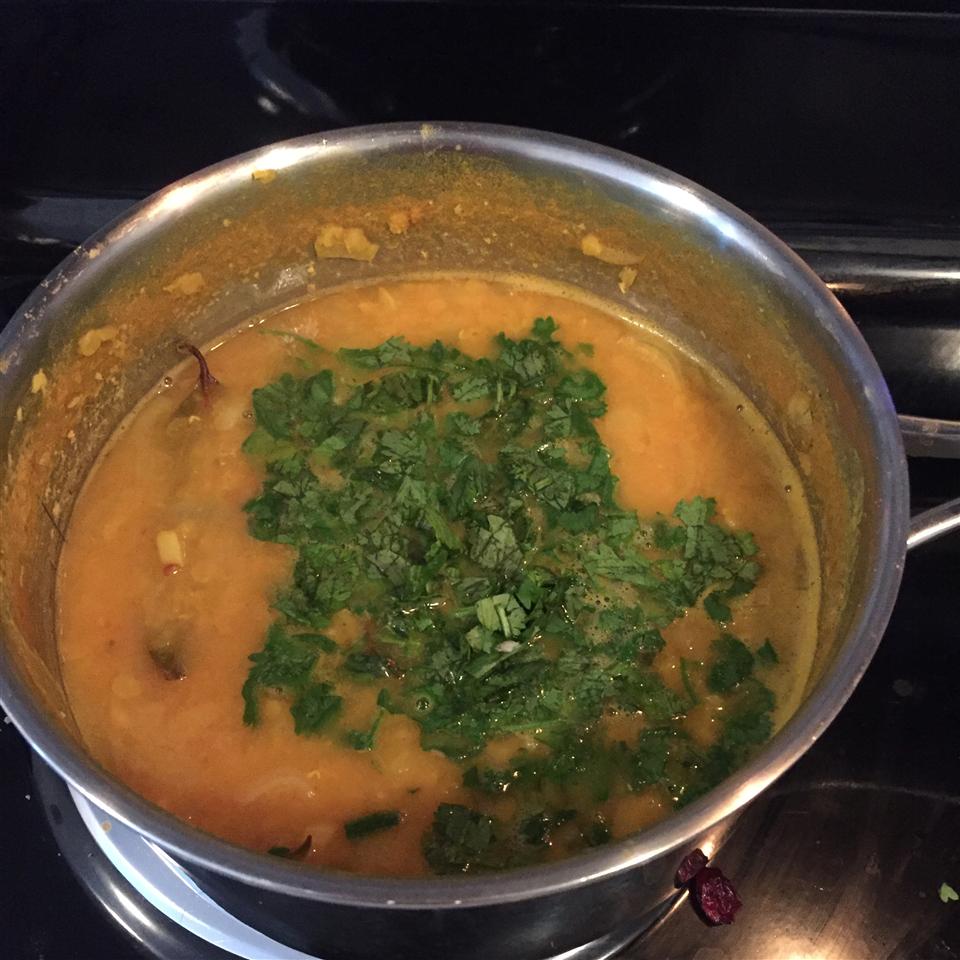 Here is my recipe for dhal based on my many experiences cooking with my friends over the years. We love this served over freshly made basmati rice. Don't skimp on the caramelized onions and garlic - it totally makes this recipe amazing!
Recipe From allrecipes.com
Provided by Tabitha C
Categories World Cuisine Recipes Asian Bangladeshi
Time 45m
Yield 4
Number Of Ingredients 11
Steps:
Wash the lentils in a strainer. Combine the lentils and water in a saucepan over medium-high heat. Add half of the sliced onions and garlic, reserving the rest for later. Stir in the turmeric, bay leaf, tomatoes, and salt. Add the chiles, leaving them whole to add flavor or cut in half to add heat. When the mixture begins to boil, reduce the heat to a simmer. Cook until the lentils break apart and thicken slightly, about 20 minutes.
Meanwhile, in a skillet, heat the vegetable oil over medium heat until the oil shimmers. Add the reserved sliced onions; cook and stir until the onion has softened and turned translucent, about 5 minutes. Reduce heat to medium-low, and continue cooking and stirring until the onion is very tender and dark brown, 15 to 20 minutes more. Stir in the rest of the chopped garlic and cook, stirring constantly, until the garlic is fragrant and tender, about 2 minutes.
Pour the contents of the skillet into the cooked lentils and stir. Garnish with chopped cilantro.
DHAL RECIPES
Make some dhal-ightful lentil curries for a filling veggie supper... These Indian-inspired recipes include variations on black dhal and a red lentil dish.
Recipe From bbcgoodfood.com
Number Of Ingredients 1
People also searched
More recipes about "dhal"
DHAL RECIPE (VERSION TWO) - ALICA'S PEPPERPOT
---
A GUYANESE STAPLE: DHAL - ALICA'S PEPPERPOT
---
DHAL RECIPE – HOW TO COOK IN THREE SIMPLE STEPS (WITH VIDEO)
---
DAL (INDIAN LENTIL CURRY) | RECIPETIN EATS
---
A GUIDE TO LENTILS & BASIC TARKA DHAL RECIPE | FEATURES ...
---
DHAL | RICARDO
---
SPICY INDIAN LENTIL DAHL RECIPE - THE SPRUCE EATS
---
HOW TO MAKE DHAL | FOOD | THE GUARDIAN
---
LENTIL RECIPES | 85 DAL RECIPES | EASY DAHL RECIPES
---
EASY DAHL RECIPES - OLIVEMAGAZINE
---
RED LENTIL DHAL RECIPE - EASY, LOW COST SUPPER - PENNY'S ...
---
RED LENTIL DAHL (EASY INDIAN RECIPE) - BIANCA ZAPATKA ...
---
TRINIDADIAN STYLE DHAL RECIPE (VEGAN) - THAT GIRL COOKS ...
---
TOP 10 BEST EVER DHAL RECIPES - BBC GOOD FOOD
---
HOW TO MAKE AN AUTHENTIC SOUTH INDIAN DHAL, MY ULTIMATE ...
---
DHAL: HOW TO MAKE THE MOST DELICIOUS DHAL
---
DAL RECIPE | FOOD NETWORK
---
INDIAN RED LENTIL DAL - THE WANDERLUST KITCHEN
---
DHAL CURRY | ROTI N RICE
---
EASY RED LENTIL DHAL RECIPE - PINCH OF YUM
---
HOW TO MAKE DHAL | DHAL RECIPE | TESCO REAL FOOD
---
BASIC DAHL | LENTIL RECIPES | SBS FOOD
---
HOW TO MAKE DHAL (VERY DELICIOUS AND EASY TO COOK) - YOUTUBE
---
DHAL - HOW TO COOK DHAL IN 3 SIMPLE STEPS - YOUTUBE
---
Recently Search