CORNISH PASTY
Reawaken childhood memories of summer holidays with Sara Buenfeld's eat-by-the-sea favourite, the Cornish pasty
Recipe From bbcgoodfood.com
Provided by Sara Buenfeld
Time 1h20m
Yield Makes 4
Number Of Ingredients 9
Steps:
Rub the butter and lard into the flour with a pinch of salt using your fingertips or a food processor, then blend in 6 tbsp cold water to make a firm dough. Cut equally into 4, then chill for 20 mins.
Heat oven to 220C/fan 200C/gas 7. Mix together the filling ingredients with 1 tsp salt. Roll out each piece of dough on a lightly floured surface until large enough to make a round about 23cm across - use a plate to trim it to shape. Firmly pack a quarter of the filling along the centre of each round, leaving a margin at each end. Brush the pastry all the way round the edge with beaten egg, carefully draw up both sides so that they meet at the top, then pinch them together to seal. Lift onto a non-stick baking tray and brush with the remaining egg to glaze.
Bake for 10 mins, then lower oven to 180C/fan 160C/gas 4 and cook for 45 mins more until golden. Great served warm.
CHEF JOHN'S CORNISH PASTY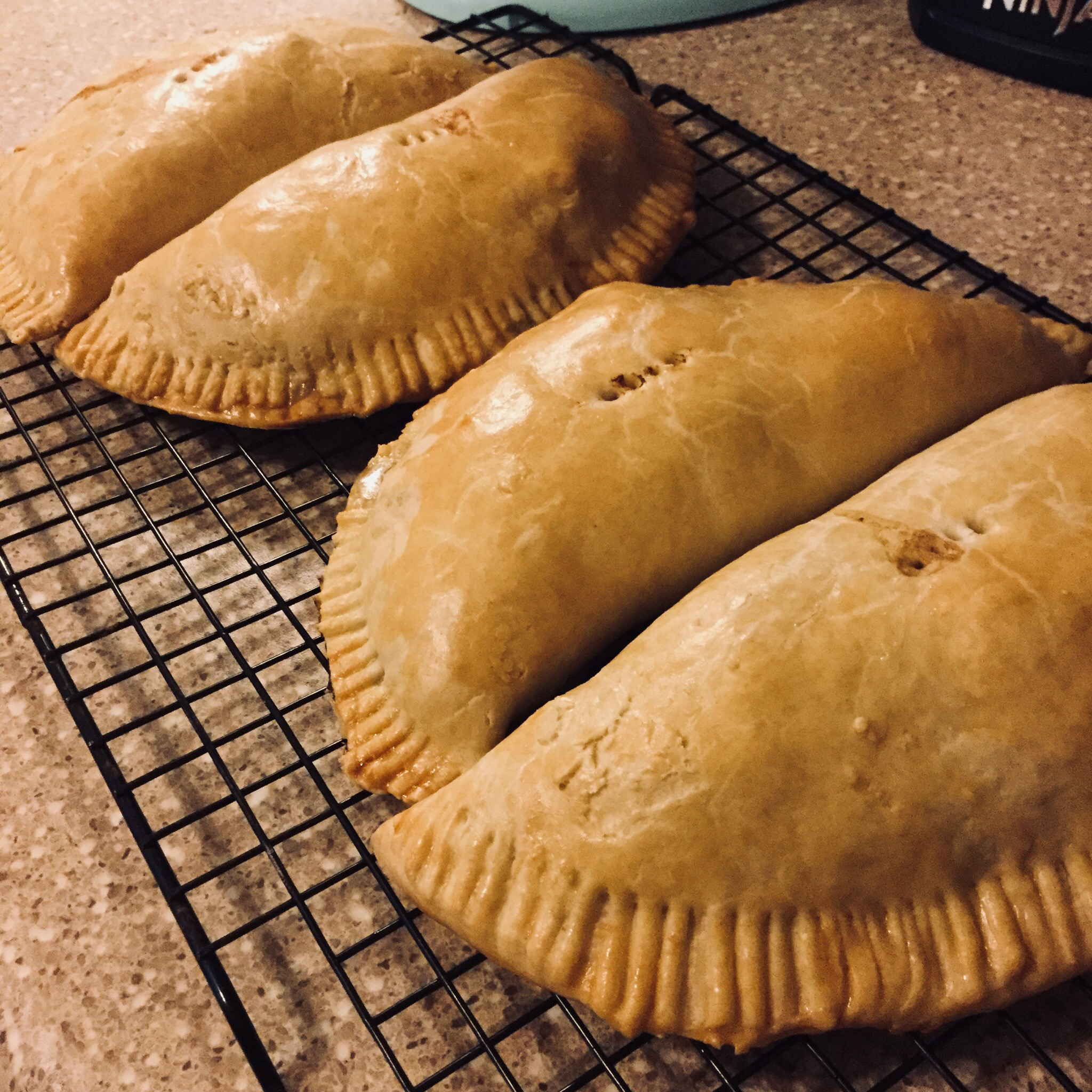 This Cornish pasty is one of those rare recipes that novice cooks will find easier to make than experienced bakers. That's because to make this to its original, and very sturdy specifications, you're forced to over-mix the dough; a cardinal sin that literally gives pie makers nightmares.
Recipe From allrecipes.com
Provided by Chef John
Categories Main Dish Recipes Sandwich Recipes
Time 3h25m
Yield 4
Number Of Ingredients 15
Steps:
Cut flour, lard, cold butter, and 1 1/2 teaspoons salt together in a bowl with a pastry blender until mixture has the consistency of coarse crumbs. Make a well in the center and pour in ice water. Mix with a fork until mixture begins to come together; use hands to form into a dough ball.
Turn dough out onto a lightly-floured work surface and knead until dough is smooth and forms a firm ball, about 2 minutes. Wrap dough tightly in plastic wrap and refrigerate until chilled, at least 2 hours.
Preheat oven to 350 degrees F (175 degrees C). Line a baking sheet with a silicone baking mat.
Stir steak, potatoes, onion, turnip, 1 1/2 teaspoons salt, black pepper, and cayenne pepper together in a bowl until evenly-combined.
Beat egg and 1 teaspoon water together in a small bowl.
Divide dough into 4 equal rounds and roll each round out to about 1/8-inch thickness and 8-inches in diameter. Brush each dough round with egg mixture.
Place 1/4 of the steak mixture slightly off-center on each round of dough, and top steak mixture with 2 slices butter. Fold dough over steak filling to form a half moon shape and press edges together to seal. Trim excess dough from edges of pasties. Transfer pasties to the prepared baking sheet and crimp edges with the tines of a fork; poke fork 1 time into the top center of each pasty and brush tops with egg mixture.
Bake in the preheated oven until browned and bubbly, about 1 hour. Cool on a wire rack for 5 to 10 minutes.
EASY CORNISH PASTIES
These are a bit different from traditional pasties, but the ingredients are probably already in your kitchen. My husband really enjoys these, so I like to double the recipe and freeze the extras to have on hand as a quick meal. -Judy Marsden, Ontario, California
Recipe From tasteofhome.com
Provided by Taste of Home
Categories Dinner
Time 1h5m
Yield 8 pasties.
Number Of Ingredients 10
Steps:
In a skillet, cook beef over medium heat until no longer pink; drain. Add flour, seasoned salt and parsley; stir until well coated. Dissolve bouillon in water; stir into meat mixture. Add potatoes, carrots and onion. Cover and cook over medium heat until vegetables are crisp-tender. Cool. , Meanwhile, prepare pie crusts according to package directions. On a floured surface, roll each pie crust into a 12-in. square. Cut each square into four 6-in. squares. Place about 1/3 cup meat mixture in center of each square. , Moisten edges of pastry with water and fold over meat mixture to form a triangle. Press the edges with a fork to seal. Make a 1-in. slit in the top of each triangle. Place on 2 ungreased baking sheets. Bake at 400° until golden brown, 20-25 minutes.
CORNISH PASTIES
My Great-Aunt Gladys was from a small mining town in England where pasties were popular. I loved to watch her craft each Cornish pasty, as she made them in different sizes depending on who was eating. Serve with a green salad to make a wonderful meal. -Verna Hainer, Pueblo, Colorado
Recipe From tasteofhome.com
Provided by Taste of Home
Categories Dinner
Time 1h20m
Yield 8 servings.
Number Of Ingredients 15
Steps:
In a large bowl, mix flour, salt and baking powder; cut in shortening until crumbly. Gradually add water, tossing with a fork until dough forms a ball. Cover and refrigerate for 30 minutes., Preheat oven to 375°. In another large bowl, combine beef, onion, potatoes, turnips, salt and pepper. Divide dough into 4 equal portions. On a lightly floured surface, roll 1 portion into a 9-in. circle. Mound 1-1/2 cups filling on half of circle; dot with 1 tablespoon butter. Moisten edges with water; fold dough over filling and press edges with a fork to seal. Place on a parchment-lined rimmed 15x10x1-in. baking pan. Repeat with remaining dough, filling and butter. Cut slits in tops of pasties. Bake 50-60 minutes or until golden brown. (If desired, pour milk into slits halfway through baking time.) Serve with ketchup., Freeze option: Freeze cooled pasties in a freezer container. To use, reheat pasties on a parchment-lined baking sheet in a preheated 375° oven until heated through.
CORNISH PASTIES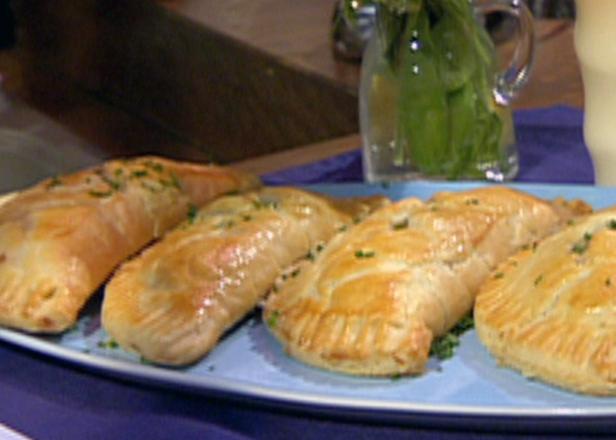 Recipe From foodnetwork.com
Provided by Food Network
Categories main-dish
Time 1h20m
Yield 6 Cornish meat pasties, serving 6 as a light lunch
Number Of Ingredients 14
Steps:
For the pastry: Sift the flour, confectioners' sugar, and salt into a mixing bowl and add the butter and lard. Using your fingers, 2 knives, or a pastry blender, cut the butter and lard into the dry ingredients until mixture resembles fine crumbs. In a small bowl, whisk the egg yolk and water together and add to the flour mixture. Mix quickly, but thoroughly, until mixture just comes together to form a dough. Knead briefly until pastry is smooth with no cracks; the trick to making this delicate pastry easy to work with is kneading it just enough so that it can be rolled out and manipulated without breaking but yet retains its lovely crumbly texture. Press into a flattened disk shape and wrap in plastic. Refrigerate for at least 30 minutes and up to overnight before proceeding.
Remove the pastry from the refrigerator and unwrap. Allow to soften slightly, then place on a lightly floured work surface and roll the pastry to a thickness of 1/4-inch. Using a small plate or saucer as a guide, cut out 6 (6-inch) rounds. (Scraps may be combined and reformed if you cannot get 6 rounds out of the first batch.) Stack the pastry rounds onto pieces of plastic wrap or parchment paper (with pieces between each round to keep them from sticking together) and refrigerate while you prepare the filling.
For the filling: Preheat the oven to 400 degrees F.
Remove the pastry circles from the refrigerator. In a mixing bowl, combine the meat, onion, carrot, potato, salt and pepper and mix until thoroughly combined. Place the pastry circles on a clean work surface and place about 1/2 cup of the filling in the center of 1 side of the pastry. Using the beaten egg, brush the edges of the pastry and then bring the unfilled side over the filled side so that edges meet. Press edges together to seal and then crimp using your fingers or a fork. Repeat with the remaining turnovers and then transfer to a baking sheet. Brush the tops of the turnovers with the remaining egg and then cut several slits into the top of each pastry. Bake for 20 minutes, or until pastry is golden brown around the edges. Reduce the heat to 350 degrees F and continue to bake until the pasties are golden brown. Remove from the oven and allow to cool for 10 to 15 minutes before serving.
CORNISH PASTY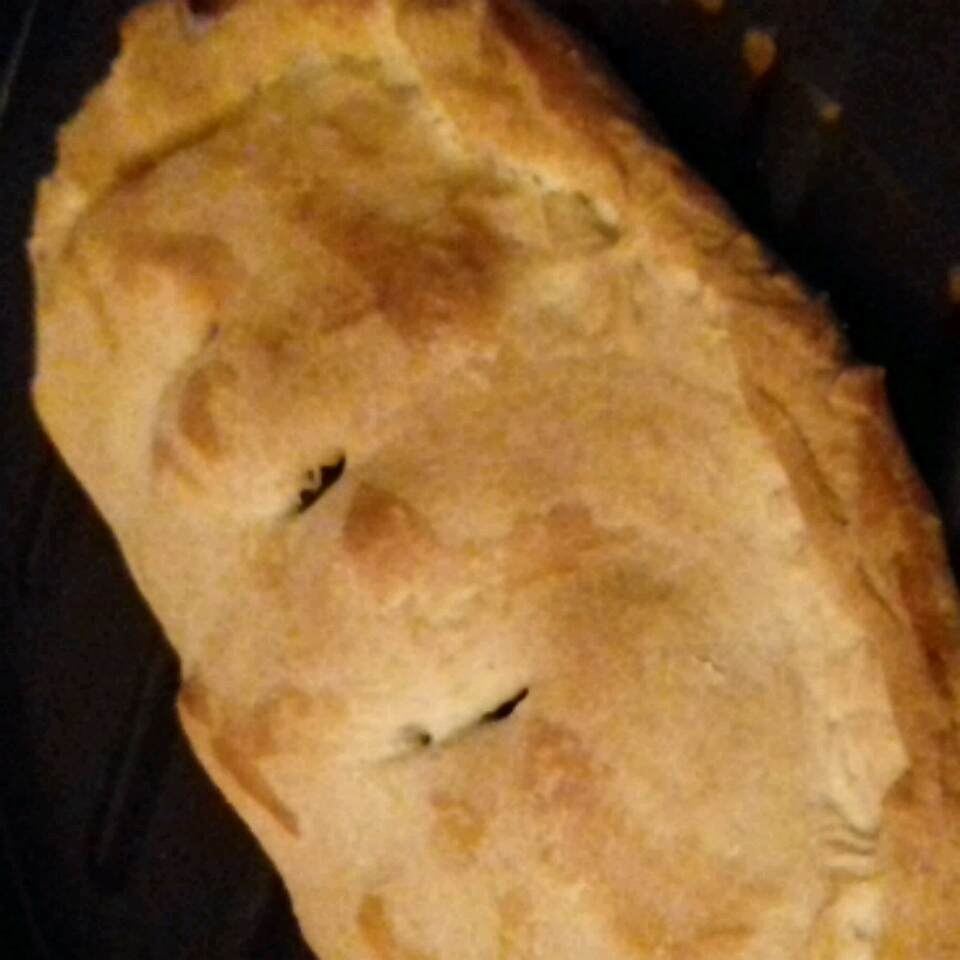 Steps:
In a small saucepan, cover carrots with water. Bring water to a boil and cook until tender, about 10 minutes. Let cool and slice. Sift flour, salt, and baking powder together in a bowl. Add butter, and rub to the consistency of coarse crumbs. Mix in water. If dough is sticky, add more flour.
Roll dough out until about 1/4 inch thick. Cut out six circles, each about 5 inches round. Do not stretch the dough.
Mix meat and vegetables together, and salt and pepper to taste. Cover half of each pasty base with the filling. Moisten pastry edges, fold pastry over the filling. Press edges together with a fork. Transfer raw pasties to a baking sheet, brush tops with milk, and make a small slit in each top to allow steam out.
Bake at 450 degrees F ( 230 degrees C) for 10 minutes. Turn oven down to 350 degrees F (175 degrees C), and bake for 35 minutes.
People also searched
More recipes about "cornish pasties"
CORNISH PASTIES RECIPE | SAINSBURY'S MAGAZINE
---
AUTHENTIC CORNISH PASTY RECIPE - THE DARING GOURMET
---
CORNISH PASTIES RECIPE | ROBERT IRVINE | FOOD NETWORK
---
OMG! THE BEST CORNISH PASTIES RECIPE EVER! YOU HAVE TO ...
---
EASY CORNISH PASTY RECIPE - THE HEDGECOMBERS
---
BEST CORNISH PASTIES RECIPE - GROUND BEEF | THE WHOOT
---
CLASSIC CORNISH PASTY RECIPE - BBC FOOD
---
AUTHENTIC CORNISH PASTIES RECIPE - FOOD.COM
---
CORNISH PASTIES RECIPE - FOOD.COM
---
CORNISH PASTIES | KING ARTHUR BAKING
---
CORNISH PASTIES - MUM'S TRADITIONAL CORNISH PASTY RECIPE
---
CORNISH PASTY RECIPE |CHICKEN RECIPES | JAMIE OLIVER
---
TRADITIONAL CORNISH PASTY - NICKY'S KITCHEN SANCTUARY
---
THE PERFECT TRADITIONAL CORNISH PASTY RECIPE
---
CORNISH PASTIES RECIPE ON FOOD52
---
GREAT BRITISH BAKE OFF CORNISH PASTIES | BAKING RECIPES ...
---
HOW TO MAKE PERFECT CORNISH PASTIES - GOOD FOOD
---
CORNISH PASTY RECIPE - YOUTUBE
---
10 BEST CORNISH PASTIES WITH GROUND BEEF RECIPES | YUMMLY
---
CORNISH PASTY RECIPE - WORLD PASTY CHAMPION - YOUTUBE
---
Recently Search