DELIGHTFULLY DIFFERENT CHICKEN SPITZAD (SPEZZATINO)
UPDATE: i just tried to make this..uhh...it was delicious but i managed to make it look a mess. Only try this if you know how to make it properly(fried chicken makers probably could) or dont care what it looks like. In fact i would suggest making it for 1 person before you show it to any family member lol. Or don't make it at all! I mean what i did was UGLY. yummy..but ugly. I dont think i got the hang of the sauce. I just found this recipe at parshift.com which shares old family Italian recipes. they kindly allow copying of them :) This sounds so delicious, a combination of baked chicken in a crust, and roast chicken with lemon sauce. Have the butcher cut the pieces into 2 or 3 inch sections through the bone if you don't want to do it yourself. Dark meat would keep it the moistest but breasts work as well. They suggest soaking the chicken in lightly salted ice water for a half hour first.
Recipe From food.com
Provided by MarraMamba
Categories Chicken
Time 1h30m
Yield 4 serving(s)
Number Of Ingredients: 5
Steps:
Step One: roast the chicken.
If the chicken is soaked, drain and pat dry on paper towels. Place the cut up chicken pieces in roast pan. Use no liquid or oil. Lightly shake salt and pepper to taste and add the sprig of rosemary. Cover roast pan and place in 350 degree preheated oven for 1 hr This step can be completed up to an hour ahead of finishing. Remove the chicken from roasting pan and place on a wire rack until it is thoroughly drained.
Step Two: coat and finish the spitzad.
In a mixing bowl whisk the eggs until they begin to thicken slightly. Add lemon juice slowly while continuing to whisk vigorously until all of the lemon juice is incorporated.
Place a dry, high sided, heavy bottomed sauce pot over high heat for a few moments until the bottom is thoroughly heated. Place the drained chicken pieces in the pot and slowly begin to drizzle in the egg/lemon mixture, constantly turning the chicken with a wooden spoon.
You will notice that the egg/lemon mixture will coat the chicken and the heat will make the coating firm. When all of the mixture has been used and the coating is good and firm you may turn the chicken out onto a serving platter.
Enjoy eating them with your fingers if you dont want to fuss with a knife and fork.
---
CHANCE'S CHICKEN SPEZZATINO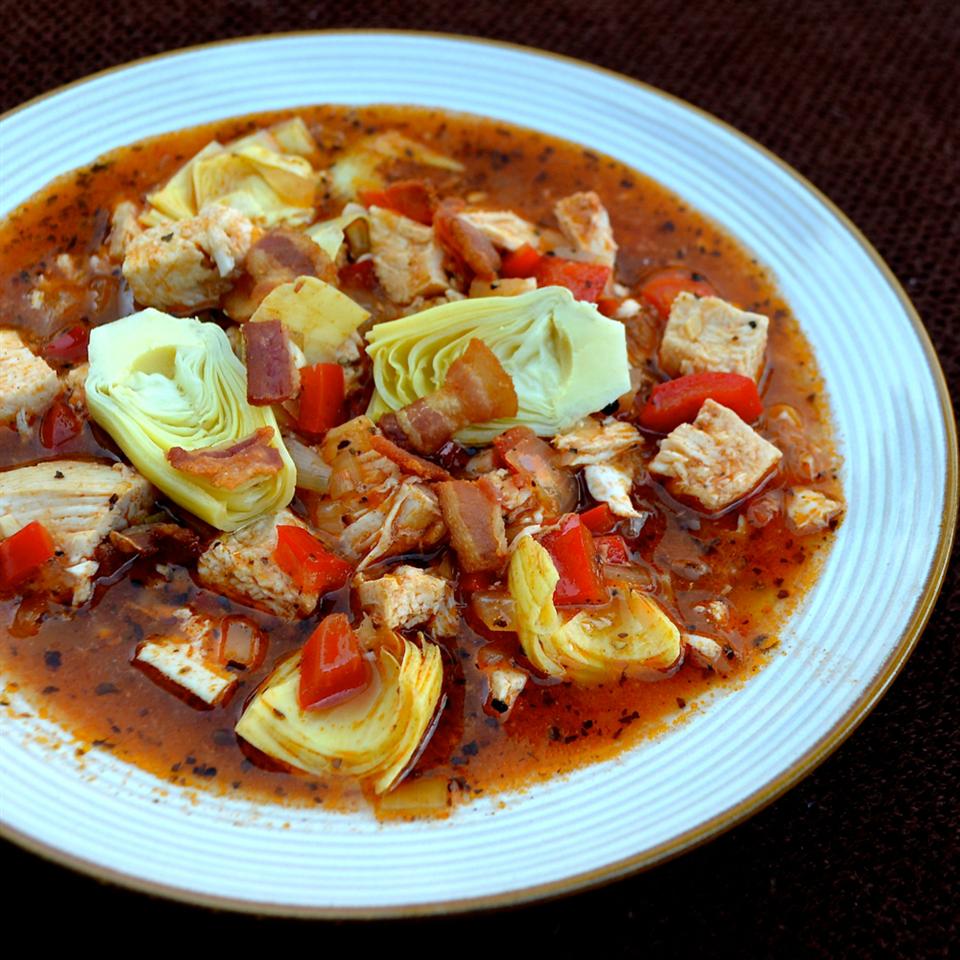 A chicken stew based on the traditional Italian stew but changed to accommodate low-carb, primal, or diabetic-friendly diets.
Recipe From allrecipes.com
Provided by Lora
Categories Soups, Stews and Chili Recipes Stews Chicken
Time 1h10m
Yield 6
Number Of Ingredients: 14
Steps:
Heat oil in a large pot over medium-low heat. Add pancetta; cook, stirring occasionally, until golden and crispy, about 10 minutes. Transfer pancetta to a bowl with a slotted spoon; cover and set aside.
Stir red bell peppers, onion, garlic, and salt into the same pot. Cook and stir, scraping up the bits from the bottom of the pan, until softened, about 5 minutes. Stir black pepper, basil, thyme, and bay leaf into the pot. Add chicken stock and tomato paste; stir well to combine.
Nestle chicken breasts into the pot, submerging them in the stock. Increase heat to medium and bring to a low boil. Reduce heat and simmer stew until chicken is cooked through, stirring occasionally, 15 to 20 minutes. An instant-read thermometer inserted into the center of the chicken should read at least 165 degrees F (74 degrees C).
Pull chicken out of the pot and let cool until easily handled, about 10 minutes. Stir artichokes into the stew. Shred or cut up chicken into small pieces and return to pot. Simmer stew until chicken pieces are heated through, about 5 minutes. Ladle into bowls and garnish with pancetta.
---
CHICKEN SPEZZATINO
Steps:
1.) Heat oil in Dutch oven over medium heat. Add carrot and onion; saute until softened (~5 mins). Stir in tomato with juice, broth, tomato paste, basil and bay leaf. Submerge chicken in the mixture. 2.) Bring to a boil. Reduce heat and simmer until chicken is cooked through (~25 mins). Transfer chicken to a cutting board; discard bay leaf. Add beans and simmer until slightly thickened (~10 mins). 3.) Discard skin and bones from chicken; cut into small pieces and return to stew. Bring to a simmer. Season with salt and pepper to taste. Serving size: 1/2-3/4 c. with pasta/bread.
---
SPEZZATO RECIPE - (3/5)
Recipe From keyingredient.com
Provided by eaglezfan6
Number Of Ingredients: 10
Steps:
Brown the veal cubes well in a little olive oil. Add the green peppers; mix and cook slowly. In another pan, saute onions and garlic lightly. Mix in the tomato puree and sugar and add to the first pan. Add the sliced mushrooms draining off liquid, if using canned. Cook slowly, stirring frequently, until the meat is done, about 20-25 minutes. Season to taste. Serve on italian rolls or over pasta.
---
CHICKEN, ARTICHOKE AND CANNELLINI BEAN SPEZZATINO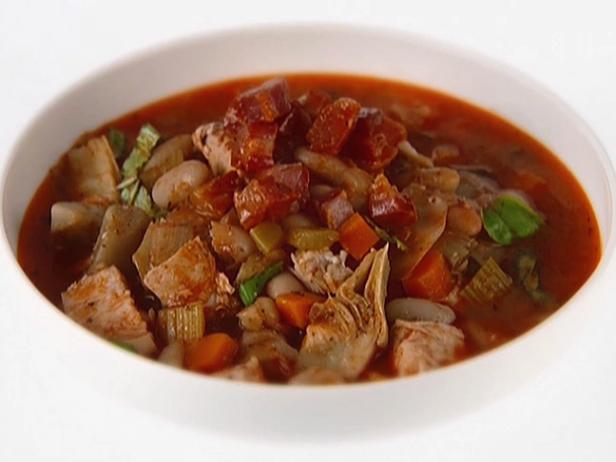 Recipe From foodnetwork.com
Provided by Giada De Laurentiis
Categories main-dish
Time 1h3m
Yield 4 to 6 servings
Number Of Ingredients: 16
Steps:
In a heavy 5 or 6 quart saucepan, heat the oil over medium-high heat. Add the pancetta and cook, stirring frequently, until brown and crispy, about 6 to 8 minutes. Using a slotted spoon, remove the pancetta and drain on paper towels. Set aside. Add the carrots, celery, onion, garlic, 1 teaspoon salt and 1 teaspoon pepper and cook until the onion is translucent, about 5 minutes. Stir in the chicken stock, basil, tomato paste, thyme, and bay leaf. Add the chicken and press down to submerge. Bring the liquid to a simmer. Reduce the heat to medium-low and simmer, uncovered, turning the chicken over and stirring occasionally, for 20 minutes. Add the artichokes and the cannellini beans and simmer until the chicken is cooked through and the liquid has reduced slightly, about 10 to 15 minutes.
Remove the chicken and let cool for 5 minutes. Discard the bones and cut the meat into bite-size pieces. Return the meat to the saucepan and simmer for 5 minutes until warmed through. Remove the bay leaf and discard. Season the spezzatino with salt and pepper, to taste.
Ladle the spezzatino into bowls and garnish with the cooked pancetta.
---
DIFFERENT CHICKEN AND BISCUITS
This recipe is from the Sept. 16, 2008 edition of the "Living" section of our local newspaper, "The Democrat & Chronicle" and (adapted from the 1956 edition of the "Betty Crocker" cookbook). This chicken and biscuits recipe is different in that the chicken is baked and topped with peach halves and served with biscuits and gravy on the side. It is not the familiar version of chicken pulled off the bone in gravy, which is served over biscuits. I have not cooked this yet but decided to post this recipe for safe-keeping. It sounds like delicious, rich comfort food that could be enjoyed on a chilly day.
Recipe From food.com
Provided by MarthaStewartWanabe
Categories Chicken
Time 1h15m
Yield 4 serving(s)
Number Of Ingredients: 15
Steps:
Chicken:.
Heat oven to 425°F.
In a paper bag, mix flour, salt, pepper and paprika.
Place shortening and butter in a 13 x 9-inch oblong pan and set in oven to melt.
Shake three-four pieces of chicken at a time in paper bag to coat thoroughly; reserve dredging mixture.
Place chicken, skin side down, in a single layer in hot shortening/butter mixture.
Bake for 45 minutes, then turn.
Biscuits:.
Meanwhile, make dough for biscuits. Sift together 2 cups flour, baking powder and salt.
Add shortening and milk and cut in finely.
Round up on a lightly floured cloth-covered board.
Knead lightly (about 30 seconds).
Roll or pat out to 1/4-inch thickness.
Cut into biscuits.
Assembly:.
Drain peach halves and place a whole clove in each.
After turning chicken, push to one end in pan.
Place biscuits in a single layer on the other end of the pan.
Place peach halves on chicken.
Bake for another 15 minutes or until biscuits are lightly browned and chicken is tender.
To Make Gravy:.
Remove chicken, peaches and biscuits to serving platter.
Add 2 tbs. flour (reserved from dredging mixture) to pan drippings.
Bring to a boil.
Add about 1 1/2 cups milk and boil for one minute.
---
---
---
More recipes about delightfully different chicken spitzad spezzatino
---
---
---
---
---
---
---
---
---
---
---
---
---
---
---
Recently Search