PEKING DUCK WITH HONEY AND FIVE-SPICE GLAZE
Peking duck is one of the most famous and popular Chinese dishes. The traditional method is grand and laborious, requiring three days of intense preparation. This recipe simplifies that method for a home version that comes pretty close to the original. For that coveted crisp, golden skin, all the excess fat is trimmed, and the skin is separated from the meat. The duck is then air-dried overnight and roasted vertically to ensure even cooking, while rendering out the fat. The crunchiest skin comes from the duck's backside and legs, so carve them off first to maintain their crackly texture. A simple honey and five-spice glaze creates a beautiful mahogany lacquer on the finished duck.
Recipe From cooking.nytimes.com
Provided by Kay Chun
Categories dinner, meat, main course
Time 2h
Yield 4 servings
Number Of Ingredients 13
Steps:
Combine honey, soy sauce, sugar and 1/2 teaspoon five-spice powder in a small saucepan. Stir over low heat until sugar dissolves, about 3 minutes.
In a large saucepan, bring 4 quarts water to a boil. Meanwhile, remove giblets and neck from duck cavity and discard (or reserve for another use). Cut off excess fat from cavity and neck area, then cut off tail. (This helps balance the duck vertically over the beer can.)
Using your fingers, carefully separate the skin from the breast meat through the bottom of the breasts and work your fingers upward to separate the skin from the meat (be careful not to tear skin). Next, separate the skin from the backbone through the neck and working your way down until you reach the legs. (Scissors are helpful, but be careful to avoid piercing the skin.) Transfer duck to a rack set in the sink.
Using a ladle or measuring cup, pour half of the boiling water evenly over top of the duck. Flip duck and pour the remaining water evenly all over second side. Tilt duck to drain all water from the cavity, then pat dry with paper towels.
In a small bowl, combine the remaining 1/2 teaspoon five-spice powder with 1 teaspoon salt, the black pepper and 1 tablespoon of the glaze. Rub the mixture inside the cavity. Stand duck vertically by inserting beer can into cavity and place in a roasting pan or on a rimmed baking sheet.
Using a pastry brush, brush the remaining glaze all over the duck and sprinkle evenly with remaining 2 teaspoons salt. Place duck in the refrigerator, uncovered, until the skin feels dry and leathery, 24 hours.
Heat oven to 450 degrees with rack in bottom third of oven. Remove duck from refrigerator, and add 1 1/2 cups water to the pan. Wrap wing tips and tips of drumsticks with foil to prevent burning, then loosely tent duck with foil. Roast for 15 minutes. Decrease temperature to 350 degrees and roast, tented with foil, until skin is mahogany and an instant-read thermometer inserted into the thickest part of the thigh registers 165 degrees, 1 hour to 1 hour 15 minutes more, adding more water to the pan if needed.
Leaving duck on the can, transfer duck vertically to a cutting board and let rest for 15 minutes. Carve the crispy skin from the back and legs of the duck, and slice into strips.
Carefully remove duck from the beer can and return to cutting board. Carve off the breasts and legs; thinly slice the breasts and shred dark meat.
Carefully strain pan juices into a small bowl and pour off all the fat. In another small bowl, whisk together the hoisin, sesame oil and up to 1/4 cup of the pan juices to form sauce.
To serve, spread 1 tablespoon prepared sauce on each tortilla. Top each with some scallions, cucumbers, duck meat and crispy skin. Roll up and enjoy warm.
ROAST DUCK WITH ORANGE AND GINGER
For a festive occasion, a burnished whole duck makes quite an impression - fancier than chicken and more elegant than turkey. Roasting the duck is not so difficult to do, but it can be smoky; to be on the safe side, dismantle your smoke alarm and turn on a good exhaust fan. (If your oven has a convection fan, don't use it; that way you avoid unnecessarily sputtering fat blowing about.). Seasoning the duck ahead and leaving it in the fridge overnight helps to deepen the flavor and keeps work to a minimum the following day. This one is seasoned with orange zest, along with fair amount of ginger and five-spice powder, which gives it a marvelous perfume; serve it with mashed butternut squash.
Recipe From cooking.nytimes.com
Provided by David Tanis
Categories dinner, lunch, main course
Time 3h30m
Yield 4 servings
Number Of Ingredients 12
Steps:
Rinse duck and pat dry. Remove neck and giblets and save for another purpose. Remove excess fat from cavity and tail area and trim off a bit of flappy neck skin. Prick duck skin all over with tip of sharp paring knife, making sure not to penetrate meat.
Mix together salt and 5-spice powder. Season interior of duck with 1 tablespoon salt mixture; use remainder to generously season exterior (you may have a little left over). Combine orange zest with grated ginger and garlic, then smear mixture inside cavity. Place orange wedges in cavity. Tie legs together. Secure neck flap with wooden skewer or toothpicks. Place duck on rack in roasting pan breast-side-up and refrigerate overnight, uncovered.
Heat oven to 350 degrees. Meanwhile, bring duck to room temperature and make the glaze: Bring orange juice, honey, sugar and soy sauce to a simmer. Add sliced ginger and star anise, then reduce mixture until you have a medium-thick syrup, about 10 minutes. Remove from heat and set aside.
Roast duck for 2 hours, carefully pouring off fat and turning duck over every 30 minutes. Paint with glaze and roast another 30 minutes (2 1/2 hours in all). Tent with foil if glaze begins to get too dark. Duck is done when temperature at thickest part of leg reads 165 degrees. Paint duck once more, keep warm and let rest 20 minutes. Use poultry shears to cut into quarters (remove backbone first) or carve in the traditional way, removing legs from carcass and slicing breast. Serve with mashed butternut squash if desired.
DUCK BREAST A L'ORANGE
Recipe From marthastewart.com
Provided by Martha Stewart
Number Of Ingredients 8
Steps:
Place sugar in a medium saucepan and set over medium-high heat. As sugar begins to melt, use a fork to gently stir sugar from edges to center of pan. Continue stirring in this manner until sugar is a deep amber color.
Remove caramel from heat and carefully stir in vinegar, orange zest and juice, chicken broth, and shallot. Return to medium-high heat and boil, stirring occasionally, until reduced to 2/3 cup, 20 to 25 minutes.
Score fat of duck breasts with the tip of a knife in a crosshatch pattern to form 1-inch diamonds. Season both sides of breasts with salt and pepper. Place breasts, fat side down, in a medium skillet and place over medium-high heat. Cook undisturbed until skin is crisp and golden brown, about 10 minutes. Flip and continue cooking to desired doneness, about 8 minutes more for medium-rare (125 degrees). Allow meat to rest 10 minutes before slicing and serving.
Add orange supremes to sauce and pour over sliced duck just before serving.
PEKING DUCK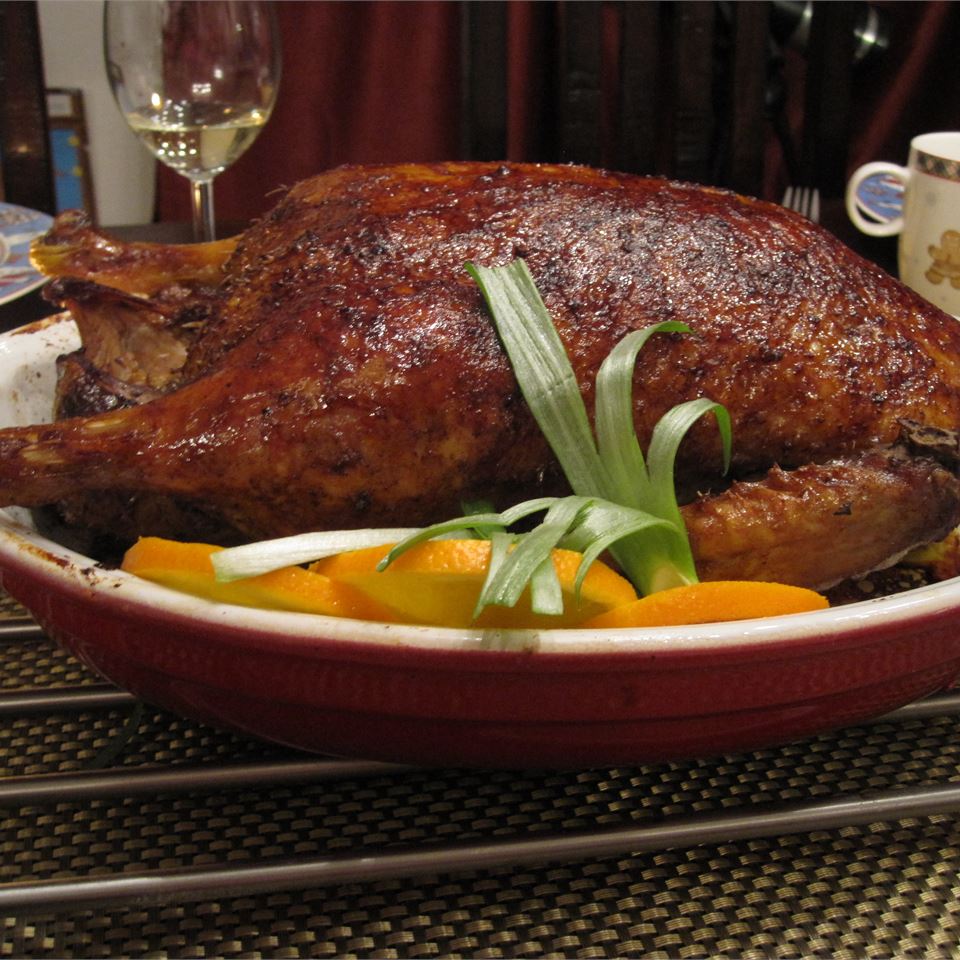 I have made this recipe and it is delicious. It can be served with plum sauce as well as a fruit sauce. This is actually a short-cut version but it is fantastic.
Recipe From allrecipes.com
Provided by Allison
Categories World Cuisine Recipes Asian Chinese
Time 3h50m
Yield 4
Number Of Ingredients 15
Steps:
Rinse the duck inside and out, and pat dry. Cut off tail and discard. In a small bowl, mix together the cinnamon, ginger, nutmeg, white pepper and cloves. Sprinkle one teaspoon of the mixture into the cavity of the duck. Stir one tablespoon of the soy sauce into the remaining spice mixture and rub evenly over the entire outside of the bird. Cut one of the green onions in half and tuck inside the cavity. Cover and refrigerate the bird for at least 2 hours, or overnight.
Place duck breast side up on a rack in a big enough wok or pot and steam for an hour adding a little more water, if necessary, as it evaporates. Lift duck with two large spoons, and drain juices and green onion.
Preheat the oven to 375 degrees F (190 degrees C). Place duck breast side up in a roasting pan and prick skin all over using a fork.
Roast for 30 minutes in the preheated oven. While the duck is roasting, mix together the remaining 2 tablespoons of soy sauce and honey. After 30 minutes, brush the honey mixture onto the duck and return it to the oven. Turn the heat up to 500 degrees F (260 degrees C). Roast for 5 minutes, or until the skin is richly browned. Do not allow the skin to char.
Prepare the duck sauce by mixing the plum jam with the sugar, vinegar and chutney in a small serving bowl. Chop remaining green onions and place them into a separate bowl. Place whole duck onto a serving platter and garnish with orange slices and fresh parsley. Use plum sauce and onions for dipping.
LACQUERED DUCK IN MANDARIN PANCAKES
Make and share this Lacquered Duck in Mandarin Pancakes recipe from Food.com.
Recipe From food.com
Provided by JackieOhNo
Categories Duck
Time 2h45m
Yield 6 serving(s)
Number Of Ingredients 14
Steps:
To make pancakes: place flour in mixing bowl. Gradually stir in boiling water to form rough dough. Let cool 10 minutes. Knead dough on lightly floured surface until smooth and elastic, about 5 minutes. Cover with dampened towel and let stand 30 minutes.
Cut dough in half and shape each half into 1-1/2-inch-thick log. Cut each log into 12 equal pieces. Cover with dampened towel.
Place 1 piece dough, cut side down, on lightly floured surface. Using your fingers, press into 2-inch circle. Repeat with another piece of dough. Lightly brush top of 1 circle with oil. Place other circle on top and lightly pinch edges together. Repeat with remaining dough. Working from center of each double pancake to edge, roll out into 6-inch circle.
Heat well-seasoned or very lightly oil nonstick skillet over high heat until very hot. Place 1 pancake in skillet and cook, shaking skillet, until puffed in center, about 1 minute. Flip pancake, then cook and shake about 30 seconds longer. Pancake should be dry on surface but still supple. Let cool several seconds and peel apart. Fold each pancake, cooked side in, into quarters and place in steaming rack lined with cheesecloth or parchment paper. Cover rack with dampened towel. Repeat with remaining pancakes.
Heat oven to 425 degrees.
Remove excess fat from duck. Rinse inside and out and pat dry with paper towels. Rub garlic and ginger over outside and inside of duck, then place in cavity. Rub 2 T. soy sauce over outside of duck to color it. Place duck, breast up, on rack in roasting pan and pour 1 cup water into pan. Prick duck all over with fork. Roast 1 hour, pricking occasionally with fork and turning over once.
Mix remaining 2 T. soy sauce, the rice wine, orange juice, cranberry juice, 1/2 cup water, and the honey.
Remove duck from oven and carefully pour off fat and water. Reduce heat to 350 degrees. Pour juice mixture over duck (which should be back side up). Roast 45 minutes, basting every 15 minutes and turningover once. Let stand 10 minutes before carving.
Meanwhile steam pancakes on rack over boiling water 10 minutes.
Thinly slice duck breast and leg meat. Remove all meat and tear into shreds.
To serve, smear scant teaspoon hoisin sauce over center of pancake, sprinkle with scallions, and add 2 slices duck. Roll up pancake.
LACQUERED DUCK WITH GRILLED FIGS
The sweet, rich flavour of chargrilled figs combined with pungent spices is spectacular with duck - serve simply with a peppery leaf salad
Recipe From bbcgoodfood.com
Provided by Tom Kime
Categories Dinner, Main course
Time 55m
Number Of Ingredients 13
Steps:
Put all the syrup ingredients in a small, heavy-based saucepan. Add 6 tbsp water, season lightly with salt and pepper and simmer over a medium heat for 8-10 minutes until the syrup has reduced by just over half and is very sticky. Remove from the heat.
Put the duck breasts skin side down in a cold frying pan (it's unusual to start frying in a cold pan, but with duck this is often a good idea - it makes the fat render slowly from under the skin, keeping the flesh really moist). Fry slowly for about 15 minutes until the skin is golden. At least 100ml/31⁄2fl oz fat will be rendered from the skin. (Once cool, keep the fat in the fridge - it's great for roasting potatoes.)
Preheat the oven to fan 180C/ conventional 200C/gas 6. Sit the duck breasts skin side up on a rack in a roasting tin. Spoon a little of the syrup on top and leave for 2-3 minutes until sticky. Tip any syrup that drips into the bottom of the roasting tin back into the syrup in the saucepan, and reheat to liquefy if necessary. Repeat this technique - spooning the syrup over the duck and leaving it to stand - until there are three or four layers and you have used up most of the syrup. If it gets too thick, just add 1-2 tbsp water. Conversely, if it's too thin, add another 1 tbsp sugar. Arrange the orange slices round the duck and spoon the last splash of syrup over the top.
Roast the duck for 8-12 minutes until done to your liking. Meanwhile, cut the figs in half lengthways, tip into a bowl and toss with the olive oil and plenty of seasoning. Heat a ridged cast-iron griddle pan (or a heavy frying pan) on the hob until very hot, then chargrill the figs for 2 minutes on each side.
Once the duck is cooked, take it out of the oven and let it rest for 3 minutes, then cut each breast at an angle into two or three slices. Transfer to four serving plates with the orange slices and figs, and garnish with extra bay leaves and the star anise from the syrup.
People also searched
More recipes about "orange lacquered duck recipes"
EASY CLASSIC DUCK A L'ORANGE RECIPE - THE SPRUCE EATS
---
BLOOD ORANGE LACQUERED DUCK - LE COUP DE GRâCE
---
LACQUERED DUCK BREASTS | WILLIAMS SONOMA
---
PAN-SEARED DUCK BREAST WITH ORANGE PAN SAUCE RECIPE
---
ORANGE LACQUERED DUCK RECIPE
---
MAPLE-LACQUERED DUCK BREAST RECIPE ON FOOD52 - PINTEREST
---
LACQUERED DUCK IN MANDARIN PANCAKES RECIPE
---
HONEY-LACQUERED DUCK WITH SOUR CHERRY SAUCE RECIPE - FOOD.COM
---
10 BEST DUCK BREAST RECIPES | YUMMLY
---
DUCK A L'ORANGE RECIPE - BBC FOOD
---
BLACK CURRANT LACQUERED DUCK BREAST AND DUCK A …
---
GLORIOUS LACQUERED ROAST DUCK RECIPE — COOKS WITHOUT BORDERS
---
10 BEST ASIAN DUCK BREASTS RECIPES | YUMMLY
---
DUCK BREAST WITH ORANGE SAUCE- A CLASSIC COMBINATION OF ...
---
NATIONAL RECIPES: FRENCH HONEY-LACQUERED DUCK BREAST ...
---
A FEAST FOR SMALL CROWDS: CHRISTIAN REYNOSO'S SPICED ...
---
LACQUERED DUCK WITH CINNAMON, STAR ANISE, ORANGE ZEST AND ...
---
ORANGE AND THYME INFUSED VINEGAR RECIPE | COOK GLOBAL, EAT ...
---
RECIPE: SPICED, LACQUERED DUCK | EDIBLETCETERA – FAST ...
---
67 DUCK RECIPES IDEAS | DUCK RECIPES, RECIPES, FOOD
---
ORANGE LACQUERED DUCK - TFRECIPES.COM
---
Recently Search