MOROCCAN FISH TAGINE WITH TOMATOES, OLIVES, AND PRESERVED LEMONS
This tasty Moroccan fish tagine comes from chef Paula Wolfert, author of " Mediterranean Clay Pot Cooking."Photo courtesy of Ed Anderson.
Recipe From marthastewart.com
Provided by Martha Stewart
Categories Food & Cooking Ingredients Seafood Recipes
Number Of Ingredients 17
Steps:
Heat a small skillet over medium heat. Add cumin seeds and cook until toasted and fragrant; grind to a fine powder. Transfer cumin to a mortar or jar of a blender and add garlic, salt, paprika, parsley, cilantro, pulp of preserved lemon, and olive oil. Puree to make a charmoula, using a pestle or by blending.
Rinse fish and pat dry. If using monkfish, cut away grey membrane and divide the fish into 4 equal pieces. Rub half of the charmoula all over fish; let stand for 1 hour at room temperature or up to 24 hours, refrigerated. Add 1/2 cup water to remaining charmoula, cover, and keep refrigerated.
Preheat oven to 300 degrees. Spread 2 tablespoons reserved charmoula over the bottom of a tagine; sprinkle with carrots and celery. Add half of the tomatoes and bell peppers; top with fish and drizzle with some of the charmoula. Add remaining tomatoes and bell peppers and spread remaining charmoula over top.
Chop preserved lemon peel and sprinkle around fish along with olives and bay leaves. Cover tagine with parchment paper-lined aluminum foil and bake for 1 hour.
Remove tagine from oven and pour liquid from dish into a small nonreactive saucepan. Bring to a boil over medium-high heat until thickened and reduced to 1/2 cup; pour back over fish.
Increase oven temperature to 500 degrees. Baste fish with pan juices and bake, uncovered, in top third of oven until a crust has formed over the vegetables, about 10 minutes. Transfer tagine to a wooden surface or a folded kitchen towel to prevent cracking. Garnish with cilantro sprigs; serve warm or hot.
FISH TAGINE WITH OLIVES (MOROCCAN STEW)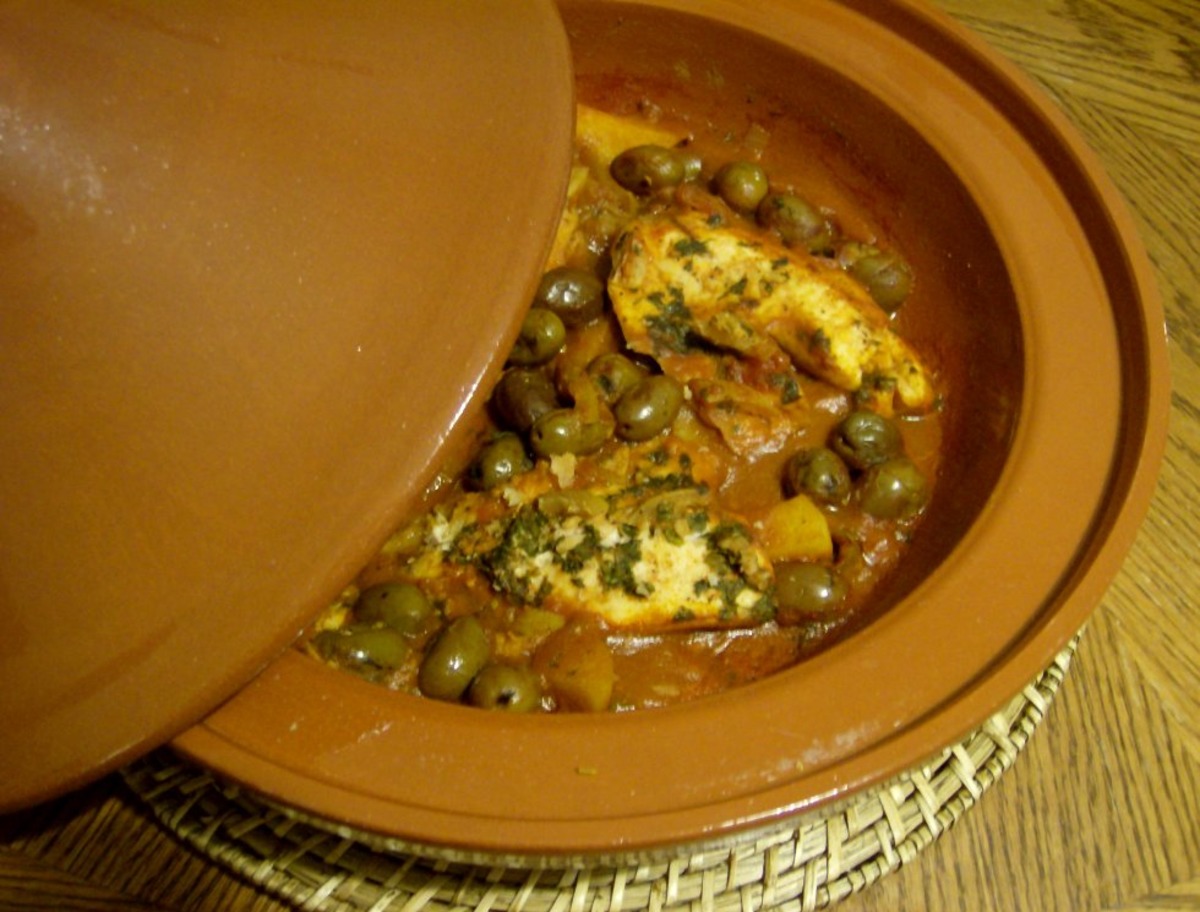 Here is another wonderful recipe for all you tagine lovers. This one is to be prepared in a cooking tagine.
Recipe From food.com
Provided by FDADELKARIM
Categories Stew
Time 1h45m
Yield 3 serving(s)
Number Of Ingredients 21
Steps:
Peel the potatoes & cut them into strips, about the size of a large french fry. Put them into a bowl & rinse. Then sprinkle paprika over the potatoes, turning them several times to make sure they are all covered.
Place the tomato sauce, olive oil, water, tomato, onions, & spices in a medium or large tagine. Stir to mix all the ingredients, then lay the potatoes on top of the sauce. Cover & cook on low heat for 30 minutes.
While the potatoes are cooking, mix the ingredients of the charmoula in a small bowl. Place the fillets into a shallow bowl or dish, pour half the mixture over top of the fish & let it marinate for 30 minutes.
Boil the olives in a small sauce pan of water for 5 minutes to remove their bitterness. Once done, drain the water & stir the rest of the charmoula in with the olives, set aside to be used later.
Stir the sauce in the tagine then place the fish fillets on top of the potatoes. Scatter the lemon & olives on the fish & pour all the remaining charmoula over the fish.
Cover the tagine & continue to cook on low heat for another hour. The tagine is done once the potatoes are tender.
Serve in the tagine with thick bread to scoop up the sauce & fish. Make sure you protect your table because the tagine will stay hot for a time.
FISH TAGINE WITH TOMATOES, CAPERS, AND CINNAMON
Steps:
Heat cumin in oil in a 12-inch heavy skillet over medium heat, stirring occasionally, until fragrant, about 1 minute. Stir in tomatoes, capers, cinnamon, and 1/4 teaspoon each of salt and pepper and simmer, uncovered, stirring occasionally, until thickened, about 10 minutes.
Pat fish dry and sprinkle with 1/4 teaspoon each of salt and pepper, then add to skillet. Cover and simmer until fish is just cooked through, 7 to 10 minutes.
MOROCCAN FISH TAGINE WITH PEPPERS AND OLIVES
Steps:
Mix first 7 ingredients in medium bowl. Add fish and turn to coat. Refrigerate 2 hours, turning fish occasionally.
Preheat oven to 350°F. Arrange carrot slices over bottom of 13x9x2-inch glass baking dish. Layer half of tomatoes, half of onion and half of lemon over. Season with half of salt and pepper.
Drain marinade from fish; reserve marinade. Arrange fish atop lemon slices. Top fish with remaining tomato, onion and lemon slices. Season with remaining salt and pepper. Top decoratively with red pepper strips and olives. Pour reserved marinade over. Cover dish with foil. Bake 40 minutes.
Increase oven temperature to 400°F. and bake until fish flakes easily and vegetables are tender, about 25 minutes. Garnish with additionally parsley.
MOROCCAN BAKED FISH WITH POTATOES, PEPPERS AND OLIVES
Bake fish Moroccan-style with spices, herbs, tomatoes and olives. This easy all-in-one recipe can be served immediately or at room temperature, making it perfect for a dinner party. Double or triple it if you'd like, and include it as part of a buffet. With a good bottle of wine, it will feel just like summer.
Recipe From cooking.nytimes.com
Provided by Florence Fabricant
Time 1h
Yield 4 servings
Number Of Ingredients 16
Steps:
Combine garlic, parsley, cilantro, cumin, paprika and saffron in a dish big enough for the fish. Mix vinegar, lemon juice and tomato paste in a small bowl. Add to dish and mix. Place fillets in the dish, turning to coat them, cover and set aside to marinate 2 hours at room temperature, 3 hours if refrigerated.
Place potatoes in a saucepan, add water to cover, bring to a boil, reduce heat and simmer 15 minutes. Drain.
Brush a baking dish that can go to the table and will hold the fish in a single layer with a little of the oil. Heat oven to 350 degrees. Spread potatoes in the dish, season with salt and pepper, and place fish fillets on top. Scatter peppers and tomatoes over fish. Add a little more salt and pepper. Spoon any excess marinade over fish, strew with olives, drizzle with remaining oil and bake about 30 minutes, until fish is just cooked through.
MOROCCAN FISH TAGINE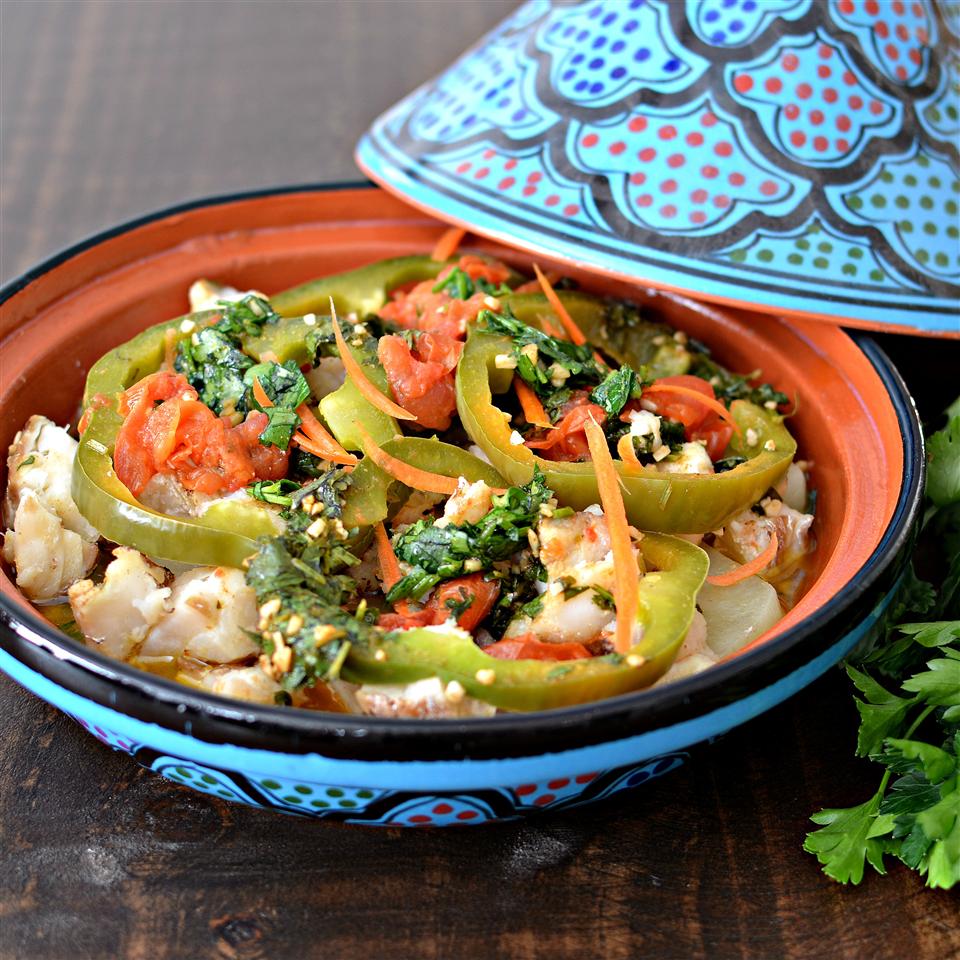 This delicious healthy dish common to North Africa, particularly Morocco, is one of my favorites when entertaining guests. The wonderful spices blended with fresh vegetables and fish is a crowd pleaser. The fish is marinated in a chermoula sauce to soak up all the wonderful spices prior to cooking. This dish is prepared in a traditional method in a ceramic tagine, but can be prepared in a heavy lidded pot. This dish as it cooks emits some of the most wonderful smells throughout the house. Serve with couscous or rice and crusty bread to mop up all the wonderful sauce!
Recipe From allrecipes.com
Provided by winechef
Time 3h50m
Yield 6
Number Of Ingredients 18
Steps:
Mix 1/2 cup olive oil, 1/2 cup cilantro, parsley, lemon juice, garlic, paprika, ginger, cumin, salt, and saffron in a large glass or ceramic bowl. Add cod and mix well. Cover and marinate in the refrigerator for 2 hours.
Heat 1 tablespoon olive oil in a large pot or tagine. Layer onion rings, carrot matchsticks, and potato slices in the pot in that order. Remove cod from marinade and spread evenly over potatoes. Cover cod with green bell pepper rings and tomato strips. Sprinkle 1/4 cup cilantro on top. Pour marinade over cilantro.
Cover pot tightly and cook over low heat until potatoes are tender and cod flakes easily with a fork, about 1 hour.
People also searched
More recipes about "moroccan fish tagine with peppers and olives"
MOROCCAN FISH TAGINE (MQUALLI) RECIPE - THE SPRUCE EATS
---
MOROCCAN FISH TAGINE WITH PEPPERS AND OLIVES
---
MOROCCAN FISH TAGINE - TFRECIPES.COM
---
ASTRAY RECIPES: MOROCCAN FISH TAGINE WITH PEPPERS AND OLIVES
---
30 FOODS FROM MOROCCO TO EAT – RESORTADDICTION
---
TANGY FISH TAGINE WITH PRESERVED LEMONS, OLIVES, AND ...
---
MOROCCAN FISH TAGINE - DELICIOUSLY MEDITERRANEAN
---
MOROCCAN TAGINE WITH FISH AND RICE (VIDEO) - A SPICY ...
---
MOROCCAN FOOD BUCKET LIST: 30 FOODS FROM MOROCCO TO EAT
---
MOROCCAN FISH TAGINE WITH PEPPERS AND OLIVES RECIPE - FOOD ...
---
BAKED FISH TAGINE WITH POTATOES, TOMATOES AND PEPPERS
---
MOROCCAN FISH RECIPE: TRADITIONAL AFRICAN TAGINE
---
BEST MOROCCAN FISH RECIPE | THE MEDITERRANEAN DISH
---
CLASSIC MOROCCAN FISH TAGINE WITH CHERMOULA AND VEGETABLES ...
---
DELICIOUS MOROCCAN FOOD TO TRY IN MOROCCO OR AT HOME | THE ...
---
A LIST OF BEST MOROCCAN DISHES RECIPES: MOROCCAN FISH ...
---
MOROCCAN FISH TAGINE PEPPERS OLIVES - COOKEATSHARE
---
TAGINE BIL HUT: MOROCCAN FISH STEW WITH OLIVES, POTATOES ...
---
REAL GOOD FISH | RECIPE | | MOROCCAN FISH TAGINE WITH ...
---
FISH TAGINE RECIPE: HOW TO MAKE MOROCCAN FISH TAGINE
---
Related Search